Let's explore the best VPN for Windows 10, Windows 8, 8.1, Win 7 as well as Win XP with a 2 min setup guide.
The monopoly once enjoyed by Microsoft in the field of computer software and operating systems has proved to be quite advantageous to the masses. This is because, as Windows is the most widely used OS for computers, users are spoilt for choices when it comes to VPN software for their PCs.
However, it can be a pain in the neck finding the best VPN for PC from so many available alternatives. At the same time, the importance of using a VPN for PCs is continually increasing since it is the most targeted OS by hackers. In addition, concerns over Microsoft tracking user activities on Windows is leading consumers to acquire effective tools for protecting their privacy.
In this article, I will describe some quality VPN providers that can give you the privacy and security you need to put your mind at ease. I am also going to show you how to install VPNs on different versions of Windows below.
Windows 10 – Top VPN Services and Setup Guide
A VPN is required for MacOS, Windows and Android however this article focuses on the Windows VPNs particularly.
Here are the list of top VPN apps for Windows 10 along with pros and cons:
1. PureVPN

Being the world's fastest VPN service, it is a perfect fit as one of the top-notch VPN providers for all platform including Windows 10 and others. It has a very easy-to-use app for all devices, while its servers are located in over 140 countries. With over 1 million satisfied users, PureVPN is sure to keep your online activity safer than other VPN providers. For more information, view our complete PureVPN review.
Pros
Consistent fast internet speed
Split-tunneling
2,000+ servers
Unlimited data transfer
99% uptime
Complete online security
Cons
Ad-block is only available in Chrome

2. NordVPN

If you're yet looking for the best VPN for Windows 10, Consider Nord. Yes.
NordVPN gives you back the control to browse the internet with complete freedom. NordVPN keeps on insisting that Windows 10 users cannot be safe without using a premium Windows VPN service. And that is what NordVPN does, it protects your online activity keeps it private.
Its double VPN feature can make it a nightmare for potential hackers trying to intercept your confidential information for nefarious purposes. This is why I consider it one of the best VPN for Windows PC.
For more on NordVPN, view our NordVPN review.
Pros
Encrypts internet traffic twice
Shields you from intrusive advertisements
Strict no logs policy
Protects your IP address
DNS leak protection
Cons
Higher price
Internet speed may vary

3. ExpressVPN

ExpressVPN is one of the best VPN for Windows PC. It is a trusted leader in It is a trusted leader in entire VPN industry. When it comes to getting a suitable Windows VPN, ExpressVPN has no match around. On your Windows, you can access any content on the web, whether it be torrents, watching Live TV across the borders, or simply accessing Netflix, this VPN service does it all. Read our ExpressVPN review in detail.
Pros
Zero-Knowledge DNS
Supports all VPN protocols
Encrypt traffic
Unblock websites
Offshore privacy protection
Cons
Connects only 3 devices per user

4. IPVanish

To overcome cyberattacks that occur widely in the internet world, IPVanish offers you a simple solution for internet privacy. Its strong encryption with over 1,000+ VPN servers, you can do every good stuff on the internet with so much ease.
It offers 10 multi-logins which you can use to connect up to 10 different devices to the VPN with the same account. With more than 40,000 unique IP addresses to offer, IPVanish deserves to rank high up in the list of best VPN software for Windows.
We have for you a detailed IPVanish review.
Pros
Anonymous Torrenting
Access censored websites and apps
5 multi logins
7-day money-back guarantee
256-bit AES encryption

5. Ivacy

Ivacy is designed as a best VPN for Windows PC that gives you a simple solution for 4 diverse needs i.e. streaming content from anywhere, protects from 3rd party spying, data security, and torrenting anonymously. For a full Ivacy VPN review, view our complete guide.
Pros
Does not contain privacy logs
Unlimited downloads and bandwidth
24 hours customer service
Strong 256-bit encryption
Supports Kodi device
Cons
Unsatisfied customers due to poor refund policy
Now free trial available

6. VyprVPN

Golden Frog VyprVPN is based in Switzerland, which is home for privacy-friendly climate. It leads the Windows VPN industry as it offers 700+ servers with a total of 200,000+ global IPs. When your ISP has throttled your internet speed, VyprVPN defeats ISP throttling.
Although it is not as fast as other VPNs listed above, it is still one of the best vpn software and miles ahead of dozens of other VPNs.
View our Golden Frog VyprVPN review in detail.
Pros
700+ servers, 200,000+ global IPs
Defeats throttling and access Netflix
Zero Knowledge DNS
Multiple protocols
256-bit encryption
Cons
Not suitable for gaming
Does not have Ad-blocking

7. PrivateVPN

PrivateVPN is one the best VPNs for Windows that streams anything and protects online privacy. It also comes with a competitive pricing which is bonus for Windows users. PrivateVPN offers a higher level of online security and stay protected on a public Wi-Fi. View our PrivateVPN review in full detail.
Pros
Keeps your original location hidden
Unblock sites and apps
6 simultaneous connections
Unlimited server switches
30-days money-back guarantee
Cons
Connect/disconnect issues

8. Hotspot Shield

Hotspot Shield, being one of the top VPN apps, offers both free and paid subscription and that is why it is preferred widely by Windows users. After you are satisfied with its service, the speed that its offers, servers that it has, or its ability to bypass geo-restrictions, you can finally decide for its pad subscription.
If you are looking for a free VPN and privacy is not your priority, then Hotspot Shield is easily the best VPN program available at zero cost.
View our full Hotspot Shield review for more details.
Pros
User-friendly interface
Robust encryption
5 simultaneous logins
Web browser extensions for Chrome and FireFox
30-days money-back guarantee
Cons
Based in the US
Vague log policy
No Bitcoin accepted

9. VPN Area

VPN Area is tough on privacy as it has a strict 'No privacy log' policy. It is based in Switzerland which is very comforting to know because Switzerland appreciates online privacy. Along Private Internet Access and Hide.Me, VPNArea makes another sensible choice as the best Windows VPN. For more information on VPN Area, you can view detailed VPN Area review.
Pros
OpenVPN with 256-bit encryption
6 multi logins
Zero log policy
Accepts Bitcoins
Fast speed
Cons
Complex download instructions
DNS leak detected

10. Buffered

Still wondering what is a good VPN for Windows? Try Buffered.
It is also based in a country that has pro-privacy data retention laws i.e. Hungary. It may not have greater number of VPN servers which sets a 37, but still Windows users can manage to do everything with this VPN provider i.e. bypasses geo-restrictions, strong encryption, and online security. View our guide for a full Buffered VPN review.
Pros
Streams Netflix
Creative User interface
OpenVPN with AES-256 encryption
P2P torrenting
24/7 customer support
Cons
High monthly charges
Does not accept Bitcoins
Keeps some of the connection logs (Time and Duration)

Setup Windows 10 VPN & Secure Your Device
Having waited for more than three months, I finally decided to update my Windows 8 to Windows 10 last week. I had already read about the bugs and issues in the latest version of Windows but I still wanted to give it a try to see how user-friendly it is and how convenient is it for the users to install and run a Windows 10 VPN.
Windows 10 VPN – 2 Min Setup Guide
In order to set up the best VPN for Windows 10, you need to follow below steps:
Step 1: First you need to select the perfect Windows VPN service – as from the table provided above
Step 2: Go to the website of that VPN provider and download its Windows app
Step 3: Select the Start button > Go to Settings > Then Network & Internet > VPN > Add a VPN Connection

Step 4: Now type the connection name, server address, username and password, and then save the information

Step 5: Now you will see a new connection in the VPN section > Connect to the VPN and enjoy internet freedom!
Microsoft claims that Windows 10 is their their fastest Windows OS till date and it has been designed to provide a better user experience. Yet, the users have reported some bugs and issues that have resulted in unexpected Windows crashes. The major issue that has caught the attention of the users all over the world is the unwarranted supply of your data to the NSA! What you need is to use a tool that can encrypt your data and online activities with strong protocols.
Thankfully, a VPN can keep hackers and spies at bay with their security features designed to enhance overall privacy of users and protection of their data.
Caution: Solving the Windows 10 Cisco IPSec VPN Client Issue
Cisco IPSec VPN users might run into connection problems after setting up Windows 10 VPN. Cisco IPSec VPN client hasn't been made available for use to the users of Windows 8, 8.1 and 10. The client refuses to 'Secure communication channels', leading to an eventual time-out and termination of the connection.
However, users have solved the problem by tweaking the registry settings. Follow the steps in our detailed guide to troubleshoot your Cisco IPSec VPN clients problems on Windows 8, 8.1 and 10.
Windows 10 Cisco IPSec VPN Client Issue Guide
Windows 10 Detailed VPN Setup (Step by Step)
Anyway once the updates were done; it was time to test the Windows 10 VPN client. Much like the earlier versions of Windows, Windows 10 also comes with a manual VPN configuration setup. However, it is worth noting here that your existing VPN client may need some minor tweaks before it works on Windows 10.
To guide you through, I have written a comprehensive and a pictorial guide for setting up Windows 10 VPN client. In seven easy steps, you can manually configure your VPN service and get connected to explore the world of internet anonymously!
In the control panel, you will find Network & Sharing Centre, access it and then click on setup a new connection or network.

You will be asked to choose your connection type in a newly popped up window. Click on Connect to a Workplace.

In the third step, you will be asked how you want to connect. Simply click on Use My Internet Connection and wait for further a new window to pop up.

You will now be required to enter your Windows 10 VPN server details and the name of your Windows 10 VPN You can obtain all such info from your chosen provider, and once you have entered the details, click on Create to create a VPN profile.

Wait for the Windows 10 to successfully create and configure the VPN connection.

Now that your Windows VPN profile is successfully created and configured, your VPN connection will be displayed on the right section of your menu under the Networks section. Click on connection name to proceed further.
The last step involves you to fill in your credentials and click on Connect. You can directly ask our VPN provider to send your credential details to you on your email account. Once you have entered the details, click on Connect and enjoy.
Windows 10 VPN Issues
Before writing about the Windows 10 VPN issues, I actually got out of our comfort zone and went on different forums and communities to interact with some of the Windows VPN users who were having troubles and difficulties in running the software on their devices.
The numbers were not as alarming as you would expect (which is a good sign for all the VPN users) but the complaints were there nonetheless! I decided to dig a bit deeper and interacted with a few of them so as to get first-hand info. Quite a few of them mentioned that their VPNs were acting up when they updated their Windows.
I am listing a number of solutions that can make your Windows 10 VPN work, in case of troubleshooting.
Check if you are entering the correct credential details. In case of manual configuration, make sure you are entering the right server address; otherwise, your Windows 10 VPN won't work.
If you are connecting through an external modem, make sure it is working properly.
Always check your internet connection, before connecting your Windows 10 VPN
Disconnect your VPN and connect it with PPTP/L2TP protocol. Certain VPN services do not work all the time on certain protocols.
Best VPNs for Windows 8 – 8.1 with Setup Guide
Prescribed below are the 10 most amazing VPN services for Windows 8 series for the year 2018. The recommended alternatives are selected because of their performance and frequent acceptance by users around the globe.
Top 10 VPNs for Windows 8 – 8.1
Here is a quick look at the best VPN services for Windows 8 and 8.1:
PureVPN
Buffered
Windscribe
Hotspot Shield
PrivateVPN
TunnelBear VPN
ProtonVPN
Hide.Me
Private Internet Access
Avira Phantom VPN
For all of the aforementioned issues, there's one ultimate solution – a VPN. In order to cope with our on-the-go routine, we need to carry our devices. Yet, most of our digital activities are hosted by either our PC or Laptop. There is a guide specifically about the best VPN for PC for better idea about a VPN service for Personal Computer, that you can consult as well.
Windows is one of the most frequently adopted operating systems. However, it is more prone to security threats and other vulnerabilities. To cope with the issues discussed above, the solution recommended from our side is best VPN for windows.
I know that VPN is a sophisticated technology. Hence, one should research thorough and examine all available alternative before making his purchase decision. Worried about the time it will take? Don't sweat. I am here here to help you in this regard. For more information about 5 best Windows VPNs, read our detailed reviews about the service providers.
Windows 8 VPN – 2 Minute Setup Guide
Here are some easy steps through which you can easily setup a VPN on Windows 8. I am using PPTP protocol to configure VPN on Win8. However, the process to configure a VPN choosing other protocols isn't much different. Follow the steps prescribed in the guide given below.
Step 1
First, you will have to access 'Settings' of your operating system. To carry the process forward, type 'VPN' in the 'Search Bar' as prescribed. Now you have to select 'Setup a virtual private network (VPN) connection' as shown in the snapshot given below.

Step 2
A new window will pop, click on 'Setup a new connection or network'.

Step 3
You will now have to choose a connection option. Select 'Connect to a workplace'.

Step 4
Now, you will have to select 'Use my Internet connection (VPN)' as presented in below-mentioned snapshot.

Step 5
You will be advanced to a new window. Here you will have to enter information about the 'Server' you wish to connect and select 'VPN Connection Name'. These details will be provided to you in a configuration email from VPN service provider you choose to prefer. Once the information is entered, click 'Create' to let Windows settings take effect.

Step 6
As you can see that a new 'VPN Connection' has been created; time to move to the next step.

Step 7
Now you will have to access 'Connection Properties' by performing right-click on connection icon.

Step 8
Once you have accessed connection properties, you will be redirected to a new window. Go to 'Security Tab' and select your desired protocol.
As I prescribed earlier, the process to configure VPN on Windows 8 using PPTP protocol isn't much different if you prefer other protocols. Anyways, we are setting up a VPN on Windows 8 using PPTP protocol so we'll carry out the process as planned.
Once you have access security tab, select 'Point-to-Point Tunneling Protocol' or 'PPTP' and apply the settings.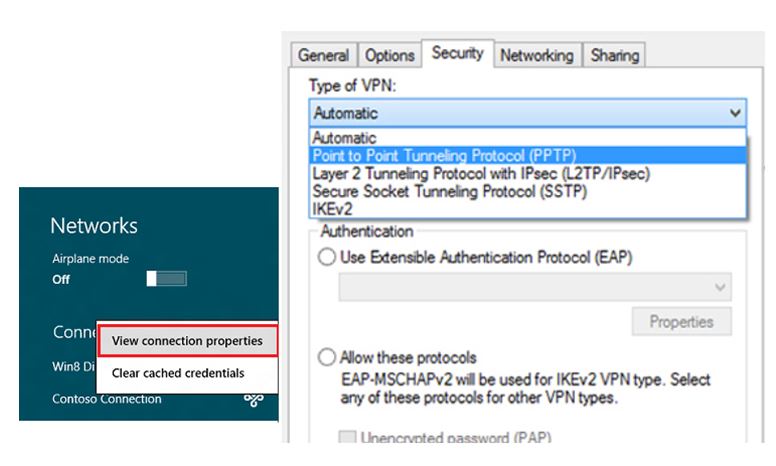 Step 9
Now access newly created 'VPN Connection' on Windows 8. Enter your 'Username', 'Password' and click 'Connect'.

Step 10
Wait for the connection to be established. Make sure that VPN is connected. Enjoy true online freedom and be anonymous for the digital universe.

Best Free VPNs for Windows 8 and 8.1
There are more than hundreds of Windows VPN out there, with a dozen more opening up every day. However, only a few best free VPN for Windows provide the quality service and reliable encryption that Windows users need.
By using these free VPNs, it hides your IP address and make you untraceable while streaming your favorite content on your Windows devices.
Top VPNs for Windows 8
There are hundreds of Windows VPN out there, with a dozen more opening up every day. However, only a few VPN services provide the quality service and reliable encryption that Windows users need.
Our list of top 5 VPN services for Windows is as follows:
PureVPN
NordVPN
ExpressVPN
CyberGhost
Ivacy
Best VPN for Windows 7 – Top 10 VPNs with Setup Guide
Here is a list of top VPN apps for Windows 7, so have a quick look:
PureVPN
ExpressVPN
Private Internet Access
VyprVPN
Ivacy
HideMyAss
NordVPN
IPVanish
CyberGhost
Hide.Me
How to Setup a VPN on Windows 7 (2 Min Setup Guide)
Windows 7 has been created while keeping the modern day Windows user's need for anonymity, security, and accessibility in mind. There are two ways to connect to a VPN on Windows 7.
Quick Configuration Guide
To configure VPN on Windows 7, here are the steps you must follow:
Step 1: Select and subscribe to the best VPN for Windows from the table listed above
Step 2: Select the Windows Start button > Type VPN > Then tap on the Virtual Private Network (VPN) Connection
Step 3: Enter IP address and Domain Name Server > Then select Next
Step 4: Insert Username and Password > Then click Connect
Step 5: Choose your desired server and enjoy!
Additional Methods for Windows 7 VPN Setup
Additionally, you can also adopt the methods given below.
My preferred way – Download and use a VPN client (that's the VPN service provider's software
The long way – Manually setup VPN on Windows 7
Let's take this one at a time.
Option 1 – Download and use a VPN 
Find the best VPN for Windows 7.
Look for a Virtual Private Network service that offers adequate device compatibility, 256-bit encryption, 250+ servers, and 24/7/365 support.
Pick one of the price plans that the Windows VPN service provider has to offer and subscribe to it.
Make sure you choose a package that offers a 3-day money back guarantee at a minimum.
Choose a payment method that you are comfortable with.
Once you have subscribed to your desired package, one of two things should happen:
The website will redirect you to a download page where you should be able to select and download the VPN service provider's software for Windows 7.
You will receive an email guiding you to a download page.
Once the Windows VPN client has been downloaded, install it using the Installation Wizard. For assistance, use the tutorials you found earlier, or use this phase in the process to thoroughly test the Live Chat (read: customer support) option.
Upon installation, open the Windows VPN software and enter in the details (username and password) that you must have gotten in the subscription confirmation email you received in Step 3.
Enter your log-in details.
Select your desired protocol, server location, and hit Connect.
I recommend you use PPTP if you want to stream videos and L2TP if you are going to conduct social media sign-ins and SSTP if you're going to conduct financial transactions.
VPN is now connected on your Windows 7.
The next time you want to connect to a VPN, simply open the VPN service provider's software and execute Step 7.
Option 2 – Manually setup VPN on Windows 7
Windows 7 is the most VPN-friendly version of Windows to date.
Setting up a VPN connection on your Windows 7 will enable you to encrypt your data and send/receive it through a secure tunnel that keeps you safe from hackers, crackers, and phishers.
Remember, you are looking to set up an Outgoing VPN session. An Incoming session will give other machines access to your computer – and you don't want that.
Setting up a VPN connection on your Windows 7 is easy. However, before you begin setting up, contact your administrator and ask for the following details:
The domain name of the network or an IP address of the server you will be connecting to.
An initial user-name and password for the connection. You will need these for initial configuration/connection and should change them later for your own security.
Also, ask your administrator the specific protocols to which you have will access to (PPTP, L2TP, SSTP, etc.).
Once you have these details, you may begin manually setting up VPN for your Windows 7.
Go to Control Panel -> Network and Internet -> Network and Sharing Center. Under Change your Network settings, click on the option that says Setup a new connection or network.
A new window will open up asking you to Choose a Connection Option. Click on the option that says Connect to a workplace and hit Next.
Select No, create a new connection, and hit Next.
The next screen will ask you How you want to connect and ask you to select one from two options: Use my Internet connection (VPN) and Dial Directly. Click on the first one and the setup wizard will ask you to provide the Internet address and Destination name details.
Fill in the Internet address and destination name provided to you by your network administrator.
Use the check-boxes to indicate if you are using a smart card. Think twice before you allow others to use this connection on your system. Also, make sure you check the box marked Don't connect now if you wish to connect later.
The final step will ask you to enter in the user-name and password that your network administrator provided you.
You will now be able to see a new connection when you click on the Network icon in your system tray. Open your brand new VPN connection and the log-in credentials you entered in should already be filled out in their respective fields. In some cases, you may need to enter the password.
Before you hit Connect, click on Properties and go to the Security properties. Select your desired Protocol and Data encryption level from the drop-down list and hit OK to come back to the main VPN connection window.
You may now Connect and enjoy surfing like never before!
Best VPN Service for Windows XP
Fortunately, there are different online privacy services compatible with Windows XP.

Here is the list of top 10 VPN for Win XP that includes:
PureVPN
NordVPN
ExpressVPN
PrivateVPN
Ivacy
IPVanish
Private Internet Access
HideMyAss
CyberGhost
VPN Area
How to Setup a VPN on Windows XP – 2 Min Setup Guide
Windows XP is one of the most popular operating systems developed by Microsoft during 2001. Therefore, you will find Windows XP users in all the major countries of the world. The version offered a comprehensive list of features to the users like user-friendly interface and so on.

The task of setting up a VPN on Windows XP is straightforward and does not take much of your time. Interestingly, there are two different methods users can opt to setup a VPN on Windows XP accordingly. These two different methods include:
Download and Use a VPN
Manually Setup a VPN on Windows XP
These two distinct procedures are described as follows:
Option 1 – Download and Use a VPN
Subscribe to the VPN service of your choice from the list given above
You must make sure to select a VPN service that offers maximum number of servers and money back guarantee
After completing the payment requirements, you can download the VPN software on your Windows XP operating systems
Once you are done with the downloading process, you can install the Windows client using the installation wizard
You should open the Windows VPN software and provide username along with password
Mention your login details, choose your preferred VPN protocol and server location
Hit 'Connect' and enjoy complete online anonymity on Windows XP straightaway.
Option 2 – Manually Setup a VPN on Windows XP
Likewise, you can manually setup a VPN on your Windows XP operating systems hassle-free. Here is how you can do to achieve your installation mission:
Step 1
Click 'Start' then go to 'Control Panel' and click 'Network and Internet Connections"
Step 2
Click 'Network Connections' then click 'Create a new connection'
Step 3
Click 'Next' then choose 'connect to the network at my workplace' and click 'Next'
Step 4
Choose 'Virtual Private Network connection' and click 'Next'
Step 5
Write the name of your newly created VPN connection of your choice and click 'Next'
Step 6
Mention your preferred server address and click 'Next'
Step 7
Choose "Add a shortcut to this connection to my desktop" and click 'Finish'
Step 8
Mention the required information like username and password
Step 9
Choose 'Save this username and password for the other users'
Step 10
Choose 'Me only' or 'Anyone who uses this computer' and click on 'Properties'
Step 11
Click 'Networking' tab and choose 'PPTP VPN' through drop down menu
Step 12
Now uncheck 'File and Printer Sharing for Microsoft Networks' and click 'OK'
Step 13
Click 'Connect' now and wait for VPN connection to be established after username and password authentication
Step 14
Now, you are connected to your desired VPN service
Similarly, you can disconnect your VPN connection by right clicking VPN Connection and selecting 'Disconnect'
Top 5 VPNs for Windows Phone
When it comes to securing your Windows phone from various online threats, nothing comes close to VPN. Yes, you have read it correctly. A good Windows VPN allows you to spoof your online locations through alternate IP addresses.
Moreover, you can bypass ISPs and government surveillance to another level. Therefore, a Windows VPN becomes crucial to protect all your online activities while using your preferred Windows phone from anywhere.
List of 5 Best VPNs for Windows Phone
The task of selecting an excellent VPN for Windows is not much difficult but needs proper research. Being a Windows phone user, you should consider different factors before choosing a perfect Windows VPN.
Here is the list of various factors that includes:
Pricing
Logging and privacy policies
Availability of customer support
Money back guarantee
Free trial feature for new subscribers
Windows phone assisted VPN protocols like L2TP, IKEv2, and SSTP
Once you have gone through the above factors, you can make a right decision about your online privacy. As a result, you can opt a better VPN for Windows that allows you to circumvent online censorship and content restriction issues.
For Windows users' ease, I have compiled a list of best VPN services compatible with Windows phone. The list of VPN providers that includes:
VyprVPN
ExpressVPN
VPNArea
IPVanish
Strong VPN
VPN Setup for Windows Phone
Windows phone offers an extensive level of VPN support to its users. However, you will have to create a VPN profile before setting up a Windows VPN on your Windows phone 10.
After developing a VPN profile, you can setup a VPN for Windows on your Windows phone 10 hassle-free. If you want to know how to setup a VPN on Windows Phone 10 and 8.1, read our detailed guide.
Why Do You Need a VPN for Windows in 2018
Privacy and Security Issues
In this digital universe, there's a cybercriminal waiting around every corner for an opportune moment to strike. Security tools like an anti-virus might protect you against threats like Virus, Spyware, Spam Bots, Malware, and Ransomware etc. However, your personal as well as confidential information is always at risk if necessary measures are not taken.
The Internet is a podium that connects users with the world, at the same time it is the reason for our excessive vulnerabilities acknowledged. Hackers today are capable of infiltrating our network security and access our important data. Due to concerns like these, we might end up facing problems like information disclosure, financial loss, and identity theft – unless you have a VPN for Windows installed and activated.
Censorship
You need to equip your Windows with a VPN ASAP if you live in pro-censorship countries like China, Iran, and Turkey etc. Don't confuse geo-restrictions with censorship; because, each issue accompanies divergent threats and aftereffects.
Censorship regulations are formulated and implemented by government and other concerned legislative bodies with respect to the content. Through censorship, concerned authorities ban websites, social media platforms and other content which they perceive inappropriate for natives to access.
Geo-Restrictions
Privacy and security aren't the only concerns we acknowledge in this digital universe. Geo-Restrictions come at the second spot if we start rating the concerns we face today – digitally speaking. A Windows software can be a real lifesaver under such circumstances.
Geo-Restrictions are the worst enemies for streaming lovers. In addition, these concerns can't be confined to the streaming community only. Geo-Restrictions restrict your access within a particular region. If you wish to access a geo-restricted content, your IP should represent that particular locality which curbs the content.
Streaming Platforms
Many streaming platforms such as Netflix, Hulu, HBO-Go, WWE Network and Pandora etc can't be accessed by those who live outside the US. Some of the famous VPNs for Windows get you rid of streaming problems in any country or geo-location. Private Internet Access, Pure VPN, Golden Frog VyprVPN and ExpressVPN are considered the best ones to bypass geographical restrictions.
The only way out of this mess is to mask your real IP. Yes! That is possible but only if you are using a VPN for Windows. By connecting to the top VPNs for Windows, you can mask your real IP and bypass all possible geo-restrictions.
NSA Surveillance
Thanks to the whistleblower (Edward Snowden), we now know that the NSA has been spying on us for decades and the only way out is through Windows VPN. Not only this, the NSA has been allegedly working with telecom and tech giants to take their surveillance operations to the whole new level.
The NSA has been spying on our online activities, conversations, social media activities and even financial transactions. In the name of national interest, the NSA has been slowly killing our online freedom and liberation by holding us captives – digitally.
With the best VPN for Windows, you can secure your data with military grade encryption. In addition, a Windows VPN helps you evade all surveillance traps by hiding your real IP.
How to Test Windows VPN App's Performance
When you purchase a Windows VPN, you want its performance to be outstanding. This is where you need to measure Windows VPN client's performance. There are certain metrics that you use to gauge whether the VPN client was up to the mark. First, you can conduct speed tests using various tools to check your download and upload speeds. You can use speedtest.net or testmy.net to find out the Windows VPN performance.
Secondly, you can check for IP and DNS leaks. Tools such as ipleak.net will help you uncover how secure your VPN services really is. Since a Windows VPN promises you IP cloaking and anonymity, it is a good idea to check your Windows VPN client for any shortcomings.
Wrapping Up
The list prescribed above presents 10 best VPN for Windows. This recommendation is based on the performance of VPNs; especially, on the Windows operating system.
I hope my research will help you find the right VPN for your needs. Let us know if you liked this article in the comments below.