CyberGhost Netflix – Does CyberGhost Work with Netflix? [Updated 2023]

CyberGhost Netflix
CyberGhost is one of the most considered reliable VPN services all over the world. But, thanks to Netflix's robust VPN detection technology, CyberGhost still falls short of unblocking Netflix in various regions. This is why I recommend an alternative VPN service that can be trusted for unblocking all Netflix libraries – ExpressVPN.
VPNs and Netflix have always been in constant battle. Netflix's geo-restrictions on content libraries make it quite difficult for people to access their favorite shows and movies. We all know that Netflix content is different in every region because of the licensing agreements that the streaming giant has to honor.
If you're struggling with unblocking Netflix while connected to CyberGhost, then you can try out a few other methods to access your favorite Netflix content from anywhere in the world. The methods would involve a few alterations in your existing connection and settings.
But, if you'd rather cancel your CyberGhost subscription and use another VPN, then I highly recommend ExpressVPN as it is the best Netflix VPN among all the VPN providers. This VPN offers 3000+ effective servers in 94 countries, super-fast speeds, excellent unblocking capabilities, and fantastic security features that make it a great option for Netflix. If you are on a tight budget you can also look into Free VPNs for Netflix that can help.
It's not only offering a 3-month free subscription on its annual plan for a limited time period but it also comes with a 30-day money-back guarantee so you can test out the service without committing to it in long term.
---
CyberGhost Netflix: How to Watch Netflix With CyberGhost in 2023
Follow these quick steps to enjoy the CyberGhost Netflix combo:
1. Subscribe to CyberGhost.
2. Install its app on your device.
3. Launch the VPN, sign in, and click on the server drop-down to open the full list of servers, then select the "For streaming" tab.
4. Choose a Netflix-optimized server. (CyberGhost offers optimized servers for Netflix in its streaming tab that offer the best streaming performance).
5. Once connected, log into Netflix and enjoy streaming your favorite shows from your preferred Netflix content library.
---
Why is CyberGhost not working with Netflix? – Here's How to Fix That!
If you're unable to access Netflix with CyberGhost, don't worry. This can happen with other VPNs too. However, you can easily solve this problem through a few hacks.
Keep in mind that these hacks work not only for CyberGhost but for other VPNs as well.
Now, without further ado, let's look at how you can solve your Netflix not working problem when connected to CyberGhost:
1. Change your server:
Not being able to access Netflix is a common issue, and it's not related to your VPN's performance but the server you're connected to. Often servers face some traffic overload and refuse to connect you to Netflix. For this, your should always make sure that you're connected to a Netflix-optimized server of CyberGhost instead of a regular one.
2. Check your IP:
Often, your IP address doesn't change even when you connect to a VPN server. Due to this reason, Netflix repeatedly denies you access to its geo-restricted content library. Therefore, always ensure that your IP address has changed after you connect to a VPN.
3. Switch to an alternate encryption protocol:
You can always switch to any other encryption protocol if your VPN continues denying access to Netflix. Simply visit your VPN's settings and change the protocol. The best encryption protocols for Netflix are OpenVPN and WireGuard, and CyberGhost offers both.
4. Configure your proxy again:
This usually happens if the browser proxy you're using is either misconfigured or outdated. In this case, using Netflix with a VPN won't be possible at all.
5. Check your antivirus and firewall settings:
Sometimes antivirus and firewall settings prevent CyberGhost from unblocking Netflix. If this is the case, then try disabling your firewall and antivirus temporarily. This should hopefully fix the issue.
6. Restart your CyberGhost app:
Sometimes, your CyberGhost Netflix not working issue may be the cause of a simple glitch. Sign out of your CyberGhost app and log back in. Once you're done, try once again.
7. Use an alternate VPN:
CyberGhost might be able to unblock Netflix, but you can always look for an alternate in case it doesn't work. The best alternate VPN to CyberGhost is ExpressVPN – offering a massive server network and amazing unblocking capabilities. It also comes with a risk-free 30-day refund policy to help you test the service out risk-free.
---
Why Should You Use CyberGhost to Watch Netflix?
CyberGhost is an incredible choice to watch Netflix, offering 9700+ servers in 91+ countries. This VPN has one of the largest server networks in the industry and can unblock not just Netflix but many other streaming services, including BBC iPlayer, Voot in Australia, Hulu, Disney+, Youtube TV in UK, Vudu, Youtube TV, and more.
I tried 7 of CyberGhost's optimized servers for Netflix, and they unblocked the streaming service within a minute.

CyberGhost claims to unblock 8 Netflix libraries in the world. This is technically less than the number of Netflix libraries ExpressVPN can unblock.
However, I put the VPN to the test and tried unblocking all the Netflix libraries that CyberGhost claims to unblock. Check out the table below which includes all my findings:
| Netflix Libraries | Working (Yes/No) | Performance | Movies & TV Shows |
| --- | --- | --- | --- |
| Netflix US | Yes | 11 seconds to play | 5,665 |
| Netflix UK | Yes | 15 seconds to play | 2,967 |
| Netflix FR | Yes | 12 seconds to play | 1,928 |
| Netflix DE | Yes | 18 seconds to play | 1,785 |
| Netflix DK | Yes | 9 seconds to play | 2,106 |
| Netflix IT | Yes | 18 seconds to play | 1,196 |
| Netflix JP | Yes | 14 seconds to play | 1,765 |
| Netflix SE | Yes | 16 seconds to play | 2,080 |
CyberGhost's easy-to-use app for all devices is one highlighted feature of this VPN. Most VPNs let you choose any server you want, based on location and the Netflix library you want to unblock.
However, CyberGhost works a bit differently. This VPN lets you select a server based on the service you're about to stream. All I did was type in 'Netflix' in the search bar, and it showed me all the Netflix-optimized servers.
The VPN offers a compatible app for all popular devices, including Android, iOS, Mac, Windows, Linux, Fire Stick, and more.
Along with Netflix compatibility, CyberGhost also offers complete security to users. Using its kill switch, AES 256-bit encryption, split tunneling, and DNS leak protection, you can enjoy streaming Netflix with complete security at home and on public Wi-Fi networks.
I tested this VPN's DNS leak protection feature by connecting to a US server, and it did not leak my IP at all. Just check out the screenshot below to confirm it:

CyberGhost is located in Romania, away from the 5,9,14 eyes alliance, meaning that the VPN is extremely privacy-friendly. To ensure complete anonymity, the VPN also offers a strict no-logs policy. The VPN makes sure that none of your activities is ever stored or recorded, whether you're connected to a regular server or a Netflix one.
Another benefit that comes with this VPN is its risk-free 45-day money-back guarantee. With this refund policy, you will have to make the payment initially, but you can always receive a refund if you cancel before the 45-day period ends.
I asked the customer support agent to cancel my subscription, and they agreed after asking me a few questions. The complete amount was refunded to me after 5 business days.
---
CyberGhost Netflix Alternatives
If you don't prefer using CyberGhost anymore and are looking for an alternate VPN to use, you can always go for the VPNs I've mentioned below. Among them, ExpressVPN is my top recommendation for Netflix:
1. ExpressVPN — Super-Fast Speeds for Watching Netflix Without Buffering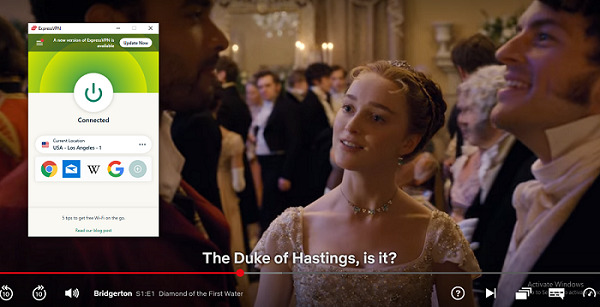 Super-fast speeds with HD streaming
3000+ servers in 94 countries for bypassing geo-restrictions
Unblocks Netflix, BBC iPlayer, Hulu, Amazon Prime, Channel 4, YouTube TV, and more
Exclusive MediaStreamer feature that lets you enjoy Netflix on any Wi-Fi connection
Compatible with iOS, Android, Fire Stick, Windows, Mac, and more
5 multi-logins
30-day money-back guarantee 
ExpressVPN offers literally the best speeds for streaming. I conducted multiple ExpressVPN speed tests, and the VPN delivered a consistent speed of 78.46 Mbps on my 100 Mbps connection, as I enjoyed watching Jericho easily. While I did notice a 20% decrease in my speeds, nothing stopped this VPN from offering HD quality while streaming. This means that you can enjoy the entire Netflix library from anywhere in the world without any compromise on quality.
This VPN further offers 3000+ servers in 94 countries. These servers include 23+ servers in the United States. I tested 6 of these US servers and unblocked American Netflix, streaming some exclusive US TV shows like The Borgias within a minute. I even used its UK servers and enjoyed War Games and Thunder Birds.
Thanks to this ExpressVPN's MediaStreamer feature, I could easily unblock Netflix on any Wi-Fi-compatible device even if they don't support VPN apps. I tested this by accessing Netflix on Roku within 2 minutes.
A downside of this VPN is that its subscription plans are relatively more expensive than CyberGhost, but it offers a 3-month free subscription on its annual plan as well as a 49% discount.
If you're still a bit hesitant to get this VPN, then you can always opt for its 30-day money-back guarantee and test out all its features first. If you don't like the service, then you can easily claim a refund in 30 days.
I tested canceling the ExpressVPN subscription I had using their 24/7 live chat support. The customer service representative asked me just a few questions and proceeded with my cancellation. I also got my refund within 3 days, which was amazing.
Want to know more about this VPN in detail? Just go through our detailed ExpressVPN review for it.
---
2. Surfshark – Budget-friendly VPN to Watch Netflix in HD

Consistent speeds for HD streaming
3200+ servers in 65 countries to bypass geo-blocks
Unblocks Netflix, BBC iPlayer, Channel 4, Hulu, YouTube TV, Amazon Prime, and more
Offers MultiHop, CleanWeb, Whitelister, and more
Compatible with Android, iOS, Windows, Mac, Fire Stick, and more
Unlimited simultaneous connections
30-day money-back guarantee 
Surfshark offers consistent speeds even while being quite affordable. I tested 6 of its US servers too, and it gave me an average speed of 70 Mbps on a 100 Mbps connection while streaming American Horror Story. However, even with relatively fewer speeds than ExpressVPN, Surfshark let me enjoy multiple episodes of the show in HD quality.
The VPN comes with a server network of 3200+ servers in 65 countries with 500+ in the US. These servers can easily be used to enjoy multiple Netflix libraries across the world. With the 6 US servers I tested for Netflix, I enjoyed watching The Tudors and Dexter easily within 5 minutes.
The best thing about Surfshark is its unlimited simultaneous connections that allowed me to enjoy the VPN's services on Windows, Android, iOS, Mac, Fire Stick, Roku, and more easily.
The VPN comes at a budget-friendly price of $1.99/mo (Get 86% + 3 Months FREE on 2-Year Plan), but it offers no free months like ExpressVPN. However, you can always test the service using its 30-day refund policy. I tried canceling my Surfshark subscription using its customer chat support and got my refund in 7 business days.
To learn more about this VPN, simply go through our detailed Surfshark review.
---
FAQs – CyberGhost Netflix
Here are a few questions answered that are asked frequently related to watching Netflix with CyberGhost:
Does CyberGhost VPN come with a Netflix account?
No, CyberGhost does not come with a Netflix account. However, it does offer multiple Netflix-optimized servers to unblock geo-restricted regions of Netflix and enjoy its multiple content libraries in HD.
Do the CyberGhost desktop and mobile apps work with US Netflix?
Yes, both the desktop as well as mobile app of CyberGhost work with US Netflix. The only thing that matters for accessing Netflix is your server connection, not the device you're using. Therefore, it's better that you connect to a Netflix-optimized server from the list of all CyberGhost's servers.
Is it legal to use CyberGhost for Netflix?
Yes, but it's a bit complicated. While most countries have deemed the use of VPNs legal, countries like China have completely banned and restricted the use of a VPN.
Similarly, a VPN is used to access many geo-restricted libraries. While it's not completely illegal to access Netflix with a VPN, using one goes against the VPN's terms of service. Netflix even has the right to shut down your account if it finds you using a VPN to bypass the streaming service's geo-restrictions.
Will Netflix delete downloads if I downloaded them with a VPN on?
No, if you decide to download anything using CyberGhost, then it won't get deleted. But, you will only be able to access the downloaded file when connected to the VPN service. However, it's better that you save the offline version to access it anywhere you like.
Can Cyberghost decrease my Netflix streaming speed?
Yes, CyberGhost can slow down your speeds while streaming. However, even with the drop, you can easily enjoy Netflix's libraries in HD quality. Keep in mind that the closer the VPN server is to your location, the better speeds there will be. But that should not be a problem if you have a speedy internet connection.
Will I still be able to access US Netflix if I'm traveling abroad?
Yes, you can unblock and access US Netflix while traveling abroad from anywhere in the world using CyberGhost's US servers. This VPN offers 1270+ US servers that you can use to enjoy US Netflix content titles like Dexter and The American Horror Story.
What if CyberGhost stops working with Netflix?
If CyberGhost stops working with Netflix, you first need to switch to a different server. If that doesn't work, try signing out of the CyberGhost app and signing back in. You can also go through our CyberGhost not working guide for more troubleshooting tips.
CyberGhost Netflix – Wrapping Up!
CyberGhost is a good VPN to use for accessing multiple content libraries of Netflix. It has shown a strong ability to work with US Netflix and FR and DE versions of Netflix. However, for other libraries, it might not be too effective.
If you want a foolproof VPN that can unblock a diverse range of Netflix content libraries, then you should switch to an alternate VPN service. A great option is ExpressVPN, given its 3000+ servers (with 23+ US servers), fantastic speeds, and effective unblocking capabilities.
We hope you enjoyed our CyberGhost Netflix guide. Feel free to comment in case of any questions. Happy streaming!