Reading Time: 7 minutes
In today's day and age, a VPN is a must-have tool to ensure online privacy. While it's great to have a dedicated app installed on your phone or laptop, you can't deny the convenience of a lightweight VPN extension for Firefox.
Similar to Chrome, plenty of VPN providers now offer fast and secure browser extensions for Firefox. If you're the kind of person who wants a super snappy VPN plugin for their browser, you're going to love this blog.
I've compiled an awesome list of some of the best VPN in 2023 for Firefox that'll not only help you browse the web securely but also help you bypass geo-blocks. Among these services, our #1 recommendation for Firefox is ExpressVPN, because of its simple browser extension and server network.
Overall Best VPN

3,000+ Servers in 94 Countries
Hard disk free infrastructure (RAM only)
256-bit Military-Grade Encryption
Excellent unblocking capability for Netflix, Hulu & more
5 Multi Logins
Zero-knowledge DNS
Excellent - 4.6
Based on 100 reviews

Straight to the point
Straight to the point. Easy to use from my desktop to phone. Friend user interface. Really recommended!
Highly recommend express vpn
I have been using express VPN for nearly a year now. I have no complaints whatsoever. Indeed I can highly recommend.
Works like a charm
Works like a charm! I know and feel like my online search is secure. Best vpn on the market.
Totally Useful and Reliable!
ExpressVPN is such a wonderful help for websites I cannot access in other countries.
Great and very easy
Their website is very informative and explains in step by step easy directions to apply their VPN to anything and everything. Works excellent
Snoops be damned
As an IT all-rounder, I have used ExpressVPN for many years now and rely on it to protect my privacy. As we interact with technology, directly or otherwise.
This is very good for my family
This is very good for my family. We use it in different countries. This gives us great opportunities. It has never let us down!
Good VPN
Good VPN worth the money just wish it was a one off payment not every month
Great for my needs
Excellent for my needs. Bought a subscription for my relatives to use in Myanmar. Works well for all of us.
Super easy and safe in the net
Super easy and safe in the net
Quick Overview – What are the Best VPNs for Firefox?
5 Best VPNs for Firefox (In-Depth Analysis)
There are many Firefox VPN providers out there, and it is one of the hardest things to select the best of them.
Many of them look promising, but only a few can keep their promises of providing unmatched security and access to blocked websites.
If you prefer a more conventional VPN app, make sure you check out our list of best VPNs .
So without further ado, here are the 5 best VPN for Firefox :
1. ExpressVPN – The Best VPN for Firefox

ExpressVPN, with its blazing fast VPN speed, makes it the best Firefox VPN . It has a huge network of 3000+ global servers located in 94 countries and hundreds of server locations. Based in the British Virgin Islands gives it more reasons to choose this service because there are no data retention laws in the region.
ExpressVPN offers a dedicated add-on for Firefox and other browsers, but for this, you need to install the VPN on your desktop along with the add-on to make it work. With your Firefox browser connected to ExpressVPN, your location will automatically change to the location you've connected to with ExpressVPN. This will let you unblock all geo-restricted services like Netflix, Hulu, BBC iPlayer, NBC outside US, Disney Plus, and more. It's the best VPN for streaming for 2023 on our list.
If you face some issue, you can simply connect to its customer chat support that offers a super-efficient service. Let's not forget that ExpressVPN has a huge server network .It is also considered to be the best free VPN for torrenting in USA [\customlinker]. Thanks to ExpressVPN's security features like no-logs, DNS leak protection, a kill switch, AES 256-bit encryption, etc., you don't need to be worried about getting caught or blocked from any service at any time.
With ExpressVPN as a Firefox extension, browse any website on the internet. In fact, it is one of the best VPN extensions for Firefox with its excellent functionality. It is available for $6.67/mo (Get 49% Off + 3 Months FREE on its 12-Month Plan) with a 30-day money-back guarantee.
Please read our detailed ExpressVPN review  for more information.
Pros
3000+ global VPN servers
Available as Firefox extension
No restrictions on the internet
Offshore privacy protection
256-bit encryption
Cons
Price can be a bit expensive
2. Surfshark – An affordable VPN for Firefox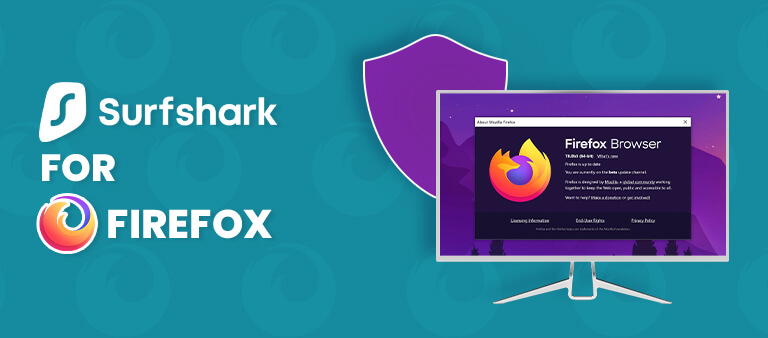 Looking for a budget VPN to secure your Firefox browser ? Then Surfshark is all that you need. With over 3200 servers, you'll be able to unblock any geo-restricted content like streaming Netflix US from Canada, Hulu, Amazon Prime, etc. with Surfshark.
It also offers top-of-the-line security features like powerful encryption, CleanWeb, Whitelister, Mulihop, and secure protocols. You don't need to worry as these security features and protocols have been audited and declared safe to use.
Surfshark even offers a Firefox extension with 3.7 stars rating. It also offers unlimited simultaneous connections and a full 30-day refund policy. Let's not ignore its budget-friendly prices. Surfshark keeps itself low in price so it can be used by students on their Firefox browsers or in corporate networks.
It also keeps no logs so you're protected at all times. It is available for $2.30/mo (Get 84% + 2 Months FREE on 2-Year Plan). View the detailed Surfshark review for more information.
Pros
Unlimited multi-logins
Light on the pocket prices
Unblocks all geo-restricted services
AES 256-bit encryption
Zero-logging policy
3. NordVPN – Fast Firefox VPN

NordVPN offers 5500+ servers worldwide and is one of the best choices for Firefox due to its speeds and usage. It actually offers a firefox extension that does not need a desktop app to work, making its use completely hassle-free. Also, NordVPN offers the largest server network to get a Turkish IP address. It comes with 5500+ servers across 59 countries, including 14+ servers in Turkey.
Its double VPN encryption will unblock any geo-restricted website when browsing on the Firefox browser. You can watch Netflix of any country you like as well as other streaming services like UK-only BBC iPlayer on your Firefox browser. It's one of the fastest VPNs to exist which is actually dedicated to providing speedy connections to users.
NordVPN is available for all other platforms, including Windows, Android, iOS, Mac, and others. One NordVPN account is allowed to connect to 6 multiple devices at the same time. You'll never once have to bear intrusive advertisements with this top VPN for Firefox . Also, it will keep your online identity hidden. It is available for $3.99/mo (Get 57% Off + 3 Months FREE on 2-Year Plan) with a 30-day money-back guarantee.
View a detailed NordVPN review  for more information.
Pros
Shields from advertisements
Double VPN protection
Connect 6 devices simultaneously
Strict no-log policy
DNS leak protection
Cons
Slow streaming is sometimes due to heavy encryption
Sluggish desktop app
4. CyberGhost – Reliable VPN for Firefox

CyberGhost has military-grade encryption, which makes it the best VPN extension for Firefox . Its enhanced security keeps your online activity hidden in everything that you do over the Firefox browser . Access all of its 9700+ servers in approximately 91 countries.
One CyberGhost account allows you to connect VPN to 7 different devices so you can connect it to your Firefox browser as well as other devices as it's compatible with all popular devices. It defeats ISP throttling and makes streaming ultra-fast without compromising user privacy due to its advanced security features.
It actually offers some advanced security features including a great kill switch, IPv6 leak protection, split tunneling, etc. CyberGhost does not collect any user logs so you're completely safe while accessing your personal information too while keeping this VPN connected.
It is available for $2.11/mo and also offers a 45-day money-back guarantee, which is much more than all other VPNs to make it easier for you to decide if it's worth it or not. View our detailed CyberGhost review for more information.
Pros
Military-grade encryption
Internet kill switch
Dedicated IP
NAT Firewall
6500+ servers in 140+ countries
31-day money-back guarantee
5. PIA VPN – Secure Firefox Add-on

PIA VPN offers a pretty well specced Firefox extension . Fast VPN servers always have the best internet speed, and PIA VPN manages to pull this feat with ease. It also offers DNS leak protection, a kill switch, zero-logs, AES 256-bit encryption, and unlimited bandwidth, which adds a cherry on top of its already enhanced security protocols on Firefox .
Moreover, it has over 35000+ servers and can be connected to 10 devices at a time. You can actually use its server network for connecting to any streaming service you like on your Firefox browser. The streaming services can be as popular as Netflix and as low-key as Voot. You just need the server of that country and you'd be good to go.
There is dedicated customer support for PIA VPN available 24/7. If so, you wish to talk to their representatives if any issue occurs. It is available for $2.11/mo . View detailed PIA VPN review for more information.
Pros
Internet kill switch
256-bit VPN encryption
IPv6 leak protection
Keeps no logs
30-day refund policy
Cons
A few servers might be slow
How to choose the best Firefox VPN? Our testing methodology:
Online freedom is a scarce thing despite us being in the 21st century. To get around censorship without being seen on the internet can be done with the best VPN extension for Firefox.
To choose a VPN service that goes well with the Firefox browser , you need to follow certain protocols.
First, always look for a VPN that offers a Firefox browser extension. Many users would buy a VPN considering it is the best in the industry to learn they do not provide Firefox extension.
Check for VPN encryption, which is the most important factor in secured online privacy.
Light and unobtrusive VPN will make a better combination for Firefox and help you in faster streaming. It is common knowledge that VPN service reduces the internet speed, most importantly streaming speed. The best Firefox VPN will have several servers. The closest one to your home country will be faster than the rest.
Lastly, any VPN that stores online activity is no VPN at all. Do not forget to check for their privacy policy and to know whether they collect logging history or never store it on their servers.
To save your time, we reviewed some top-of-the-list VPNs based on different factors that will help you make a planned purchase decision.
Why should you use a Firefox VPN?
A Firefox VPN extension lives inside the browser, encrypting all requests and traffic generated from it. There are many kinds of viruses that specifically target vulnerabilities in the browsers themselves. A VPN extension can help enhance the security of your Firefox browser .
VPN extensions also come in handy when you frequently visit websites that might be blocked on your country's regular Internet. A stand-alone VPN client is more resource-intensive and might slow down your computer.
However, Firefox VPN extensions are lightweight and ideal for users that only want to tunnel their browser data rather than the entire traffic being generated on the computer.
When to use a Firefox VPN add-on instead of a dedicated VPN?
A VPN add-on is an extension that VPN providers offer. Add-ons are similar to VPNs offering the same benefits and services as a full VPN. Think of VPN add-ons as a lighter or mini version of a VPN. Some of the VPN providers mentioned above offer standalone VPN add-ons.
One of the main reasons people use a VPN add-on is that they are lighter and faster than a full VPN. But despite that, VPN add-ons let you access geo-restricted content with ease.
VPN addons for Firefox and other web browsers work best when you intend to browse the internet and access streams with fast speed. Some of the providers listed above offer a browser VPN add-on, also called a proxy extension. These add-ons are lightweight because they use fewer resources as compared to a standalone app.
However, these VPN add-ons for Firefox and other browsers come at the expense of privacy and security. These browser add-ons cannot affect other programs and services on your devices communicating with the Internet, but browser add-ons are much less secure than full VPN clients.
Therefore, if your priority is fast browsing and streaming through sites, then a Firefox VPN extension is your best bet. However, if you are thinking more from the point of view of security and encryption and want to protect all your traffic, you should aim for a stand-alone VPN client.
WebRTC Leak Protection for Firefox
WebRTC, otherwise known as Web Real-Time Communication, is a built-in program that allows browser-to-browser communication through audio, video, and data transfer. This program can be found in many browsers, including Firefox, Chrome, and Opera. In short, WebRTC poses a risk for VPN users because it might leak their real IP addresses.
Therefore, top-of-the-market VPN providers offer WebRTC leak protection to their users.
It might not be an issue if you are using a VPN app, but you need to be careful about WebRTC leaks with a VPN add-on. Without WebRTC leak protection, you will end up exposing your real IP address, even if you are using a VPN.
Among the VPN providers mentioned above, the ExpressVPN add-on comes with WebRTC leak protection by default.
Even with other VPN browser extensions, you can disable WebRTC. To do that, Open the Firefox browser , enter about:config in the Firefox browser address bar. It will take you to a window displaying a warning message about changing the settings. To disable WebRTC click on Accept the Risk and Continue.

Now, in the search bar, enter media.peer connection.enabled. In the column below, if it says false, then it means WebRTC is disabled. If it says true, then click the chrome://browser/skin/toggle.svg button to disable WebRTC. And you are good to go!

Best Free VPN for Firefox – Should You Use One?
While we've mentioned all the best VPNs for Firefox above, there is a possibility you come up with a few VPNs that offer free services along with Firefox add-ons. But, it's better you don't fall for them. Free VPNs may promise you the world, but the truth behind them is that they actually swoon you over to steal your data, track and keep your logs to sell to third party advertisers.
These free VPNs also offer limited servers and data so they can only be used when you actually have something important to do. Otherwise, if you're looking for the best free VPN for Firefox to stream, then these VPNs are a no.
These VPNs also display multiple ads which become super-annoying when you're trying to do something important and time-sensitive.
This is exactly why I highly suggest using paid VPNs that offer reliable extensions for Firefox to secure your privacy.
However, if you are still looking for a free VPN for Firefox , we have listed down two free VPNs better than other VPNs. But, keep in mind that with free VPNs, you will have to compromise on some privacy.
1. Hotspot Shield
Hotspot Shield is an excellent choice if you need a free VPN for Firefox. You can pay for a subscription or use Hotspot Shield for Firefox for free with a bandwidth of under 500MB per day at 2 Mbps.
It offers multiple servers in 80+ locations. Also, the Hotspot Shield Free only gives access to the US server location and is supported by ads. It will work with Firefox, but if you stream video content, you will face issues.
2. ProtonVPN
ProtonVPN is another free Firefox VPN. ProtonVPN Free offers unlimited bandwidth and can also unblock US Netflix. There is no data restriction, so with ProtonVPN Free, you can browse on Firefox as much as you want.
However, it only offers three locations (US, Japan, and the Netherlands), and you can only connect one device at a time. This Firefox VPN plugin is also very slow in case you want to use it for streaming.
FAQs Best VPN for Firefox
Let's take a look at some of the commonly asked questions.
Should I use Mozilla VPN on Firefox ?
No, we won't recommend that. While this VPN was much awaited by all Firefox users, it certainly lacks some features like fewer server locations than other VPNs. Let's not forget that this VPN is only limited to a few countries for now, including the US, UK, and Canada. Hence, there is a possibility that this VPN is not available for you at all.
Does Firefox Support VPNs ?

Yes, Firefox does support VPNs – both VPN apps and VPN add-ons for Firefox.
How do you add a VPN to Firefox ?

To add a VPN to Firefox, follow these steps:
Go to the Firefox Add-ons page and look for your VPN.
Click Add to Firefox and wait for the VPN to be installed.
After the installation is complete, the VPN icon will appear at the top right corner of the Firefox browser.
Click on the VPN icon, log in with your details, and that's it!
Wrapping Up!
With the growing number of browser-based vulnerabilities, geo-restrictions, online tracking, you never be too safe online. This is why using the best VPN for Firefox is the right choice. VPNs have certainly made every user's life easy by offering dedicated apps for almost every device and add-ons for all popular browsers.
The best option is ExpressVPN. This VPN offers the best VPN add-on for Firefox . Not only does it offer the best speeds and fantastic services, but it also offers an extremely easy-to-use Firefox add-on you can use to enjoy VPN services on your Firefox browser at all times.
If you down want to rely on VPN extensions, you can always opt for Opera VPN which is built into the Opera browser by default.