ProtonVPN not Connecting? Try These Quick Fixes
So, you're stuck with ProtonVPN not working. Ten bucks says you can fix the issue with the tips mentioned in this guide.
Is ProtonVPN not connecting for you? Don't lose hope yet. In most cases, this VPN can be fixed easily by anyone.
If you have applied the techniques for fixing the VPN but made no progress yet, an alternative like PureVPN may be what you need, as this VPN is equipped with powerful features at low cost.
But if you want to see if ProtonVPN is still fixable, there is hope yet.
Unable to Connect to ProtonVPN
The connectivity issues in ProtonVPN are easy to resolve with the following tips:
1. Switching servers
Oftentimes, connectivity issues in VPNs stem from one or more bad servers. Due to maintenance purposes or other technical faults, servers may go offline without prior warning.
So, if you're unable to connect to your favorite server, give the other ones a chance! ProtonVPN offers more than 474 servers in 36 countries. You can choose a server that is nearby to the one that you normally connect to and see if these work. Indeed, for best performance, you should choose closely located servers, though ProtonVPN generally maintains high speeds across its network.
In case you're unable to connect to any server location at all, this suggests a problem with your ProtonVPN client. But if it's an issue with specific servers, you will be able to connect to other servers while the team at ProtonVPN would probably be working to bring the affected servers back online soon.
If you're trying to download torrents, then ProtonVPN will block your connection unless you connect to its p2p servers which are marked by two arrows in the server list. When connected to these servers, ProtonVPN will support torrenting for a safer p2p session.
2. Check internet connection
Have you made sure that your internet is working fine? It's quite a common occurrence that an internet failure is often mistaken for a fault with your VPN.
To check if your internet is working properly, disconnect ProtonVPN and exit the client entirely from your system/device. Now, try using the internet by surfing the web as you normally do. If everything is working fine, then your internet is active and the problem lies elsewhere.
However, if you still don't have access to the internet, then the problem is most likely with your internet connection. In that case, call your ISP and they should be able to resolve the problem.
Once your internet connection is restored, try connecting to ProtonVPN again. This time, it should work.
Some login errors (such as the one shown below) with ProtonVPN's Windows 10 client are also caused by internet issues:
So make sure you are on an active internet connection if you face similar errors.
3. Corrupted TAP Driver
ProtonVPN connection failed? A potential cause of failed connection attempts is a corrupted TAP adapter. Reinstalling the TAP driver may solve this issue.
In Windows 10, this is how you can reinstall your TAP driver:
Press Windows + R to open the Run dialog box.
Type in devmgmt.msc.
In the device manager, find and click Network Adapters to expand this section.
Right-click the TAP-ProtonVPN Windows Adapter V9 and uninstall it.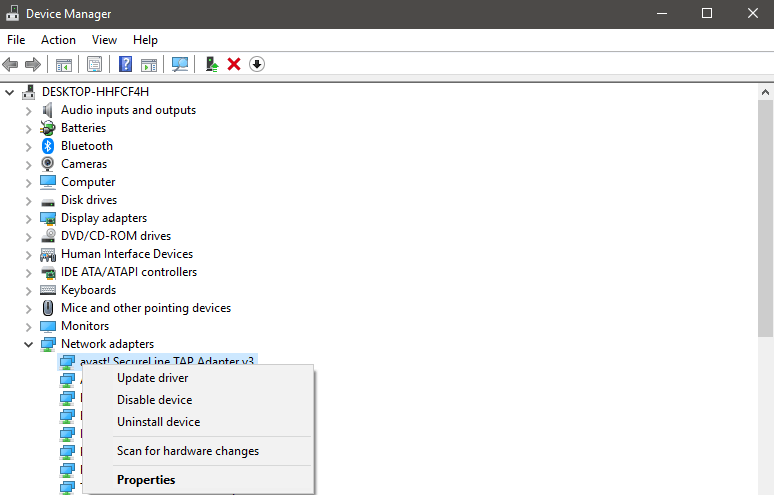 Now reinstall the driver using the following links:
If you are a Windows 7 user, please also ensure that you have updated your OS with all the latest security updates. An outdated Windows 7 is the culprit behind a malfunctioning ProtonVPN client.
If you'd rather use some other service, here are the best VPNs for Windows.
4. Internet Configuration
When you still find ProtonVPN not working, the issue could be due to mis-configured internet properties can also cause connectivity issues with ProtonVPN. If you can login to the VPN fine but connection constantly fails, you might need to take a look inside your internet settings:
Open Control Panel > Network and Internet connections.
Click on Network and Sharing center.
Right-click on your primary internet connection and select Properties.
Select Internet Protocol Version 4 (TCP/IPv4) then click on Properties.
Click on the "Obtain server address automatically" as well as "Obtain an IP address automatically" option.
5. Change protocol
Okay, you're probably getting frustrated at this point if you still have ProtonVPN not connecting. But try changing your protocol before giving up.
ProtonVPN offers UDP and TCP protocols. UDP works faster than TCP, but it is more easily blocked.
If you are on a network that may be blocking VPN traffic, you should try switching to TCP. Here's how you can do that in ProtonVPN:
Click the three vertical lines and select Settings.
In the settings window, click on the Connection tab.
In the drop-down menu next to Default Protocol, choose a protocol other than what you're already using.
Now try connecting to a server again.
This should help you connect to ProtonVPN successfully.
6. Excessive multi-logins
ProtonVPN supports 2 to 5 multi logins depending your subscription plan. You can use ProtonVPN alongside Kodi or other streaming devices as well like Roku apart from your main devices. However, if you exceed the multi-login limit, you might face connectivity or login issues.
So, make sure you're not logged in to ProtonVPN on more devices than you need to, otherwise you're going to destabilize performance of ProtonVPN on all other devices in your use.
ProtonVPN Issues and Fixes for Specific Situations
Here are some services, devices, and platforms that ProtonVPN is often reported to exhibit problems with and their quick fixes:
ProtonVPN not working with Netflix
ProtonVPN offer servers that are compatible with Netflix. However, not all of these servers are good for the purpose.
There are certain servers that are effective for Netflix streaming as reported by several users. These include Illinois 04 and #CA3.
So, if you're facing errors with ProtonVPN on Netflix, try changing to the right server. For more information, we've discussed using ProtonVPN with Netflix here.
ProtonVPN Alternatives
ProtonVPN does not connect after trying all the tips above? You might want to cancel ProtonVPN and consider a different VPN service. For instance, here's how ProtonVPN compares to PureVPN, a highly affordable VPN with top-notch features:
| Features | PureVPN | ProtonVPN |
| --- | --- | --- |
| Price | $1.99/mo | $6.63/mo (plus plan 2-year) |
| Servers | 2,000+ in 140 countries | 474 servers in 36 countries |
| Customer Support | 24/7 live chat & email | Email & ticketing system |
| Logging Policy | Zero logs | Connection logs |
| Jurisdiction | The British Virgin Islands | Switzerland |
| Netflix unblocking | Strong | Strong |
| Compatibility | All devices | Windows, Android, Mac, & iOS |
| Trustpilot Score | 4.8/5 | 3.3/5 |
| Website | PUREVPN | PROTONVPN |
You can also try getting ProtonVPN free trial first before committing to a full-time subscription. This will help you see if the service is worth it or not.
Conclusion
ProtonVPN is an excellent VPN service. However, even the best software aren't without their flaws. The good thing is that you can fix the VPN with the tips above if you're at your wits end about ProtonVPN not connecting. But if you'd rather try something else altogether, you can always look into PureVPN for its affordability and value for money.
For more information about this VPN, see this ProtonVPN review.