Reading Time: 11 minutes
Game of Thrones is perhaps the most popular TV show on this planet. Its gripping story based on the novels written by George R.R Martin have captivated audiences and amassed a fan following like none other.
However, many fans are deprived from watching the show due to geo-restrictions. Various channels that show all the episodes of GoT are only available in a particular region.
That's why we have put together this guide in which you can find various ways to watch all the seasons of Game of Thrones online.
Let's start!
Get Hold of a VPN to Watch GoT Online
One of the best tools to unblock different channels is through a VPN service. It has the ability to change your IP address and mask your virtual location.
For instance, if you want to unblock HBO NOW, all you have to do is connect to a US server offered by a VPN and access the streaming service. That's it!
To help out, here are some of the best VPN services that have been put through our rigorous testing parameters. Oh yeah, they do offer servers across the world, allowing you to unblock any channel of your choosing.
How to Watch Game of Thrones Online in Germany
There are many alternatives to Sky that you can use to watch Game of Thrones online legally in Germany.
Some of these include HBO NOW, Hotstar, and NOW TV. However, these channels are geo-restricted and you will need a VPN access them from Germany.
Get HBO NOW & Watch Game of Thrones Staffel 8
To watch Game of Thrones Staffel 8 online from Germany, you can subscribe to HBO NOW. HBO NOW is a standalone streaming service of HBO and holds an illustrious library of all the shows produced by the network, including GoT.
Sadly, HBO NOW is only available in United States and to access the service, you should use a VPN service. HBO NOW costs USD $14.99 per month and you get the first month for free.
Combine that with a VPN (which costs as low as USD $4.16), you end up paying around €16.78 per month and save a considerable amount on expensive local cable deals.
Here is how you can subscribe to HBO NOW:
First, select a VPN from the above mentioned table.
Subscribe to the desired package & install the VPN on your desired platform.
In order to subscribe to HBO NOW, you will have to download the app from iTunes, Google Play Store, Amazon, or on your Roku device.
Once the app is downloaded, connect to a VPN server located in USA.
After you are connect, open HBO NOW app and subscribe to the service.
And, there you go, you can now watch GoT online on HBO NOW.
NOTE: If you are using your credit card for payment, you will need a valid US billing address and ZIP code. Since that is not possible for everyone, you can follow these 14 steps to watch Game of Thrones Online. On the other hand, you can use PayPal as mode of payment and subscribe to HBO NOW from Germany.
Watch Game of Thrones Online on Hotstar
The second option for watching GoT Season online is through Hotstar. This is perhaps the cheapest method for streaming the entire season online in Germany.
However, Hotstar is only accessible from India. In order to watch GoT on Hotstar, you will need an Indian IP address. This can be easily achieved using a VPN for India. Just connect to a server located in India, sign-up for the service, and stream GoT online.
Game of Thrones is available on Hotstar's premium service and it costs ₹199.00 Indian Rupees. When you add a VPN to this, the total deal costs you €6.27 (€2.62 for Hotstar & €3.65 for a VPN). This is considerably cheaper compared to other pricey TV packages.
To learn more about using VPN to bypass region restriction, check out our to Hotstar in USA guide.
Stream Game of Thrones Online on NOW TV
The third way to watch Game of Thrones Staffel 6 online in Germany is on NOW TV. The UK based streaming service allows you to watch all the episodes online but you won't be able to access the service in Germany unless you have a VPN.
A VPN will enable you to bypass geo-restrictions and access NOW TV from anywhere. The VPN providers that we have listed above offer numerous servers located in UK. By connecting to this server, your original location gets masked and it appears as if you are located in UK; hence allowing you to access NOW TV.
Game of Thrones Torrent; Download at your own Risk
Torrent is banned in majority of the nations. Users face copyright infringement notices upon downloading of titles from torrent. So how to watch Game of Thrones online via torrent without getting caught?
The moment you download a content from torrent, your IP address is determined. It holds confidential information about your actual location. As a result, you get copyright infringement notice. A VPN comes into play by cloaking your IP address with a foreign server.
Watch Game of Thrones on Kodi & Best Add-ons to Use
Kodi offers another avenue for watching Game of Thrones online. It is an open source platform that supports official and third party add-ons.
There are different best Kodi addons which are worth viewing and doesn't require much introduction. Here are 3 best Game of Thrones Kodi add-ons that are alternative to Firecat:
is another add-on for streaming Game of Thrones on HD. Before playing the video on this add-on, it asks Kodi users to either play video on HD or SD.
This particular add-on is available on UKodi1 repository. The amazing feature about WOW Kodi is that it lets you bookmark your favorite content.
How To Watch Game of Thrones Seasons Episode-By-Episode Paid-For Content
You can still watch Game of Thrones for free without owning a Kodi box or a Kodi software. Other than Kodi, Game of Thrones can be watched on iTunes and Google Play Movies.
However, the only downside that you may find with these stores is their availability. You will be able to stream GoT seasons when HBO is done airing all of its episodes. If you could hold your horses for that longer, this method might work for you.
How to Watch Game of Thrones Online Without HBO
When it comes to watching HBO's flag ship show Game of Thrones, viewers have torn apart different ways to stream all the gruesome bloodshed, devious treachery, epic storyline, White Walkers, dragons, and the struggle for Iron Throne.
The show has commanded millions of fans from around the world and is exclusive on HBO. But, what if you don't have a subscription to HBO, how do you watch the show online? Luckily, you've come to the right place.
Here's how to watch Game of Thrones online without HBO:
Subscribe to Hotstar
Subscribe to NOW TV & stream all the episodes
Get all the seasons or singe episodes from Amazon Video
Stream online on Kodi
Alternate Streaming Service to Watch Game of Thrones
In addition to HBO, there are numerous other streaming services at your disposal for watching Game of Thrones legally. Some of these include:
Hotstar: It is an online streaming that will host the latest season of Game of Thrones. The premium subscription plan will cost you around $3.10 per month. However, Hotstar works exclusively in India, but if you use a VPN service, you can enjoy GoT online.
Hulu: You can add HBO for $14.99 per month to your existing Hulu account and stream Game of Thrones online. However, Hulu is also geo-restricted, just like HBO. Therefore, you will require a VPN service to access Hulu outside US.
NowTV: Available for £6.99 per month (around $9.00), NowTV will showcase all the episodes of GoT. It also contains all the episodes from previous seasons, so you can catch-up with Game of Thrones before plunging into the latest season. But do keep in mind that you will require a UK based IP to access NowTV, which can be easily achieved through a VPN.
How to Watch Game of Thrones Online in Australia
There could be many ways to watch Game of Thrones online in Australia, but we have listed 3 ways that are cost effective, with HD video quality, and easier to subscribe.
Fortunately, you can bypass the geo-restrictions by using a VPN that will let you change your IP from Australia to UK.
Another benefit of having a VPN for Australia service is your absolute privacy of your internet activity from the government and ISPs.
Inside Game of Thrones Seasons
Now that you know how to watch Game of Thrones all seasons, let's recap all the happenings from the previous seasons. But be warned, major SPOILERS ahead! If you haven't watched Game of Thrones before, I'd suggest you stay well clear from this section.
Expectations from Game of Thrones Season 8
The wall that has stood for centuries has been broken by the Night King! The enemy is marching towards Winterfell as its first target.
There he will face Daenerys Targaryen and Jon Snow awaiting for a War that will happen at about 3rd episode of Season 8.
It is expected that the final war will happen against Winterfell and King's Landing for the claim of The Iron Throne.
But there is a huge role that has to be played by Iron Bank and the Golden Company. Whose side will they choose? Will Jon Snow, Daenerys, and her dragons will able to defeat the giant army? These questions will be answered soon enough!
Highlights of season 7
There's dragonglass in them hills! If you'll recall (it was just last month actually), this whole thing started with local neckbeard Samwell Tarly literally cleaning shit and doing some light reading in the Citadel library
The meeting and knee bending. In order to get his beloved dragonglass, Jon Snow heads south to finally meet Daenerys.
In Season Six the Prince That Was Promised could also be the Princess That Was Promised, meaning either Jon Snow or Daenerys Targaryen might be Azor Ahai.
About Jon's parents. Yeah, so only Bran knows that Jon's parents are, and that little shit is keeping the info to himself.
Highlights of Season 6
Season 6 started with only thing all viewers mind, will Jon Snow live? Thanks to everyone's wished, Melisandre resurrected Jon Snow from the dead.
After Sansa escaped from the clutches of Ramsey Bolton, accompanied by Reek, the pair reunites with their siblings. Sansa goes on to meet Jon Snow at The Wall, while Reek goes home to Iron Islands.
One of the most important moments occurred when Jon Snow faces off Ramsey in an epic battle. The end result leaves Jon Snow triumphant and Sansa taking out her revenge on Ramsey by feeding him to his own hounds.
Things were not so quite in Kings Landing as well. Cersei has her revenge against the High Sparrows as she blows up Sept of Baelor. As this takes place, her only son (Tommen) commits suicide by jumping out of the castle. All of this results in Cersei sitting on the Iron Throne as the new ruler of Kings Landing.
White Walkers presence in the sixth season was pretty outstanding. With Bran back into the thick of things, we learned a lot of the ice-zombie army. HOLD THE DOOR became the new catch phrase as a shocking origin of Hodor came to light and Bran became the new Third Eyed Raven.
Highlights of Season 5
The most terrible event in season 5 happened when Sansa was getting married to Ramsay. Fans were waiting to watch something to go in Sansa's way. And then finally it happened, when Ramsay was in war with Stannis Baratheon's army, Sansa planed her escape. She was stopped immediately, but with the help of surprising ally "Reek", her escape was successful.
Game of Thrones Season 5 became more intense when a giant character "Ser Robert Strong" made his way into the series. He was gone through series of experiments before turning into an ultimate beast, more like Frankenstein. He now plays for Cersei, who ever has wronged her will face blood and gore by Ser Robert Strong.
Game of Thrones lovers got immensely shocked, when the main stream character Jon Snow faced an unexpected death, by the end of season 5. The fact that Jon Snow is killed and out entirely from the series is still a big topic of debate. But let's face the ground reality, Jon Snow will not appearing in the coming Season 6 (apart from flash backs), however we may see him in Season 7. As Kit Harington is under contract through season 7 of Game of Thrones.
The major disappointment among fans got up, when Lady stone heart and BenJen Stark didn't appeared in Season 5. While fans watched the tragic death of their favorite hero "Jon Snow", the appearance of Lady Stone heart and Benjen Stark could assure them the revenge for John's death. We may see them fighting against the night watch in the coming Season 6.
We all witnessed the beautiful Queen "Cersei" using her powers to fulfill her desires. But the twist in story arrived, when she had to go through "Walk of Shame". It was disgusting to watch the queen walking all nude and her blonde hairs chopped off in front of thousands of people, while facing trash and filthy things on her way.
Highlights of Season 4
Since we are a month away from the GoT season 5, we thought it would be better if we shook our memory to prepare ourselves for what's next to come. We are going to mention a few scenes in bullets that were considered as the most shocking and plot-revealing scenes!
Prince Joffrey's death at his own wedding was icing on the cake for the fans of Tyrion and House Stark.
Tyrion was apprehended on suspicion of killing Joffrey.
Tyrion demanded a trial by combat and Prince Oberyn of House Martell promised him to fight for him as his Champion.
Prince Oberyn, seeking evidence against Tywin Lannister (Tyrion's father, who is accused of killing Oberyn's sister and his nephews), fights for Tyrion, who has been ridiculed by his own sister, Cersei Lannister, and father, Tywin Lannister.
Prince Oberyn in an emotional war loses his head (literally) to the Hound.
Tyrion escapes at night with help of Lord Varys, kills Shae, his ex-lover, who turns her back on him at the court and then kills his own father (Tywin Lannister) in the toilet.
Tyrion at the end of the season is shown to escape on a ship. Whereas John Snow returns to The Wall after spending days with the wildlings and fights a war as a crow against them.
Lord Baelish takes Sansa away with him and kills her maternal aunt (Lady Stark's sister) in front of her. Sansa comes dressed all black, her hair different from usual and a smirk on her face implying that she is "in the game" now.
Highlights of season 3
Tyrion is demoted by Tywin – blaming him for his wife's death during childbirth – he is also forced to marry Sansa.
Joffrey engages Margaery Tyrell.
Robb opposes marrying Roslin Frey after falling in love with Talisa who is a healer.
The Starks are invited to her wedding to another, which turns out to be a trap sprung by Lord Walder Frey.
Robb, Catelyn, the pregnant Talisa and their bannermen are all killed at the reception.
The killings are seen by Arya, who finds a protection under Sandor "The Hound" Clegane.
Elsewhere, Bran Stark finds out he can transform his body in to that of a wolf.
Highlights of season 2
Tyrion takes up the position of Hand in the expectation of reining in Joffrey. Stannis falls under the spell of the witch Melisandre and openly lays claim to the throne on the basis of Joffrey's Authority.
Forces of Robb progress south with Lannister as their prisoner of war.Robb sends Theon to seek help from his father.
Theon rejoings with his family members on the Iron Islands and together they capture Winterfell.
Robb sends Catelyn and Renly out to meet the younger sibling of Stannis who also has a claim to the Iron Throne.
Catelyn is of the option that the brothers join forces. Renly does not agree and is killed by an evil entity sent by Melisandre.
Catelyn and Renly's bodyguard, Brienne of Tarth are blamed for assassination fleeing.
Highlights of season 1
White Walker in the forest, previously thought to be mythical appears in front of the members of the night watch, guarding the wall to the north.
Warden of the North, Ned Stark is visited in Winterfell by Robert Baratheon (Mark Addy) and offered to serve at his side following the sudden death of Jon Arryn.
Stark's daughters Sansa and Arya travel to the King's Landing with their father but find the city-state to be corrupted.
Cersei Lannister are family thought to be behind the killing of Arryn.
His son Bran witnesses Cersei in bed with her brother Jaime, who shoves him from a tower window, leaving Bran paralysed.
Tyrion Lannister accompanies Jon Snow to investigate the White Walker incident reported by the Night's Watch.
Hackers Get Hold of Game of Thrones Script & Episodes
For years, HBO has been fighting cyber war to keep its Game of Thrones storyline a secret, but here we see the HBO database was itself becoming a victim to these cybercrimes which does raise an eyebrow over HBO's cyber security.
But it doesn't rule out the fact that they also possess personal information of HBO employees and customers.
The hackers promised to release such stuff in future and HBO was not happy about the idea that, the world sees new episodes of Game of Thrones floating around the internet.
Leaked episodes and written material is just one side of the story and probably small potatoes when compared to the personal information and account details of both customers and employees of HBO are leaked.
An anonymous email was sent to many reporters announcing that the greatest leak of cyberspace is happening and revealed that it was HBO and Game of Thrones to be on their target list.
It was further mentioned in an email that for the first time viewers will witness and download the leak. In the end, the email read 'HBO is falling'.
The Mountain and the Viper
Enraged by the death of his sister and her children, Obryen Martell decided to be Tyrion Lannister's champion in his trial by combat.
Cersie, on the other hand, was quite convinced of Tyrion's involvement in Jeoffrey's murder. Thus, she chose The Mountain (Ser Gregor Clegane) to do the dirty work for her.
If the cops show up at my door I'll know my neighbors heard me screaming while watching the ending of #GOT… #HolyFreakOutMode

— Misty Brewer (@Chi_Mist) June 2, 2014
I have horrible eye strain tonight, and I'm convinced it has something to do with the fight between Gregor Clegane and Oberyn Martell. #GoT

— Valerie Ettenhofer (@aandeandval) June 2, 2014
Game of Thrones has left me completely distraught. I've been sitting and staring at the wall for like 10 minutes. #GoT

— Chris Morgan (@HollywoodMoegan) June 2, 2014
Game of Thrones has left me completely distraught. I've been sitting and staring at the wall for like 10 minutes. #GoT

— Chris Morgan (@HollywoodMoegan) June 2, 2014
Best Twitter Reactions to Game of Thrones Epic Finale
As promised, we witnessed an epic Game of Thrones finale. However, many were disappointed as they were expecting someone to make an appearance.
Someone we know from previous seasons. Someone we used to love – who would now be known as Lady Stoneheart.
Waiting for an after the credits Lady Stoneheart scene then remembering this isn't a marvel movie #GameOfThronesfinale

— Katie Beech (@KatieBeech) June 16, 2014
This #GameOfThronesfinale was unfair to book readers.Was waiting for them to reveal Lady Stoneheart till the last moment. #SpoilerAlert

— Saket Jha (@MightyJhaYoung) June 16, 2014
Jon Snow finally confronts King beyond the Wall and offers a truce. But, Mance Rayder puts forward his own terms for peace.
He wants to go to the other side of The Wall and asks for Men of the Night's Watch to abandon Castle Black.
For moments, Jon had other thoughts in mind – thoughts of killing Rayder maybe but Stannis and his men grasp their attention.
Watching them say goodbye to the fallen was the hard part. Yet, Jon had to say final goodbye to his beloved Ygritte.
That was one of the hardest things I have ever done!!! 🙁 #GameOfThrones #GameOfThronesfinale pic.twitter.com/r6OFoGf7st

— Jon Snow (@KingJonSnow_) June 16, 2014
After never-ending hardships and struggle Bran Stark finally meets the Three Eyed Raven who tells him of the future he would come across.
#GoT #GameOfThrones #GameOfThronesfinale Amazing!!! pic.twitter.com/mDEnILJwQ3

— Mrs. Silver (@marksilver18) June 17, 2014
On father's day, Cersie and Tyrion had special surprises planned for their father.
Cersie told Tywin that his legacy is based on a lie whereas Tyrion finally begins to live up to his father's rep.
simplemente #TyrionLannister #GameOfThrones!!! pic.twitter.com/qPPMH5b7FJ

— Eduardo Roncal Cotri (@edvar0) June 16, 2014
Best Tweets in Response to Game of Thrones: Mockingbird
Named after the sigil representing House Baelish at present; Game of Thrones: Season 4, Episode 7 unveiled conspiracies as well as intentions of Lord Petyr Baelish – well at least some of them.
Though, more appearances were expected from Lord Petyr Baelish in previous episode (Mockingbird).
On the contrary, Petyr Baelish appeared minutes before the episode could conclude.
However, his presence without a doubt was extraordinary as usual.
If conspiracy had a shape or face, it would make a perfect sigil to represent Lord Baelish.
Nevertheless, a mockingbird does just fine for the moment.
Lord Baelish confronts Sansa Stark that he had feelings for her mother (Lady Catelyn Stark) and does something unexpected.
Let me just put it this way. It was never expected from Petyr Baelish to play the game of thrones recklessly – or should I say he wasn't; and it was yet another cunning scheme planted.
https://giphy.com/gifs/gameofthrones-hbo-game-of-thrones-6YzcILVrJ6pzy?utm_source=iframe&utm_medium=embed&utm_campaign=Embeds&utm_term=https%3A%2F%2Fwww.vpnranks.com%2F20-best-tweets-in-response-to-game-of-thrones-mockingbird%2F
"I want to bring those who have wronged me to justice and all those who have wronged me are right here. I will be your champion". – Oberyn Martell.
Petyr Baelish: the only person who takes mad violent revenge for being friend zoned #GoT

— Chaz Atkinson (@Charl_Atkinson) May 19, 2014
I've added #TyrionLannister to my kids' prayers at night. Dear God…and please save Tyrion. #GameOfThrones. pic.twitter.com/EqNvOW3xMD

— Brandon Billings (@bbillingskc) May 20, 2014
How to Watch Leaked Game of Thrones Episode 4 Safely Online
Game of Thrones Season 7 Episode 4 'The Spoilers of War' has been leaked online before its airing this coming Sunday. Sadly, this leak was about to happen as soon as we heard the news that HBO was hacked.
Stream the Leaked Game of Thrones Episode
After Google Drive's link being circulated around the internet, it was taken down by the owner or Google itself due to copyright claims.
This shows that there is a strict monitoring of the internet regarding the leaked Game of Thrones episode.
The link may contain a bug, virus, or maybe a hoax to trap online users. So how do you stream the leaked episode of Game of Thrones online?
After digging a little deeper we found the link where you can watch episode 4 of Game of Thrones.
But be warned, streaming through this website may compromise your online activity and privacy.
You need to get a VPN before you proceed to watch the video. If not, you're at your own risk.
Choose the best VPN from the list below and away you go with free streaming of GAME OF Thrones latest episode.
10 Emotional Twitter Reactions to The Watchers on The Wall
Game of Thrones: Season 4 "The Watchers on The Wall" was about a clash expected for so long – a deadly fight between Men of Night's Watch and Wildling herd.
Game of Thrones promises the best finale ever. Nevertheless, the 9th episode of every season is always gruesome, brutal and accompanied by the death of your favorite Game of Thrones characters.
Game of Thrones: Season 1, episode 9 had us watch Ned Stark's brutal execution.
Season 2: episode 9, it was the battle of Black Water Bay.
And who can forget episode 9 of season 3, The Red Wedding, where Catelyn Stark, Robb Stark, Talisa Stark (Robb's wife) and her unborn child were brutally murdered.
A Love Story Concluded GOT Style
Last episode was not entirely about the Night's Watch and Wildlings clash, it also told a different tale; a tale of Ygritte and Jon Snow.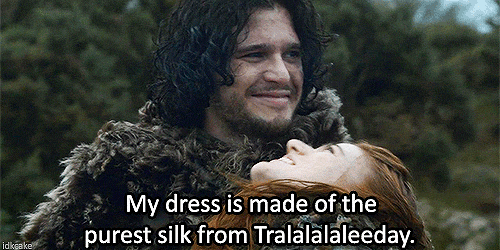 Though, not all love stories have a happy ending – especially the ones written by George R. R. Martin.
As Ramsay Snow/Bolton says and I quote "If you think this has a happy ending, you haven't been paying attention".
Reluctant to release the arrow pointed to Jon, Ygritte looks at Jon with many unanswered questions in her eyes.
The questions that are answered with nothing but a smile and open arms to welcome even death if she is the one who brings it to him.
"Do you remember that cave", she asked. "We should have stayed in that cave", she said softly.
"We'll go back to the cave", he said. "You're not going to die Ygritte – you're NOT". "You know nothing Jon Snow", she sighed.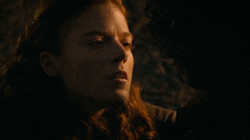 Aftermath
When the Men of Night's Watch and Wildlings collide, the aftermath and proximity of death toll isn't hard to presume.
However, there are a few incidents in every episode that leave your breathless. Many watchers fell but their sacrifice won't go in vain.
my heart, Jon Snow you scared me there #RIP #Grenn #Pyp #TheWatchersonTheWall

— monica lastimosa (@monicalasti) June 10, 2014
In Search of Mance Rayder
The Crows got their victory over Wildlings; though, this triumph is tentative.
They know that Wildlings will strike again and they still outnumber them 1000 to 1.
Knowing this, and to bring an end to it, Jon Snow departs to confront Mance Rayder.
Jon knows that it is a life threatening move yet mandatory.
He has seen agility of Wildling warriors, strength of the giants and mammoths serving as their rides.
He knows that Rayder won't be easy to find. Even if Jon does find him, Rayder won't be pleased to have chitchat with the slayer of his army.
But, it's worth the risk because Rayder is the one who united ninety clans.
Ninety clans where each wanted to massacre the other. Hence, to Jon Snow, confronting him currently seems a logical thing to do.
Wrapping up!
The Game of Thrones, is one show that is loved by fans all over the world. It would not be wrong to say that some people wait for its new episode more than their pay check!
It's easy to understand the magnitude of the series when you see GoT fans all around going crazy and the fact that hackers actually tried to leak the episodes only proves that the Game of Thrones is one of the most loved and pirated series of all time.