Compare Top VPNs of 2022 With Tools and Chart
In the VPN industry, the list of VPN providers claiming to be the best is constantly increasing. But, how do you know which one to choose?
When every VPN advertises the same features, it can be extremely confusing to pick the right VPN. Every VPN provider is different from another and possesses an edge over a particular domain such as streaming, torrenting, online gaming, and more.
That being said, at VPNRanks, we took a different approach and performed a VPN comparison based on twenty (20) different factors. This includes jurisdictions, servers network, logging policy, unblocking capabilities, speeds, and so much more, which you can find in our comparison chart.
Compare VPN Providers
VPN Comparison Chart 2022 (Examined on 20 Key Factors)
The colors in the chart represent the following:
Green – Generally good
Yellow – Something negative
Pink – Something bad that is of major concern
Blue – Undefined
It took me more than 72+ hours to gather the authentic information regarding these 60+ VPN providers so that you can make the best decision for yourself.
Here is the best VPN services comparison chart you've been waiting for. Check it out:
This VPN comparison table consists of what we believe to be the most critical parameters that determine the level of privacy and security a VPN can offer to you.
If you don't see a factor that you think we should consider or want us to include a specific VPN brand that we may have overlooked, please feel free to mention it in the comments section of this guide.
This blog culminated all the hard work and research we performed over two weeks, generating the above chart.
But this article won't analyze each specific VPN in detail. Instead, for an in-depth evaluation of VPNs, you'll have to see our unbiased VPN reviews.
---
VPNRank's VPN Provider's Comparison Criteria
Comparing products is a painstaking process. First, you have to make sure your unconscious biases don't influence your judgment. After all, meeting consumer expectations is what separates a good product from a poor one.
We use a variety of factors to compare VPNs. However, we mainly consider streaming, online gaming, unblocking, privacy, jurisdiction, and logging. Below is a list of some of the most important factors we consider in our comparisons.
If you find any term confusing, don't worry. You can find a glossary of all the terms you might find difficult to understand in this blog.
---
---
Top VPNs Comparison (Detailed Analysis – May 2022)
We've tested many VPN providers, so we decided to compare them on the same factors shared above to see which came out on top.
Here are the VPN industry's top VPNs going head-to-head:
1. ExpressVPN Compared to Other VPNs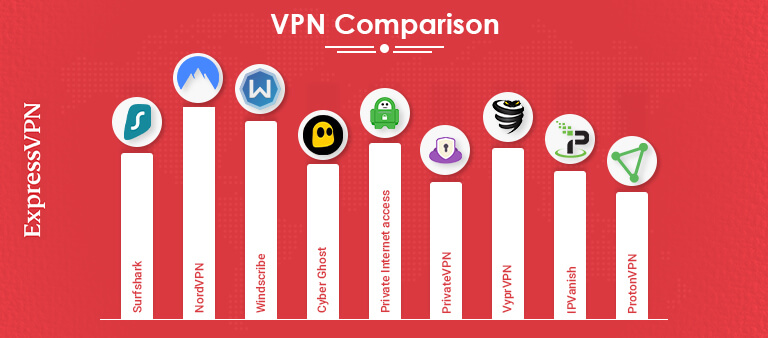 ExpressVPN is one of the top-rated VPN in the industry with high-end security features. It even has a high Trustpilot rating of 4.6/5.0. In addition, ExpressVPN is the most admired service on Reddit. Seriously, there's no contest when it comes to this VPN and what Redditors think about it. The provider is widely considered the best VPN outside 14 eyes states than other providers on the VPN ranking list.
ExpressVPN offers more than 3000+ servers in 105 countries. It provides fast speed and obfuscation to help you access restricted content, including geo-restricted sites from across the world. Its other features include AES-256 bit encryption, kill switch, split tunneling, zero-knowledge DNS, and more.
ExpressVPN also uses RAM volatile servers and a built-in speed-test tool to provide you with the most optimized server for maximum speed. Unfortunately, only a handful of VPN providers are currently using these two advanced technologies. So it shouldn't come as a surprise that ExpressVPN was the pioneer who introduced them to the world.
While some providers excel in any one particular aspect, the great thing about ExpressVPN, which separates it from the rest of the providers, is that "this provider will never let you down regardless of the nature of user purpose".
ExpressVPN also offers fast connection speeds as compared to other VPNs. The only negative of this provider is that when compared to Surfshark, NordVPN, or other VPNs, ExpressVPN only supports 5 simultaneous connections with one subscription. However, it makes up for it with its feature-rich apps and high-end security protocols.
Let's take a quick look at the ExpressVPN comparison table with other VPN providers: 
Still not convinced? Check out our in-depth ExpressVPN review for 2022.
---
2. Surfshark Compared to Other VPNs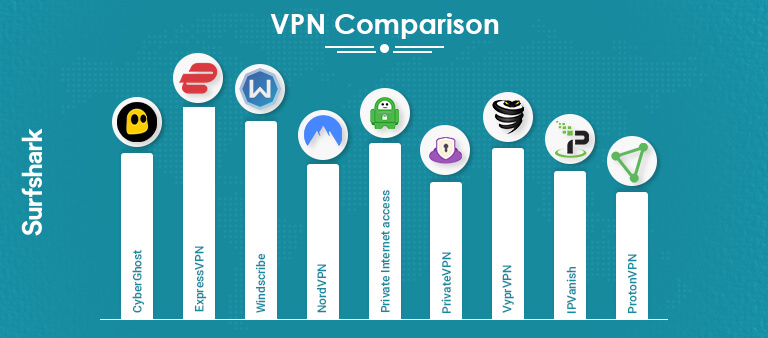 Unlike most VPN services, Surfshark has achieved the right balance between price and features. It has some impressive features while being easy on the pocket. At a low price of just KRW 2608.83/mo (US$ 1.99/mo) (Get 86% + 3 Months FREE on 2-Year Plan), you get access to premium features, Check more lowest price VPNs. Surfshark has a 4.3/5.0 star Trustpilot rating. In addition, Surfshark provides 3200+ servers in 100 countries, and it even works in highly censored countries like China, Iran, and Saudi Arabia.
Some of the premium features offered by Surfshark include DNS leak protection, internet kill switch, Multi-hop, CleanWeb, WhiteLister (split tunneling), and 256-bit encryption. In addition, it is one of the few VPNs that come with an in-built ad blocker, so you don't have to worry about annoying and intrusive ads when surfing the web.
While this provider may be new to the industry, its budget-friendly subscription prices have caught everyone's attention. Most of the VPN providers from our list couldn't match Surfshark's ability to maintain such affordable prices and provide an easy-to-use and comfortable user experience. You can also check our detailed VPN price comparison to see how Surfshark performs against other budget-friendly VPN services.
The most promising feature that sets Surfshark apart from other VPN providers from this list is its ability to support unlimited simultaneous connections on a single subscription. Meaning, with Surfshark, you can protect all your devices at the same time. Not even the top-tier VPN providers can match this astonishing feature.
Let's take a quick look at Surfshark comparison with other VPN providers: 
It's also a perfect option for gaming on PC, Xbox & PS4. To know more about this VPN in detail, check out our Surfshark review for 2022.
---
3. NordVPN Compared to Other VPNs

NordVPN is one of the most popular encrypted VPNs globally and is highly recommended for users concerned about their online privacy. NordVPN offers around 5500+ servers in 60 countries. NordVPN also follows a strict no-logs policy that ensures complete online privacy and anonymity as your internet traffic won't be stored and shared with anyone.
NordVPN offers tons of features, including strong encryption, kill switch, CyberSec, Onion Over VPN, Obfuscation, dedicated IP address, and more. It also supports tons of major platforms such as Mac, Windows, Android, iOS, Linux, Roku, Firestick, and more. With one NordVPN subscription, you can secure up to 6 devices at the same time.
Only the 6 devices simultaneous connection feature is enough to keep NordVPN at the top because about 70% of the VPNs offer 5 or fewer simultaneous connections.
What really makes NordVPN stand out from the rest of the VPN providers on this list is its ability to take basic VPN services to the next level with extra layers of functionality, additional web security services, and outstanding usability.
In addition, its advanced security features such as double encryption and DNS leak resolver are not available with any other provider in this list. NordVPN is a powerhouse. However, with a Trustpilot rating of 4.0/5.0, some users have developed trust issues with the VPN.
Let's take a quick look at the NordVPN comparison table with other VPN providers: 
Find out more about this VPN in our detailed NordVPN review.
---
4. CyberGhost Compared to Other VPNs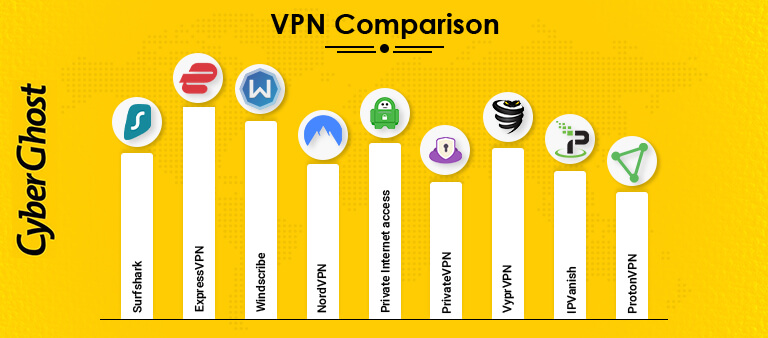 CyberGhost is a recognized brand in the VPN industry. It offers 10319+ servers in 100 countries. Aside from the massive server network, Cyberghost has excellent online reviews and an impressive Trustpilot rating of 4.8/5.0.
Its features include 256-bit encryption, automatic kill switch, adblocker, malware blocker, optimized servers for streaming, torrenting, gaming, and more. It also follows a strict no-logs policy, so your online anonymity and privacy are safe with this VPN. It is also quite affordable and lets you connect 7 devices at the same time.
Unlike many providers on this list, the CyberGhost application gives a clean and organized look for all the features it has to offer. What makes CyberGhost unique from other providers is "the customized modes for streaming, torrenting, and online gaming that it offers."
CyberGhost also allows you to have complete control over the apps and browser's behavior in conjunction with the VPN connection. These features really make CyberGhost stand out and compels users to give it a chance over the others.
Despite all these amazing features, there have been some complaints from Reddit users about poor customer service. However, our experience hasn't been that bad with CyberGhost. Reddit users have also complained that CyberGhost is facing issues unblocking some streaming sites like Netflix US.
Let's take a quick look at CyberGhost comparison with other VPN providers: 
To know more about its features and plans, you can also check out our CyberGhost review.
---
5. Private Internet Access (PIA) Compared to Other VPNs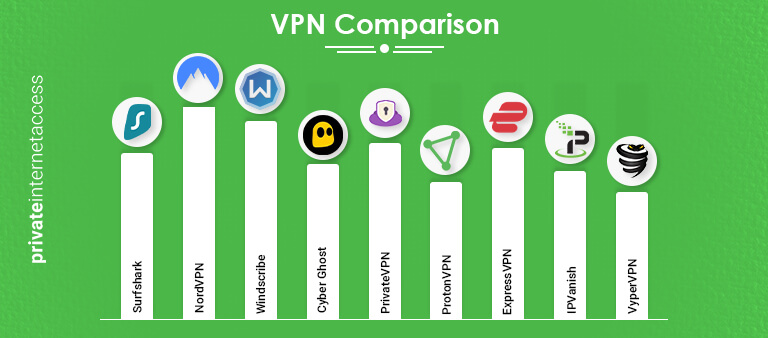 PIA has one of the largest server networks among other VPN providers, with more than 35000+ servers in 84 countries. Moreover, with so many servers worldwide, you will certainly have no issues unblocking geo-restricted content from anywhere in the world. As a result, this US-based VPN service is one of the most popular VPNs in the Five Eyes jurisdiction.
Some of the features offered by PIA include ad and malware blocker, automatic kill switch, split tunneling, SOCKS5 Proxy, Multiple VPN Gateway, and more. You get all these features at a low price, and it also offers a 30-day money-back guarantee and allows 10 simultaneous connections.
It should come as no surprise that PIA takes an edge over 90% of VPN providers in the industry simply because it has one of the largest server networks. However, that is not all; the reason it has continued to surpass many top VPN providers is due to its ability to offer a robust VPN service, an excellent new app interface, and overall a solid VPN service at an affordable price of KRW2766.14/mo (US$ 2.11/mo) .
If you're looking for a trustworthy provider that values user privacy and offers strong security, adblocking, and anonymous torrenting, PIA is a good option for you.
PIA is a VPN service with as many fans on Reddit as there are haters. Literally, any thread on Reddit you can find on this service is sharply divided between the naysayers and those with a positive experience.
Let's take a quick look at the PIA VPN comparison with other VPN providers: 
To know more about this VPN, check out our latest PIA VPN review.
---
6. PrivateVPN Compared to Other VPNs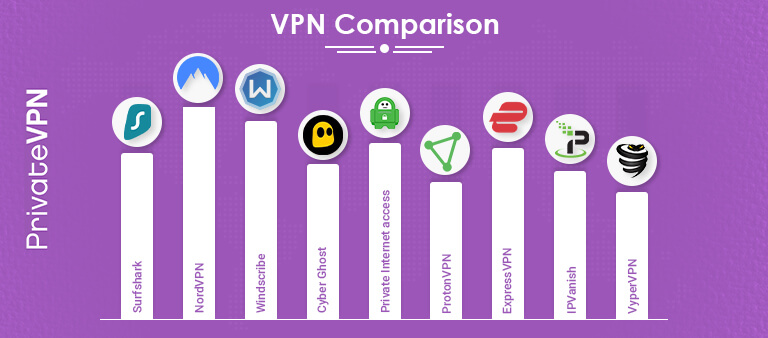 This Swedish-based VPN service offers only 200+ servers compared to other VPN providers in 68 countries. As compared to other VPNs on this list, this number is quite low. However, it sure does make up for it with its high speeds and security features. Owing to these features, it has a high Trustpilot rating of 4.8/5.0 stars.
PrivateVPN comes with 2048-bit encryption, kill switch, port forwarding, IPv6 leak protection, application guard, obfuscation, and more. With one PrivateVPN subscription, you can connect up to 6 devices at the same time. It also offers apps for various devices and can be manually configured on routers, Smart TVs, and more.
While this provider seems pretty much average from above, when you take a close look, you'd realized what makes it superior to everyone else. Even though PrivateVPN doesn't offer anything special, its ability to utilize the available features to offer a high-performing service for its client definitely deserves recognition and praise. 
PrivateVPN is quite popular among Reddit users, and there are hardly any complaints against this provider if you search through VPN-related subreddits. In fact, it is one of the top VPN recommendations in the community.
Let's take a quick look at the Private VPN comparison with other VPN providers: 
To know more about this VPN in detail, you can also check out our PrivateVPN review.
---
7. VyprVPN Compared to Other VPNs

Next up, we have VyprVPN, which offers some pretty cool features despite its low Trustpilot ratings. Compared to other VPNs like ExpressVPN, NordVPN, and PIA, this VPN offers few servers, approximately 700+ servers across North America, South America, Asia, Oceania, and Africa. However, it is quite affordable as compared to other VPNs on this list.
Some of its dedicated features include high-end encryption, kill switch, NAT firewall, and VyprVPN Cloud. It also has an audited no-logs policy, and it doesn't keep any user logs whatsoever.
Two features that definitely have a deep impact on VyprVPN reputation and dominance over other providers include 30 simultaneous connections on a single VyprVPN subscription and VyprVPN Cloud – a user-friendly VPN server-deployment solution that gives you an added layer of security whenever you're accessing your cloud servers. It is also easily compatible with cloud services such as DigitalOcean, Amazon Web Services (AWS), and VirtualBox.
Redditors seem to have many issues with VyprVPN, but its security and user interface simplicity are well-appreciated. However, some users have complained about VyprVPN not being able to unblock Netflix US from abroad.
Let's take a quick look at VyprVPN comparison with other VPN providers: 
Learn about this VPN in our VyprVPN review.
---
8. IPVanish Compared to Other VPNs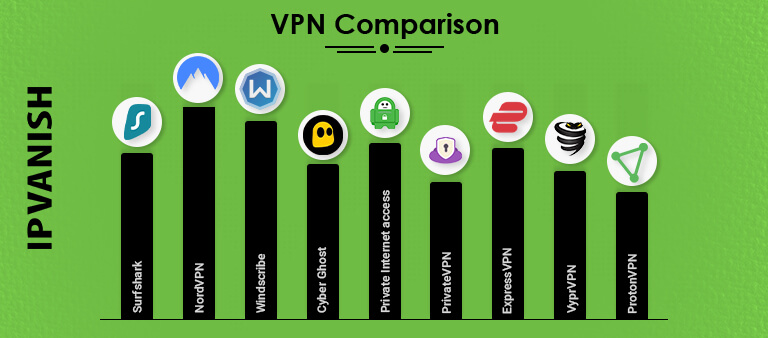 IPVanish is another renowned and most trusted VPN service. It offers its users around 2000+ servers in 75 locations, which is quite expensive compared to other VPNs on this list. Its other premium features include 256-bit AES encryption, kill switch, zero log policy, and SOCKS5 web proxy. It also uses a Scramble feature for obfuscation.
What's impressive is that IPVanish also provides its users with a powerful password generator feature for maximum privacy and security. It also comes with IPv6, DNS, and WebRTC leak protection.
IPVanish is one of those 5% VPN providers that offer data storage with their subscription as well. While it does cost a little extra, this feature lets you sync and secure 500 GB of data to access important files from any device, paired with VPN protection.
Also, what makes it superior to others is a feature called "Remote Device Wiping" – an ability to delete any sensitive data from your synced device should it ever be comprised by loss or theft.
It also allows 30 simultaneous connections and also offers a 30-day money-back guarantee. Unfortunately, many users can be seen complaining about IPVanish performance on Reddit periodically.
Let's take a quick look at IPVanish comparison with other VPN providers: 
To know about this VPN in detail, read our in-depth IPVanish review.
---
9. ProtonVPN Compared to Other VPNs

ProtonVPN is another top-ranking VPN in the industry with a decent server network of 1,200+ servers in 55 countries. It also follows a strict no-logs policy. Furthermore, it offers 4 types of subscriptions: free, basic, plus, and visionary, so you can easily opt-out of the best ProtonVPN package according to your purpose.
Some of the features you get with ProtonVPN include 256-bit encryption, kill switch, ad-blocker (NetShield), split tunneling, secure core VPN, DNS leak protection, and the list go on.
It also comes with excellent unblocking capabilities and works with major streaming platforms like Netflix, BBC iPlayer, Amazon Prime Video, Hulu, and also can unblock Hulu in UK.
Few features that give an extra advantage to ProtonVPN over other providers include Tor over VPN and streaming service support – that allows you to bypass various streaming service geo-restrictions, 10 simultaneous devices connection, and a P2P/BitTorrent support for secure, fast, and anonymous torrenting.
Let's take a quick look at the ProtonVPN comparison table with other VPN providers: 
To know more about this VPN, you can also check out our ProtonVPN review.
---
10. Windscribe Compared to Other VPNs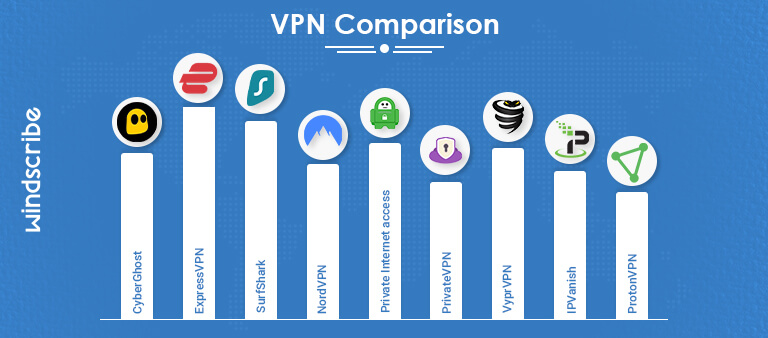 This Canadian-based VPN offers the best value for money. Windscribe VPN has over servers in 63 countries and 110 cities and offers excellent security features. Its features include an internet kill switch, double hop, port forwarding, ad-blocker, and more.
With one Windscribe subscription, you can connect unlimited devices simultaneously, and it also comes with a 30-day money-back guarantee. Furthermore, it does not keep any activity logs or meta logs, so you are safe with this VPN.
While Windscribe seems like any other general VPN provider, it does have some features that make it stand out from the rest. These include Proxy Gateway – it creates a secure HTTP or SOCKS5 proxy server right on your Windows or Mac computer and Time Warp, which will fake the configured timezone on your computer to match that of the location you're connected to.
Windscribe has a lot of criticism on Reddit. Several users have reported issues with bad servers, resulting in frequent disconnections. But, we have never experienced any connectivity issues with Windscribe.
Let's take a quick look at Windscribe comparison with other VPN providers: 
Find out more about this VPN in our Windscribe review.
---
Comparison Criteria
Following are the criteria on which we compared the VPN providers available in the spreadsheet we talked about earlier.
Speed
All VPN services in our VPN comparison chart at the start are qualified as either "Fast," "Average," or "Slow." You can also check the VPN speed test comparison table provided in the VPN provider descriptions to see which VPN service tops the list. Below is a criterion for grading the speeds of any particular VPN:
Fast – VPNs with less than or equal to 30% drop compared to the base connection speed.
Average – VPNs with higher than 30% but less than 50% drop compared to the base connection speed.
Slow – VPNs with a higher than 50% drop compared to the base connection speed.
---
Privacy and Security
VPNs are used for protecting online privacy and security. Here are some of the factors we took into consideration when comparing VPNs for privacy and security.
Jurisdiction
jurisdiction refers to the laws of a country that a VPN is obligated to follow. Generally, this is the country where a VPN's headquarter is registered. So, for instance, if a VPN is headquartered in the US, it will have to keep some logs and comply with the local laws. However, a VPN headquartered in Panama or the British Virgin Islands is not obligated to keep logs.
Five Eyes Alliance
The Five Eyes Alliance includes the US, UK, Canada, New Zealand, and Australia. The Snowden documents disclosed these Five Eyes countries, highlighting their involvement in conducting mass surveillance programs on the citizens of each other's countries.
The implications of such alliances are dangerous and antagonistic to the privacy of citizens. As such, if you use a VPN service located in these Five Eyes countries, then your activities on the web can be easily traced, and agencies can acquire your data.
Nine Eyes Alliance
The Nine Eyes extends Five Eyes and includes four more countries, including the five countries mentioned before. The 9 Eyes countries include France, Norway, Netherlands, and Denmark, collaborating with the Five Eyes in intelligence-sharing and gathering.
Fourteen Eyes
The Fourteen Eyes further expands this growing list of nosy countries interested in collecting citizens' data. The 14 Eyes countries include all the nine eyes and Sweden, Germany, Spain, Italy, and Belgium.
To learn more about the role of these countries in performing invasive surveillance on people, you can read our detailed article on the 5, 9, and 14-Eyes alliance.
Privacy Policy
We have read the privacy policy of each VPN in detail to see what kind of user data they log. It is essential to choose a VPN that doesn't log any user information. In fact, most of the premium VPN services on this list only keep necessary user information like an email address to manage the account and billing. Therefore, VPNs that keep timestamps, traffic logs, IP addresses, and more are ranked lower in the best VPN comparison chart. You can find more detail about such providers in our VPN comparison table at the top.
Traffic logging means keeping a log of your browsing and other activities on the web. These are the most intrusive kind of VPN logs. If someone wishes to track what you're doing online, they can easily do that with the help of traffic logs or activity logs. That's why VPNs that do keep traffic logs often sell them to third parties.
Keeping a record of download and upload bandwidth you have consumed over a given period. These types of logs are less intrusive. Bandwidth logs are mainly kept to ensure the quality of service and fair usage. However, some VPN keep bandwidth logs for throttling purposes. Speaking of throttling, you may find our bypass ISP throttling guide useful.
Keep a log of the time and date of your connection, disconnection, and any other event you performed while using the VPN service. This, along with IP address logging, seriously poses a threat to your privacy, as it can facilitate a hacker or agency to trace your identity and even your physical location.
Keeping a log of your original IP address and/or the VPN IP address longer than your session duration. These logs can be used to trace a user. Think of an IP address as your home address. It is unique and can easily identify where you're actually located in the world.
---
DNS, IP, and WebRTC Leak Tests
DNS logging refers to storing logs of DNS requests made from a user's computers/device. This information can reveal your location. Unfortunately, DNS logs can also allow someone to launch attacks against you through methods like data theft, denial-of-service, and command-and-control.
IP leaks refer to an incident when your IP address starts leaking despite being connected to a VPN. This is why renowned VPNs come with built-in leak protection to prevent IP, DNS, and WebRTC from leaking. The ability of a VPN to prevent IP addresses and DNS of the user (client) from leaking to the web. This is tested via ipleak.net.
As you can see in the two screenshots below, ExpressVPN easily managed to conceal our original DNS, IP, and WebRTC entries. The DNS and IP address are from its New York server. Also, in the WebRTC test, our original public IP address isn't exposed, and the test shows ExpressVPN's server details.


IPv6 and WebRTC leak test results of ExpressVPN
---
Features
We have checked VPNs to ensure they have all the essential features to offer you maximum privacy and security.
Kill Switch
Kill switch is an essential security feature built into VPNs that can cut off your internet if your VPN connection experiences a temporary loss. This ensures your security is kept intact and your IP doesn't leak on the web. Top-tier VPNs offer different levels of this technology ranging from system-wide kill switch to application kill switch.

ExpressVPNs Kill Switch called "Network Lock."
Torrenting
Most people use VPNs for torrenting safely. However, not all VPNs allow users to access various file-sharing sites like The Pirate Bay. Therefore, we test these VPNs to see which ones allow torrenting.
Netflix
Just like Torrenting, not all VPNs work with Netflix because Netflix blocks most VPN services. Meaning, you will not be able to unblock any Netflix library with those VPNs. Therefore, we have tested which VPNs unblock Netflix, as discussed in the VPN comparison table at the top.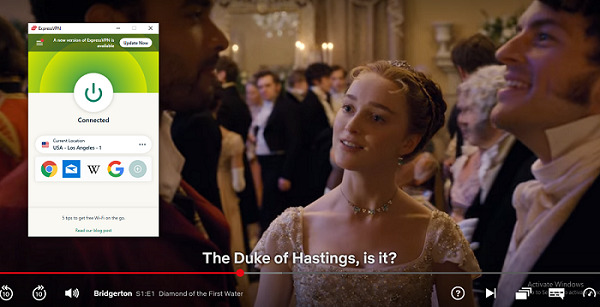 Split Tunneling
We prefer VPNs that allow you to reroute some online traffic through your ISP connection and some through the VPN server for faster speeds. However, not all VPNs have a split tunneling feature. Some popular VPN providers that possess this feature include ExpressVPN, Surfshark, NordVPN, CyberGhost, IPVanish, PIA, and PrivateVPN.
Encryption
The current industry standard is AES-256-Bit encryption that encrypts online traffic for maximum security and anonymity. VPNs using 128-bit encryption are not the best choice for privacy and security. You can also check the VPN comparison table at the start to see which VPN is more secure.
Multi-Hop
The multi-hop feature encrypts online traffic through multiple server locations for the ultimate level of privacy and anonymity. It definitely gives VPNs an edge over the others. Sadly not all VPN providers offer this cool feature. The list of providers that offer this feature is small and features popular providers like NordVPN and Surfshark.

Surfshark's Multihop feature 
IP Addresses
VPNs that refresh their IP addresses are preferred over those that use black-listed IP addresses, usually blocked by most websites. Some VPNs also offer dedicated IP addresses like NordVPN, which offers dedicated IP of France, Germany, Netherlands, the United Kingdom, and the United States.
Pricing
This criterion will help users make a better-informed decision about the provider after knowing whether the service seems equally valuable for the price they are asking and are there any budget-friendly subscription plans available with the service. Also, VPN providers that offer huge discounts, such as ExpressVPN's 49% and Surfshark's 81% discounts, are preferred in the users' eyes.
Server Network
The number of servers and the locations are very crucial factors that help you decide on the purchase. Having a large server network with thousands of servers in multiple countries is ideal for accessing all sorts of content online. However, we have also seen providers with a comparatively low number of servers gaining more trust.
Customer Support
A reliable, efficient, and 24/7 customer support gives peace of mind knowing that someone can help you out whenever you are in trouble regarding the service. It also heavily impacts the user's decision to purchase the service.
Simultaneous Connections
If you can secure multiple devices with just one subscription, then your VPN supports simultaneous connections. Renowned VPNs offer anywhere between five (5) to unlimited simultaneous connections.
---
VPN Comparison Of Providers: FAQs
What is the best VPN in 2022?
ExpressVPN is the best VPN service of 2022. The provider operates from the British Virgin Islands outside the clutches of 5,9, 0r 14-Eyes alliance and offers exemplary privacy, security, data protection, and unblocking capabilities in any network environment. It also offers 5 simultaneous connections with its "12 months + 3 months free" subscription that comes with a 30-day money-back guarantee.
How much does a VPN cost?
Is using a VPN illegal?
No, using a VPN isn't illegal. While the technology itself isn't illegal, the online activities considered illegal, such as copyright infringement, will remain illegal even if you are connected with a VPN. However, in few countries such as China, Russia, and Syria, VPN is considered illegal.
What are the top 3 VPNs?
The top 3 VPNs according to us are listed below:
ExpressVPN – Huge network and fast servers
Surfshark – Budget-friendly option
NordVPN – Secure military-grade encryption
Which VPN is best and fast?
ExpressVPN is the best and fast VPN among all others. It's servers are spread across the globe and provide the fastest connectivity. It also provides military-grade encryption and a variety of packages for you to chose from.
---
Wrapping up
As you can tell from our extensive VPN comparisons guide, choosing VPNs is not an easy task. Just check out our VPN comparison spreadsheet at the start of this blog. It took us 70+ hours to compile it. But you have to admit it; it's beneficial when deciding which VPN to go for.
There are thousands of VPN providers in the market, but only with the best VPN such as ExpressVPN can you guarantee ultimate security, privacy, data protection, anonymity, and unblocking.
If you hurry now, you can avail yourself of ExpressVPN's "12 months + 3 months free" that comes with a 30-day money-back guarantee as well.
If you have any suggestions or questions, let us know in the comments.