Reading Time: 9 minutes
Not only the two countries above, but several other countries have also been considering banning TikTok for a long time. While the social networking service offers enthralling content, taking the world by storm, it must be a bit upsetting for you if you live in Italy which might be facing a TikTok ban.
But, the good news is that these bans are relatively easy to break with Best VPN for TikTok in Italy.
With the best VPN service, you can easily unblock TikTok in Italy and gain instant access to continue participating in the growing TikTok community. After thorough testing, our top recommendation is ExpressVPN to unblock Tiktok in Italy, because of its 3000+ servers in the world, fantastic unblocking capabilities, and super-fast speeds.
---
---
Why Do You Need a VPN for TikTok in Italy?
For years, TikTok has been facing bans in many countries. These countries across the globe include Bangladesh, India, Indonesia, Pakistan, and even Italy. And the allegations on TikTok by these countries are serious concerns.
The US government also announced the banning of this popular app last year and stated that the country won't unban it unless the app is sold to an American stakeholder. However, Biden as the new President, has put a pause on the TikTok banning order.
The government of India claimed that TikTok and multiple other Chinese apps are stealing and transmitting data to servers of all its users outside the country and banned TikTok along with other apps last year.
Similarly, Pakistan has also been banning TikTok from time to time, claiming that the video-sharing social app promotes obscenity and indecent content.
However, while multiple governments are banning this app, if you're one TikTok fan and miss the app dearly, then you can always go for the best VPN for TikTok in Italy. Our top choice is ExpressVPN for this, as it easily unblocks the service in Italy, lets you enjoy videos without any stutters, and keeps you secure so your government doesn't know you're accessing a restricted application.
---
5 Best VPNs for TikTok in Italy [2023 In-Depth Analysis]
We tested 50+ VPNs on the basis of unblocking capabilities, speeds, servers, security, multi-logins, etc. Out of these, we compiled a list of 5 VPNs that possess the strong unblocking ability necessary to bypass governmental restrictions and bans on apps like TikTok in Italy:
1. The Best VPN for TikTok in Italy – ExpressVPN

The first VPN we have on our list is ExpressVPN, which is the best VPN for TikTok in Italy without any doubt. This VPN obtains a strong unblocking strength from its massive network that encompasses 3000+ servers in 94 countries. With such a wide selection of server locations, you can bypass restrictions on TikTok in Italy very easily with ExpressVPN.
The first thing we did after unblocking TikTok in Italy using this VPN was to test out its speeds. Honestly, the speeds and performance really impressed us. On its New York server, the VPN delivered super-fast speeds of 80.96 Mbps on my 100 Mbps connection, which is really good. We were able to enjoy multiple TikTok videos without any buffers. 
Another reason why we found ExpressVPN valuable for TikTok users in Italy is its ability to boost your online privacy. TikTok is not a very privacy-respecting app and gathers information about users. Unfortunately, no VPN can protect against information present at the device level.
Nonetheless, ExpressVPN generally affords better privacy to users in Italy due to its no-logging policy and features such as a kill switch. It also offers DNS leak protection that ensures to not leak your IP address to anyone. This makes you pretty safe while accessing TikTok from a country where the app is banned.
Using its split tunneling feature, you can easily use TikTok through an encrypted VPN server, and enjoy shopping on your browser using your actual IP.
If you're a user that wants better privacy and wants to break TikTok bans in Italy, ExpressVPN is one of the best choices available. You can get ExpressVPN at a price of just EUR6.22/mo (US$ 6.67/mo) (Get 49% Off + 3 Months FREE on its 12-Month Plan) on its annual plan that comes with a 3-month free subscription. You can also enjoy its 30-day money-back guarantee and test out the service without any commitments.
Learn more about this VPN provider in our ExpressVPN review in Italy.
Pros
Thousands of servers worldwide
Unblocks TikTok within seconds in Italy
Offers a no-logs policy, DNS leak protection, and kill switch
24/7 live chat support in Italy
30-day money-back guarantee
---
2. Budget-friendly VPN for TikTok in Italy – Surfshark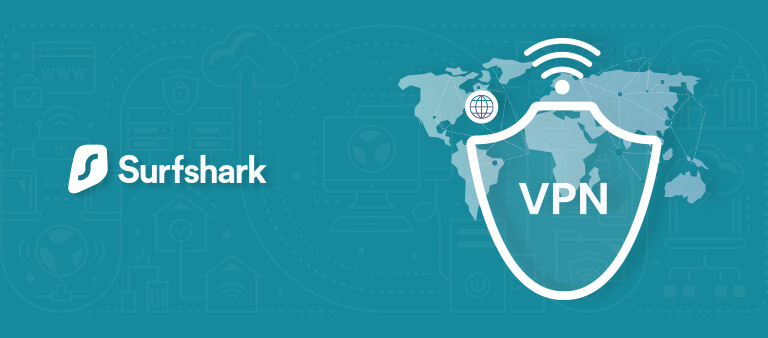 For a service that's a bit light on your pocket, you can get Surfshark. This budget-friendly VPN starts at a price of just EUR2.15/mo (US$ 2.30/mo) (Get 84% + 2 Months FREE on 2-Year Plan) and is a highly privacy-focused VPN that is also remarkably efficient for unblocking TikTok.
Since this is only a regional ban, Surfshark can access TikTok in Italy when users select one of its many servers from a list of 3200+ servers in 100 countries.
The VPN let us unblock TikTok in Italy within 3 minutes using its Chicago server and enjoy a few short clips without any lags in between. We conducted a Surfshark speed test in Italy on the server we were connected to and got an average speed of 78.75 Mbps on a 100 Mbps connection, which is pretty cool.
Users that want better privacy can also take advantage of Surfshark's wide range of features including CleanWeb, kill switch, MultiHop, and more. Again, these might not help curb the data-harvesting nature of TikTok, but Surfshark can surely help you stay safer on the web in general with these features.
Overall, Surfshark is a complete package that will not only allow you to pass through governmental bans on TikTok in Italy but also boost your privacy on the precarious web. The best thing about this VPN after its price is that it offers unlimited simultaneous connections to users.
It also comes with a risk-free 30-day refund policy that can be used to test all its features. Learn more about this VPN provider in our Surfshark review in Italy.
Pros
Can unblock TikTok and other social media platforms in Italy
Servers in 100 countries
Offers fast speeds for lag-free streaming
Unlimited simultaneous connections
A 7-day free trial available in Italy
Cons
May offer slow speeds at times
---
3. The Fastest VPN for TikTok in Italy – NordVPN

NordVPN is the fastest VPN for TikTok in Italy. It is a renowned VPN service known for its huge network of 5500+ servers in 60 countries. It is one of those VPNs that offer a solid balance of privacy and unblocking power. Users will find it super-easy to bypass restrictions on TikTok in Italy using NordVPN's huge variety of servers.
We tested its unblocking capabilities by using this VPN for TikTok on iPhone, and it let us unblock the video-sharing app in Italy within a minute, which left us amazed. We then connected to its server in Phoenix and watched multiple videos on the app without any connectivity issues or lags.
The speeds were so good that we even tried making a TikTok of our own using NordVPN. We further tested the speeds of our connected server and it delivered a blazing-fast speed of 83 Mbps on a 100 Mbps connection, the best any other VPN could offer here. Thus, we ended up labeling this VPN as the fastest.
What's more, NordVPN also uses technologies like obfuscation to help people in countries that regulate and control VPN traffic and allow them to disguise their VPN as normal internet traffic. This can allow users to not only unblock TikTok in Italy but do so in a way that there's no chance of  the government suspecting that you're using a VPN as a trick to fool the blocking mechanism placed on TikTok.
NordVPN also offers multiple features that can enhance a user's privacy on the web in Italy in general. These include DoubleVPN, Onion over VPN, CyberSec, and kill switch. The VPN is also known for its Netflix unblocking prowess in Italy which can come in handy if you're a fan of streaming services.
You can obtain NordVPN for EUR3.72/mo (US$ 3.99/mo) (Get 57% Off + 3 Months FREE on 2-Year Plan). A single NordVPN subscription comes with support for 6 simultaneous connections, a decent added bonus along with a 30-day refund policy.
Learn more about this VPN provider in our NordVPN review in Italy.
Pros
An extensive network of servers
Unblocks TikTok easily in Italy
30-day refund policy
6 simultaneous connections
Allows access to Netflix, Hulu, Amazon Prime, and more in Italy
Cons
Android app can be sluggish
---
4. User-friendly VPN for TikTok in Italy – CyberGhost

CyberGhost is a Romanian VPN service that is also one user-friendly VPN for TikTok. It is characterized by a huge network of 5500+ servers in 60 countries. TikTok users will have no trouble whatsoever using CyberGhost to bypass the ban on this app in Italy.
In our experience, CyberGhost didn't deliver the same level of speed that the other providers mentioned above did. However, it was a great VPN for TikTok PC in Italy as it offers user-friendly apps for Windows, macOS, Android, and iOS which is amazing for beginner and advanced VPN users.
As for speeds, we tested the VPN using its New York server, and the VPN delivered an average speed of 70 Mbps on our 100 Mbps connection. Although the speeds were quite less than all the VPNs above, we faced no lags while using the VPN on TikTok in Italy.
The VPN also offers reliable security to users. It comes with a kill switch that disconnects you from your internet if your VPN connection becomes a bit unstable. It also offers DNS leak protection, AES 256-bit encryption, the latest WireGuard protocol, and split tunneling to users for complete anonymity while using TikTok in Italy.
CyberGhost is a decent VPN to have for tackling problems such as the recent TikTok ban. You can purchase it for EUR1.97/mo (US$ 2.11/mo) . The plan also offers a 45-day money-back guarantee as well as 7 simultaneous connections.
Learn more about this VPN provider in our CyberGhost review in Italy.
Pros
Offers dedicated modes for streaming, torrenting, and browsing
Compatible apps for all major devices
Speeds let you enjoy TikTok videos without buffering in Italy
Let you bypass censorship and stay secure
45-day money-back guarantee in Italy
Cons
Servers may take a long time to connect
---

Private Internet Access is the final VPN on our list to unblock TikTok in Italy. Not only is it reliable in terms of unblocking and speeds, but it also offers decent security to keep you secure while streaming TikTok videos in Italy.
PIA offers 35000+ servers in 84 countries. Now, this network is HUGE. And so, we connected to its Miami server and unblocked TikTok within 2 minutes. After that, we could stream more than 5 TikTok videos without any load times.
In short, its performance seemed great on the front. But, we wanted to ensure that it's actually as fast as it seems. So, we conducted a PIA speed test in Italy and got a decent downloading speed of 65 Mbps on a 100 Mbps connection. This may seem like a 35% speed drop which is more than average, but since TikTok videos are quite short, we didn't face any issues with them.
Moreover, PIA turned out to be reliable and trustworthy in terms of privacy as well. Even though it's headquartered in a 5 Eyes Alliance country, it offered a kill switch, DNS leak protection, MACE, and split tunneling. We further read its no-logging policy thoroughly and found it fine.
In short, if you're looking for a way to change TikTok location or desire to see TikTok unblocked in Italy, then you can definitely opt for PIA. This best VPN TikTok costs only EUR 1.97/mo (US$ 2.11/mo) and offers a 30-day money-back guarantee to users.
Learn more about this VPN provider in our PIA review in Italy.
Pros
Offers practically the largest server network in the industry
Decent speeds for streaming TikTok videos in Italy
Keeps users secure through its kill switch and no-logs policy
30-day refund policy in Italy
Doesn't leak your IP address
---
---
Here is a quick breakdown of all the features these VPNs for TikTok offer:
---
How to Choose the Best VPN for TikTok in Italy
Not every VPN is suitable to be used on TikTok. Some may be unable to unblock the video-sharing app while others may offer slow speeds. This is why we looking into the following features while selecting the best VPN for TikTok in Italy:
Server network: A VPN should offer an extensive network of servers so you can easily bypass server overcrowding and enjoy high speeds. Additionally, more servers mean a stable connection at all times.
Unblocking abilities: If a VPN is unable to unblock TikTok for you in Italy, then it's practically useless. We tested and ensured that the best VPN app for TikTok in Italy that we list down can allow you to enjoy multiple videos easily.
Speed: Since TikTok videos are pretty short, they don't generally need fast speeds. However, to enjoy them back-to-back, we recommend you only download a TikTok VPN that offers a speedy connection.
Security and privacy: If you're accessing TikTok in a banned country, then you need a VPN that's packed with multiple security features like a kill switch, no-logs policy, DNS leak protection, and more.
User-friendliness: We prioritize easy-to-use Tik Tok VPNs, and have listed down only the options that are can be installed in just a few clicks and enjoyed on more than a single device.
Cost: We checked out the VPN's prices, deals, and discounts, and only recommended the ones that seemed worth their cost. Furthermore, we ensured that the VPNs we list offer risk-free money-back guarantees to users for testing.
---
How Can I Install TikTok in Italy if it Has Been Removed from the Apple Store and Google Play Store?
Even if the government in Italy has removed the TikTok app from the following stores above, you can still download it on your device by creating a new Google account or a new Apple ID:
---
Can I Use a Free VPN for TikTok in Italy?
We don't recommend the usage of a free VPN for TikTok in Italy at all. Free VPNs come with multiple risks and limited servers. These limited servers will barely let you access TikTok in in Italy.
Let's not forget that free VPNs also come with a data cap that will offer you access to TikTok in Italy only for a very limited time. Also, these VPNs are extremely risky as they are often known to collect user logs and sell them to third-party sites.
However, there are some premium VPNs that offer a free trial in Italy for their users, using which you can watch TikTok for free in Italy. Also, the above-mentioned VPNs in this blogs offer free trials with a money-back guarantee and you can access all the premium features without getting bind into any sort of subscription.
---
Why is TikTok Banned in Some Countries?
The bans arise from security problems regarding TikTok's parent company based in China called ByteDance. Security experts in Italy and other countries are worried that the organization can share a huge collection of data on its users with the Chinese government.
But this appears to be a poorly cooked-up pretext for digital censorship grounded on misplaced fears of the increasing influence of China all over the world.
Moreover, in some Muslim countries such as Bangladesh and Indonesia, TikTok is banned due to its potential to spread inappropriate content, whereas multiple Western social media sites are allowed to be used but are severely moderated.
---
Privacy Problems in TikTok in Italy
TikTok is an excellent platform that democratized content creation and promoted the discovery of aspiring creators that are not as well-known as their famous counterparts. For this, TikTok deserves a lot of commendation.
At the same time, it is important for TikTok users in Italy to fully understand the extent to which they are sacrificing their privacy by using this app. Let us show you a few details from TikTok's privacy policy (which you can read in full here).
Information collected through other social media:

Users in Italy that sign up to TikTok through their other social media accounts should keep in mind that TikTok will collect information from your connected social profiles.
We strongly recommend signing up for TikTok with a new account created especially for TikTok use. This way, you can at least opt out of data collection from your social accounts.
Information collection through device and SIM
TikTok takes the liberty to collect details from a user's device and even their SIM card without consent.

There is absolutely no logical reason for an app like TikTok to collect users' device identifiers, model of the device, mobile carrier, time zone setting, screen resolution, file names, and keystroke patterns. This is simply ridiculous!
The only scenario where any company would be collecting such detailed information from a user in Italy is if they were feeding algorithms to train their own artificial intelligence systems.
TikTok even obtains location information from a user's SIM card. This means that you can't even use proxy or VPNs to pretend to be located in a different country and hide your real location. Turning off location services on your phone and denying permission to TikTok will have no effect either since they can still determine your location through your SIM.
Collection of in-app messages
There's a messaging functionality in TikTok through which users can send messages to other TikTok users. TikTok openly declared that they collect and analyze all information contained within these messages.

Unlike apps such as WhatsApp, TikTok doesn't use any encryption at all, so the company can easily see all the contents of your messages. In fact, they're not only reading your messages but analyzing them to learn even more details about you.
Needless to say, this is a huge red flag.
How TikTok uses all this information
A lot of the information that TikTok is gathering about you makes no sense. But if you consider the purposes they want to use your collected information for, things start to make a little more sense but not in a good way.
In the privacy policy, TikTok mentions how they will be using your information. Among many other reasons (most of which are industry-standard), here are a few quite worrying ones:


TikTok will gather whatever information it can about you and then find out the missing elements using the information it already knows about you. It doesn't matter to the company if users want to keep their age, gender, and interests hidden. The company will infer it with or without your permission.
You can find out how one set of information can be used to predict another set of attributes of people through their Facebook social profiles where we discussed this subject at some length, focusing on Facebook.
The algorithms that TikTok uses to suggest, display, and promote content are informed through these same personal details as well. In fact, the company behind TikTok, ByteDance, is an artificial intelligence company. It is highly likely that they are using your information to train machine learning and AI algorithms without bothering to seek user consent for it first.
---
What Social Media Says About the TikTok Ban
Social media is abuzz with discussions about the TikTok ban that India has recently imposed. The following blogger, for instance, pointed out how VPNs alone will not suffice to unblock TikTok:
TikTok has stopped working in India even on VPN
It looks like using a VPN will not allow you to access the TikTok
The ban seems to be device ID-based rather than just IP-based pic.twitter.com/K9MySBkcBA

— Utsav Techie (@utsavtechie) July 1, 2020
Another user pointed out the same:
it looks like TikTok is blocking by device ID. if you have logged on tiktok before from a phone in india, it might not work anymore.

i took out an old phone, got behind a vpn and google play is showing me tiktok in the store and tiktok works 🙂@AroonDeep @nixxin

— Surinderxx (@surinderxx) June 30, 2020
This suggests that the authorities are very serious about this ban and don't want people to easily bypass it with a VPN. Nonetheless, users should still be able to unblock TikTok in Italy with a device that they have never used for TikTok before and make sure to always be connected to a VPN before logging into TikTok.
---
FAQs – Best VPN for TikTok in Italy
Is it illegal to use the banned Chinese apps in Italy?
No, it is not illegal to use Chinese apps banned in Italy. These bans only represent attempts to suppress access, but there are no legal grounds for outlawing their use through VPNs or other means.
Is there a fine on using the banned Chinese apps in Italy?

No, there is no fine for using TikTok or any other banned Chinese apps in Italy. While TikTok is banned in a few countries of the world, including India, the countries don't put any penalty on the users of these apps.
How can I download banned apps in Italy?

On desktops, it is easy to download banned apps with a VPN. However, on smartphones, you will have to sideload the APK of the desired app since most stores like Play Store won't allow you to download an app that's been banned in Italy.
What should I do if my VPN doesn't unblock TikTok in Italy?

It's possible that your device ID has been banned in Italy. In this case, the only option is to use TikTok on a new device and protect it with a VPN at all times so it doesn't get banned also.
Is changing your location possible using TikTok in Italy?

TikTok has an algorithm like most other social media apps that offers content that is only relevant in Italy. But, you can always change that by using a VPN. While you might be able to change content recommendations by changing your language from the settings or by the users you follow but changing your location is only possible by getting a VPN and connecting to a global server.
Now that you know everything, just learn how to change your country on TikTok and how to use TikTok with VPN in Italy, and enjoy watching your favorite videos without any issues.
Is unblocking TikTok in Italy with a VPN safe?

Yes, unblocking TikTok in Italy using a VPN is 100% safe if you're connected to a reliable VPN service. VPN services like a free VPN will only leak your data to your ISP and won't protect you from any sort of monitoring or snooping.
Is it legal to use a VPN for TikTok in Italy?

Yes, VPNs are legal in most countries. If a country doesn't have any laws that are against using VPNs, then it's not illegal to access TikTok with a VPN. In fact, it's highly recommended to use a trustworthy VPN as it offers robust security features to keep you secure online.
Conclusion
The ban on TikTok is an attack on the digital freedom of people in India. If Italy and other countries follow India's footsteps, this will represent a serious abuse of governmental powers against freedom of expression.
It is the people who ultimately end up paying the price for military aggression and political tensions between countries. Thankfully, we still have VPN services to rely on when governments decide to curb our freedoms. The most reliable choice is ExpressVPN to unban TikTok in Italy.
However, at the same time, we reemphasize that VPNs will NOT help preserve your privacy against TikTok's overreaching data harvesting practices. Nonetheless, with this ban on TikTok in India which might be followed by other countries, the only way to continue accessing TikTok is by using the best VPN for TikTok in Italy so users can mask their location and avoid being flagged by the government.
What are your thoughts about India and Italy stances against Chinese apps like TikTok? Leave a comment below!