Reading Time: 8 minutes

If you have been trying to access the dark web in UK, it would be a bummer if everyone on the web can easily identify your whereabouts. Although you've likely heard about Tor browsers being able to hide your identity, you still need a much powerful tool like a Tor over VPN to actually encrypt your internet traffic.
Despite extensively routing your network traffic through multiple nodes, even a single compromised node is enough for a hacker to steal your personal information. That's why the best VPN for Tor in UK is recommended. With extensive routing and powerful encryption, your data would make no sense to anyone spying on you.
Pretty cool, right? I have tested several VPNs out there and brought you some great VPNs for Tor in UK that offer amazing compatibility with several platforms and servers. Our top recommendation is ExpressVPN because it is the fastest VPN in the market of UK and works great with Tor.
Overall Best VPN

3,000+ Servers in 94 Countries
Hard disk free infrastructure (RAM only)
256-bit Military-Grade Encryption
Excellent unblocking capability for Netflix, Hulu & more
5 Multi Logins
Zero-knowledge DNS
Excellent - 4.6
Based on 100 reviews

Straight to the point
Straight to the point. Easy to use from my desktop to phone. Friend user interface. Really recommended!
Highly recommend express vpn
I have been using express VPN for nearly a year now. I have no complaints whatsoever. Indeed I can highly recommend.
Works like a charm
Works like a charm! I know and feel like my online search is secure. Best vpn on the market.
Totally Useful and Reliable!
ExpressVPN is such a wonderful help for websites I cannot access in other countries.
Great and very easy
Their website is very informative and explains in step by step easy directions to apply their VPN to anything and everything. Works excellent
Snoops be damned
As an IT all-rounder, I have used ExpressVPN for many years now and rely on it to protect my privacy. As we interact with technology, directly or otherwise.
This is very good for my family
This is very good for my family. We use it in different countries. This gives us great opportunities. It has never let us down!
Good VPN
Good VPN worth the money just wish it was a one off payment not every month
Great for my needs
Excellent for my needs. Bought a subscription for my relatives to use in Myanmar. Works well for all of us.
Super easy and safe in the net
Super easy and safe in the net
The best VPNs for Tor browsers in UK – Quick Overview
The Best VPNs for Tor Browsers in UK – In-Depth Analysis [Updated 2022]
Now that we've gotten Tor and VPN out of the way, let's check out some of the very best VPN services for the Tor browser in UK 2022.
1. ExpressVPN – The best VPN for Tor in UK

Next up, we have ExpressVPN for Tor in UK. I guess labeling this VPN as the very best wouldn't be an understatement. It is by far one of the best VPNs you can get for pretty much every application.
With over 3000+ optimized VPN servers, ExpressVPN guarantees crazy fast speeds every time. Heck, if you're primarily looking for speeds, just go with ExpressVPN. It also one of the best-encrypted VPNs on this list with military-grade 256-bit AES encryption.
Another reason why I consider ExpressVPN as one of the very best Tor browser VPN in UK is because of its superb performance and onion over Tor support. Its extensive security and advanced encryption protocols make this VPN is one of the best VPN services in the market in UK right now.
That said, one thing I don't like about ExpressVPN is the fact that their Onion website no longer works.

Not a deal-breaker, but it's nice to have one.
Moving on, ExpressVPN offers 24/7 live chat support, leak protection, kill switch, and other awesome features that are just perfect for Tor browsing in UK. It comes with a 3-month free subscription on its annual plan, which is fantastic.  For more information, check out our exclusive ExpressVPN review.
Pros
3000+ global servers in the world
Fantastic Tor support
AES 256-bit encryption
Unblocks all geo-restricted services
OpenVPN protocols
BEST VPN FOR TOR IN UK: ExpressVPN is our top choice. This VPN offers some top-notch security features, AES 256-bit encryption, and the best speeds to use over a Tor browser. 
2.  Surfshark – Budget-friendly VPN for Tor

If you're looking for a super affordable Tor compatible VPN in UK, then Surfshark is perhaps the best for surfing the Tor browser.
Although Surfshark might not offer any exclusive features, you can still use it in conjunction with Tor. Performance is great, if not the best, and 3200+ servers are plenty to get pretty much everything done.
Now let's talk about features. Right of the bat, the MultiHop feature is really great to use. It is super secure but can slow down your connection a bit. Other than that, Surfshark supports industry-standard 256-bit encryption, offers a strict no-log policy, a 30-money-back guarantee, and, best of all, is compatible with all major platforms. It also offers browser extensions for Chrome and Firefox.
You can get this budget-friendly VPN in UK only at a price of GB£1.57/mo (US$ 1.99/mo) (Get 86% + 3 Months FREE on 2-Year Plan). It also offers a 30-day money-back guarantee to users who want to test its service.
For more information, check out our exclusive Surfshark review.
Pros
Another best VPN to use with Tor
3200+ servers worldwide
30-day money-back guarantee
Compatible with popular platforms
Offers a .onion website
Good budget option
Chrome and Firefox extensions offered
Cons
Some servers may offer slow speeds
BUDGET VPN FOR TOR IN UK: Surfshark is one cheap VPN. This VPN offers the most budget-friendly prices, user-friendly apps, and unlimited multi-logins to users.
3. NordVPN – Tor VPN with Obfuscated servers

Next up on this best Tor VPN in UK list, we have NordVPN. Now there are plenty of reasons to love NordVPN, and its servers are obviously one of them.
With over 5500 servers, global server coverage isn't a big deal for NordVPN. As far as features are concerned, specialized servers (onion servers) offered by NordVPN come pre-configured with Tor over VPN in UK. Thus, NordVPN is a perfect solution if you're looking for an onion over a VPN solution.
Not only that, if you want to take your privacy to a whole another level, but you can also even use NordVPN's Double VPN feature. However, your speeds are going to suffer a bit due to extensive encryption. Aside from that, 256-bit encryption, a strict no-logs policy, and excellent device compatibility ensure your privacy is never compromised.
This speedy VPN in UK comes at a price of GB£3.16/mo (US$ 3.99/mo) (Get 57% Off + 3 Months FREE on 2-Year Plan) only. Along with that, it offers a risk-free 30-day refund policy and 6 multi-logins to users.
For more information, check out our exclusive NordVPN review.
Pros
Specialized onion servers
No-logs
Unblocks BBC iPlayer, Hulu, and more
Military-grade encryption
Kill switch available
FAST CONNECTIONS FOR TOR IN UK: NordVPN offers the best speeds. This VPN offers 5500+ servers worldwide and offers a super-reliable no-logging policy to users.  
4. CyberGhost – Easy-to-use VPN with Tor Browser

CyberGhost is another really great VPN in UK you can use for Tor browsing. Even though CyberGhost doesn't explicitly advertise anything about being compatible with it, it does work surprisingly well with it.
As far as servers are concerned, CyberGhost offers over 9700 servers in 91 countries. It offers decent speeds, military-grade encryption, and even an extensive 45-day money-back guarantee. Combine with the fact that CyberGhost doesn't keep any logs, so you can browse over Tor all day long without worrying about a thing.
For more information, check out our exclusive Cyberghost review.
Pros
6600+ servers
45-day money-back guarantee
AES 256-bit encryption
Decent Tor support
Whitelister, kill switch, no-logs offered
Cons
Some servers might not offer the best speeds
EASY-TO-USE VPN IN UK: CyberGhost offers user-friendly applications. This VPN offers one of the most extensive server networks and a 45-day money-back guarantee.

Private Internet Access (PIA) is a great option for individuals with extreme security and privacy needs as it supports Tor-over-VPN in UK. PIA is a USA-based VPN, but it follows a no-logs policy and offers the best security features available in the market. PIA allows SSL and SSH tunneling to help you bypass government blocks and checks.
PIA has the largest server network among other VPNs on this list. It has 35000+ servers across 84 countries. Apart from thousands of servers, PIA VPN comes with an automatic kill switch, 256-bit encryption, and DNS leak protection. It is also compatible with major devices, including Windows, macOS, Linux, and more.
This VPN service is also quite affordable in UK and allows 10 devices to connect simultaneously. There is also a 30-day money-back guarantee, so you can test this VPN and try it with Tor risk-free.
To know more about this VPN, read our in-depth PIA review.
Pros
23000+ global servers in the world
Compatible with Windows, Mac, Android, Linux, etc.
30-day risk-free refund policy
DNS leak protection, anonymous browsing offered
10 simultaneous connections available
Cons
Some servers may offer slow speeds
EXTENSIVE SERVER NETWORK: PIA offers 35000+ servers worldwide. This VPN also offers great encryption and is compatible with multiple devices. 
6. IPVanish – Reliable VPN for Tor Browser

IPVanish is one best VPN in UK to use with Tor that offers fewer worldwide servers than all other VPNs but works great with Tor. With its 2000+ servers in 75+ locations, you can connect to any of the servers for added privacy and completely secure your data.
This VPN offers unlimited simultaneous connections on one account, enabling users to use a Tor browser and secure their logs on more than a single device. Speaking of which, its obfuscation feature will conceal your VPN tunnel as regular internet traffic, not letting your ISP know that you're using a VPN.
IPVanish offers a 30-day risk-free money-back guarantee to users but doesn't accept Bitcoin payments which is a bit sad. You can learn more about it in our IPVanish review.
Pros
Works well with Tor
Encrypts data using OpenVPN
30-day money-back guarantee
10 simultaneous connections
Cons
Lesser servers than other VPNs
Doesn't accept payments through Bitcoin
GREAT OBFUSCATED SERVERS: IPVanish offers encrypted servers. This VPN comes with some great security features and lets users connect unlimited devices at one time.
7. PrivateVPN – Secure VPN for Tor Browser 

PrivateVPN is one recommended VPN in UK for Tor by us. This VPN offers a user-friendly setup guide of VPN over Tor. One advantage of using a VPN over Tor is that some websites that do not let you access them through a Tor browser will enable access when the VPN will change your IP address.
Let's not forget that PrivateVPN offers great speeds, OpenVPN protocols, AES 256-bit encryption, and a strict no-logging policy to users. It also lets you connect 6 devices on one account. 
You can learn more about this service in our PrivateVPN review.
Pros
Offers a great VPN over Tor guide
Uses the OpenVPN protocol
Cheap prices
30-day money-back guarantee
 GREAT TOR VPN IN UK: PrivateVPN offers an easy Tor setup guide. While it offers very limited servers, it tends to offer the best security along with relatively cheap prices. 
How we choose the best VPN for Tor browser in UK? Our test methodology
Wondering how to choose the best VPN for Tor in UK?
Now that you know what Tor is and what it can be used for, we've mentioned some of the most reliable VPNs you can use with Tor in UK. To make it super easy for you, I've only rounded some of the best VPNs to use with Tor in UK that offers the following features:
Don't keep any VPN logs that could jeopardize your privacy.
Offers powerful encryption and robust VPN leak protection.
Offers industry-standard speeds.
Complete Tor compatibility.
Supports anonymous payment options (accepts cryptocurrency).
Extensive money-back guarantee.
Excellent support.
Affordable pricing plans.
⚠ VPNs Tor users Should Avoid in UK
1. HideMyAss
This VPN claimed to have a strict no-logging policy until a user got arrested on the account of his online activity. Furthermore, this VPN also had some data invasive laws that a user needs to be vigilant about. This is why we ask our Tor users to stay away from HMA in New Zealand.
2. Hola VPN
Hola VPN was declared to be avoided back in 2015 when the VPN got exposed for using computers of all its users into exit nodes. All the internet traffic of all users was then routed towards these nodes which Hola then used to sell to third parties.
Tor over VPN vs VPN over Tor in UK- Which is Better?
As I said, both Tor and VPN can't offer complete anonymity to their users in UK. However, combing both together can guarantee unmatched security and privacy. Using the encryption of a VPN and decentralized nodes of Tor, you can make it nearly impossible for anyone to trace you.
If you are thinking about how to use a VPN with Tor in UK, then there are two ways you can go about it. You can either use Tor over VPN or VPN over Tor. It might sound quite similar, but they both function quite differently. Let's take a look at each of the two approaches.
Tor over VPN
This one is the recommended method for effectively using both technologies simultaneously. If you're wondering how this works, you basically need to connect to the VPN server and then use the VPN for the Tor browser in UK.
If you use Tor before connecting to the VPN server, surveillance agencies or Internet Service Providers (ISPs) can identify whether you're using Tor or not. However, enabling the VPN mitigates this issue by masking your Tor traffic through powerful encryption. Therefore, make sure to use Tor with VPN in UK.
In addition to that, enabling VPN prior to using Tor ensures one additional benefit.
If you connect to a VPN server before browsing over Tor, you're essentially restricting the Tor browser from knowing your real IP. Instead of your true IP address, the Tor browser will only see the IP address of the VPN server you're connected to.
Long story short, no one will be able to track you, and your data will be secure.
Pros:
Renders ISPs and VPN services from identifying your Tor traffic.
Zero configuration required; just connect to a VPN server before using Tor.
The entry node of Tor won't be able to see your real IP address.
Allows access to Dark web and onion websites.
It allows for easy switching between Tor and everyday browsing.
Cons:
VPN providers can potentially log your real IP address.
Websites that don't permit Tor can actually block traffic from Tor exit nodes.
Users cannot access .onion sites.
Entry nodes can see your original IP address.
Cannot run P2P programs.
Tor over VPN is the recommended one amongst the two by us for offering the best privacy to users and letting them be completely secure over the internet.
VPN over Tor
VPN over Tor, on the other, is a bit tricky to implement. Besides that, this method is not really recommended as most VPNs don't support this model.
This method basically takes your Tor-browser traffic from the exit node and passes it through the VPN server you're connected to. Again, this method is not recommended and requires quite a bit of tinkering around to properly configure.
Pros:
Renders ISPs and VPN providers from identifying your Tor traffic.
Can bypass and access Tor blocking websites.
Through extensive routing, VPN service providers won't be able to see your real IP address.
Greater anonymity.
Freedom to choose the server location of your choice.
Cons:
ISPs can see you are using the Tor browser.
It can be difficult to set up even with the help of a VPN service provider as it requires quite a bit of tinkering.
It can't access onion websites.
Entry nodes can see your real IP address.
Cannot run P2P programs.
VPN over Tor is difficult and not recommended by us as it might let your ISP know that you're trying to hide your activity using a Tor browser.
End-to-End Timing Attacks
An End-to-end (e2e) timing attack is a technique used to de-anonymize VPN and Tor users. This technique simply correlates the time when the VPN or Tor users were connected to the time of other anonymous behavior online. A successful attack against a Tor user is nearly impossible, but not for government agencies like NSA.
Therefore, to have an extra layer of security and privacy, you should use a VPN with Tor in UK. It will also help protect against end-to-end timing attacks.
Should I use a free VPN for Tor in UK?
Although not preferred, you can technically use the best free VPN for Tor in UK if you don't feel like spending money.
There is no technical obstacle that can prevent these VPNs from working alongside the Tor network. Nonetheless, using a free Tor VPN in UK might prove to be the wrong choice for a few reasons.
First, you can never be sure if a free VPN service keeps logs or not. Usually, logs are kept and sold by these VPN providers to fund their business. As such, your privacy is always under threat if you are using these VPNs in New Zealand. Aside from this, these VPNs do not usually offer proper encryption and come with bandwidth limits. Therefore, it is not recommended to use such free tor VPNs in New Zealand.
Is Tor even Legal in UK?
Yes, I'm not going to beat around the bush here, Tor is totally legal in UK.
Even though you might see pretty scandalous headlines depicting how evil it is, in reality, it is just a technology that facilitates safe and anonymous browsing.
In fact, the Onion network is fully legal and can be pretty much used freely anywhere in the world.
That being said, while the technology itself is totally legal, some individuals use it for pretty shady reasons. I'm talking about accessing the dark web for nefarious services. For those who have no idea what shady services I'm talking about, you can basically hire a hitman to do all your dirty work.
Not only that, but you can also even purchase explosives, stolen credit card numbers, social security number, and god knows what else. [Source]
This is exactly the reason why ISPs and government agencies closely monitor Tor traffic. If you're even remotely considering browsing the dark web, I highly suggest you use a VPN in UK
Tips to stay safe while browsing over Tor in UK.
Even though combining Tor with VPNs in UK should be enough to keep you safe and anonymous online, there are few easy precautionary steps you can take to strengthen your privacy further.
Here are my top 5 tips to stay secure while browsing over Tor in UK:
Don't visit sketchy or suspicious sites. Usually, the site's look and feel are the biggest giveaways, so pay close attention.
As a general rule of thumb, always check the URLs of the sites you're visiting. Make sure the site you're visiting is HTTPS encrypted. To verify, just look at the lock icon at the beginning of the URL.
Periodically delete your cookies and temporary files to flush unwanted trackers.
Before connecting to any public network, always make sure you are connected to a reliable VPN server.
Avoid paying with credit cards. Try using alternative payment modes such as cryptocurrencies or PayPal.
VPNs for TOR Twitter
Twitter is a very interactive platform that provides neutral opinions about pretty much everything. On that note, I decided to look at Twitter to see what Twitter users had to say about Tor.

You should opt for Tor if you're not a fan of annoying ads.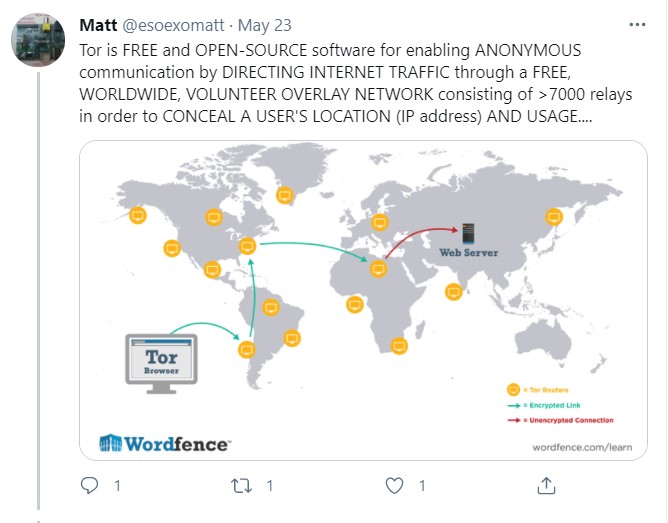 FAQs – Best VPN for Tor in UK
So now that you know what the best VPNs for Tor in UK are let's go through some of the most frequently asked questions regarding Tor and VPNs in UK.
Is Tor safe for use in UK ?
Yes, Tor is a completely safe browser to use in UK . It offers strong encryption and complete privacy to users, removing all vulnerabilities that a normal browser has, such as cookies. This is one of the reasons why it's encouraged to use a Tor browser if you want to be careful about your information.
What is the safest VPN to use with Tor in UK ?
ExpressVPN is the safest and the best VPN in UK for Tor browser. ExpressVPN offers .onion sites and offers added privacy and security on Tor through AES 256-bit encryption and OpenVPN protocols. It also offers a kill switch, zero-logs, and other advanced security features to stay safe.
Can I use Tor for all browsing needs in UK ? 
We don't advise you to do that. Many websites don't work great with Tor in UK . Some even block Tor browsers. On top of that, you might end up facing a lot of CAPCHAs. Let's not forget, Tor browsers offer relatively slow speeds than a normal browser which might only annoy you in the end.
How can I use Tor on iOS and Android in UK? 
iOS devices offer Onion Browser on their App Store that is endorsed by Tor itself. Similarly, Tor browsers can also be found on Google Play Store or you can use Orbot, which is practically older than the Tor browsers on Android. However, iOS users may suffer from some drawbacks. So, you can use the best VPN for Android and the best VPN for iPhone; ExpressVPN on your Tor browser in UK to encrypt your data further.
There are many free VPNs for Tor in UK, but we recommend that you use one of the premium VPNs mentioned above. All these VPNs offer a 30-day money-back guarantee, so you can try the VPN for Tor free in UK of any risks.
Can ISP block Tor in UK ?
Yes, ISPs can actually block Tor traffic if detected. However, you can use Tor and VPNs simultaneously to avoid getting blocked by your ISP in UK .
Wrapping Up
If you're like tons of other folks that think they can secure their privacy with just Tor in UK , you're just fooling yourself.
As I mentioned plenty of times in this blog, you just can't rely on just one technology. To truly remain anonymous in the ever so intrusive world, it's imperative that you get yourself one of the best VPNs for anonymity in UK and use it for the Tor browser.
So what are you waiting for? Get yourself the best VPN for Tor in UK today.
What VPNs do you find the best? Do let me know in the comments below.