Tiempo de leer: 3 minutos

ExpressVPN is an excellent choice for Smart TVs.
ExpressVPN, with its 3000 servers across 160 locations, is a top choice for Smart TVs. It is compatible with various devices, including smartphones, tablets, laptops, routers, gaming consoles, and Smart TVs.
What's best is that ExpressVPN comes with excellent unblocking capabilities and can bypass any firewalls, giving you unrestricted access to popular sites including Netflix, Hulu, Amazon Prime Video, BBC iPlayer, Diseny+, and more. Also, ExpressVPN works great with torrenting in Spain too if you're into that.
Unblock Streaming Sites with ExpressVPN:
However, setting up ExpressVPN on SmartTV in Spain is not as easy as it sounds because most SmartTVs don't have native VPN support or Google Play Store, where you can directly download the VPN app and sign in. But don't let that stop you from enjoying your favorite shows on the big screen.
In this article, we will provide you with three methods to set up and use ExpressVPN on SmartTV.
How to set up ExpressVPN on SmartTV in Spain
No matter the brand of SmartTV you use, be it Samsung Smart TV or LG Smart TV in Spain you can set up ExpressVPN on your SmartTV in three ways. You can either install the VPN on your device directly. You can also set up ExpressVPN on SmartTV in Spain through MediaStreamer, or you can connect a VPN through the router.
Here is a detailed step-by-step guide:
Method 1: Through VPN app
You can directly install the ExpressVPNs app on your SmartTV. But, this method only works if your SmartTV has built-in VPN support like Android TV.
Here is a step-by-step guide:
Subscribe to one of ExpressVPN's plans. Unfortunately, there is no ExpressVPN lifetime deal in Spain, its cheapest plan costs EUR 6.21/mo (US$ 6.67/mo) (Get 49% Off + 3 Months FREE on its 12-Month Plan) (12 + 3 months free).
Go to Google Play Store on your Android TV and install the ExpressVPNs app > click 'Accept' to confirm the download.
Use the remote control and open the ExpressVPN app and log in using your credentials.
Click 'OK' to share anonymous information on ExpressVPN, then select 'OK' to accept the connection request.
Connect to a server location of your choice. You can also click the 'ON' button, and ExpressVPN will automatically suggest a Smart Location.
Once the connection is established, you can browse safely on your SmartTV using a VPN.
Method 2: Through ExpressVPN MediaStreamer
ExpressVPN also provides a SmartDNS proxy service called MediaStreamer in Spain for devices that don't support VPN apps directly, like SmartTVs, gaming consoles, and routers. However, keep in mind that it is not as secure as a VPN because SmartDNS doesn't encrypt your online traffic.
Follow these steps to get ExpressVPN MediaStreamer on your SmartTV:
Step 1: Subscribe to ExpressVPN or get ExpressVPN free trial in Spain 
Step 2: Go to ExpressVPNs official website > Sign in using your username and password.
Step 3: Go to the DNS Setting tab > click Automatically Register My IP > enter your IP address.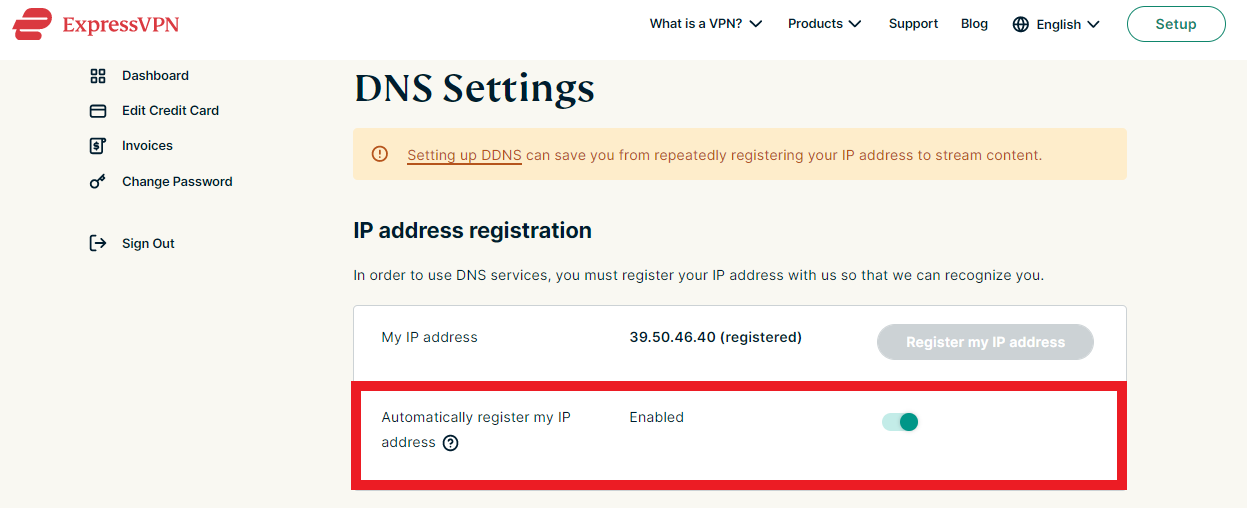 Step 4: Go to MediaStreamer sign-in page > Sign in using your credentials. It will show two DNS addresses for MediaStreamer (write these DNS addresses down because you will need them later on.)
Step 5: Turn on your SmartTV > from the remote control press 'Menu.'
Step 6: From Menu > click Network > select Network Status

Step 7: When your TV is done checking the internet connection, select IP Settings
Step 8: From IP Settings > select DNS Settings > select Enter manually
Step 9: Now, enter the MediaStreamer IP addresses (from Step 5) > Select Enter and save the settings by clicking 'OK.'
Step 10: Now, wait for the SmartTV to check your internet connection. If it's successful, you will see this message on your screen: "You are connected to the internet." If you don't see this message, repeat Step 10, and make sure to check the MediaStreamer DNS server address.
Step 11: If the connection is successful, click 'Close.'
Step 12: Now, you will be able to stream geo-restricted content on your SmartTV, including American Netflix, Hulu, Amazon Prime Video, Disney+, and more.
Method 3: Through a router
With the methods mentioned above, you will be able to set up ExpressVPN on SmartTV in Spain and enjoy a secure VPN connection. However, this method is the most recommended one because when you configure a VPN on your router, you will be able to use it on all your devices at the same time.
You can either connect ExpressVPN to your SmartTV with a physical router or through a virtual router using your PC.
(i) Setting up ExpressVPN through a Physical router
To use this method, you need a VPN-enabled router like DD-WRT routers. ExpressVPN is one of the best VPNs for DD-WRT routers in Spain and is easy to set up.
Follow these steps to set up ExpressVPN on your SmartTV through a DD-WRT router:
Go to Setup > Select Basic Setup.
From the 'Connection Type' drop-down menu, select PPTP.
Type your Username and Password in the boxes. In the Gateway, PPTP Server field, type your ExpressVPN server address.
Turn on Use DHCP.
Go to Optional Settings and see if ExpressVPN requires MTU settings.
Go to Network Address Server Settings (DHCP)
In DHCP Type option > select DHCP Server and enable it.
Enter the DNS address provided by ExpressVPN.
Turn off Use DNSMasq for DHCP and DNS both.
Select the Save and Apply option to connect to the ExpressVPN service.
Start your SmartTV and connect to the router > input your password > select Set Network. And that's it, you're good to go.
If you have an Asus Router, you can check out our detailed guide on how to get ExpressVPN on Asus Router in Spain
(ii) Setting up ExpressVPN through a Virtual router
You can also use your Windows PC as a virtual router to connect your SmartTV with ExpressVPN. But before you follow the steps below, make sure that your Windows PC is not connected to ExpressVPN.
Follow these steps to set up a virtual router on your Windows 10 PC:
Step 1: Go to Settings > Network & Internet > Mobile hotspot > turn it 'ON'
Step 2: Under the option 'Share my internet connection from' > choose Wi-Fi.
Step 3: Click Edit to set a different network name and password.
Step 4: Under Related settings > Select Change adaptor settings

Step 5: Right-click on ExpressVPN Tap Adaptor > select Properties > click Sharing > tick the box 'Allow other network users to connect through this computer's internet connection' > click 'OK'

Step 6: Launch the ExpressVPN app and connect to a server location of your choice.
Step 7: Start your SmartTV and connect to the virtual router. And that's it, you can now enjoy a secure connection on your SmartTV. If you encounter any issues, check out our ExpressVPN not working guide in Spain.
ExpressVPN is a good choice for Smart TV in Spain
3,000+ Servers in 94 Countries
Hard disk free infrastructure (RAM only)
256-bit Military-Grade Encryption
Excellent unblocking capability for Netflix, Hulu & more
5 Multi Logins
Zero-knowledge DNS
ExpressVPN is a great choice for SmartTVs in Spain owing to its, fast speeds, premium features, and excellent security protocols. ExpressVPN is extremely fast in Spain. It uses 256-bit encryption to protect your online privacy and also comes with a kill switch called Network Lock for maximum security . This VPN service provider is also quite compatible with major operating systems like Android, iOS, macOS, Windows, and Linux.
Apart from these features, ExpressVPN also comes with a 30-day money-back guarantee, so you can try ExpressVPN on SmartTV in Spain for 30 days and cancel your ExpressVPN subscription in Spain anytime.
For more information, check out our in-depth ExpressVPN review in Spain. Also, Check out our recommended best VPN in 2023.
Conclusion
ExpressVPN is the best VPN in the world and is compatible with a wide range of SmartTVs, including Samsung Smart TV, Apple TV, LG Smart TV, and more. It is so well renowned for its compatibility that ExpressVPN even works with Kodi, Roku, and even Fire Stick.
Anyway, through our guide, you now know different ways to connect ExpressVPN on SmartTV in Spain. It may appear complicated at first, but if you follow these methods, then you will have it up and running in no time. So, follow one of the methods above and enjoy unrestricted access to your favorite movies and TV shows on your Smart TVs.