Lesezeit: 6 Minuten

Even though Roku hasn't yet included VPN apps on its official app store, it is insanely easy to set up Surfshark on your Roku streaming device. Once you get Surfshark all setup, you'll be able to unblock extremely popular channels and watch movies on apps like HBO Now and Netflix U.S that are only accessible within the USA.
But why Surfshark? It offers strong encryption, affordable prices, fast speed vpn in Germany, and availability on all platforms, including Roku devices. Speaking of fast speeds, check out how performed Surfshark speed test in Germany.
Moreover, if you happen to dislike the VPN for any reason, you can avail the Surfshark refund policy to claim your money within 30 days of paying for the VPN. So, it's definitely worth the risk!
In addition, It offers 3200+ servers in over 100 countries. These servers are not only great for streaming but also for secure torrenting. We've covered a separate blog discussing is Surfshark dood for torrenting in Germany, perhaps you might want to check that out.
Anyways, now that you know why Surfshark is so awesome, let's find out how you can get it to work with your Roku device. In this super easy guide for beginners, I will show you the easiest way to install Surfshark Roku in Germany.
Surfshark Roku in Germany: How to Install & Set Up [Easy Guide 2023]
Since the Roku device does not offer a dedicated Surfshark application, you can follow one of these three effective methods to install and configure Surfshark with Roku in Germany:
Method 1: Configuring Surfshark with Roku using Wi-Fi Sharing Option (Virtual Router)
Roku is a popular streaming device to watch movies, TV shows, and a lot more. The problem is, Roku does not offer native support for any VPN app.
One way for you to use a VPN on Roku is by sharing a VPN-enabled connection for your PC to Roku (Virtual router). You can set up a virtual router, and share your computer's internet connection.
This will directly connect Roku to a VPN, thus enabling you to unblock channels outside of the USA. Download the best free VPN for PC for this, or the best in the world i.e. Surfshark.
Follow the setup process below to complete Surfshark setup on Roku in just 3 minutes.
Step 1: Subscribe to Surfshark or check out the surfshark free trial in Germany
Step 2: Download and install the Surfshark app on your PC.

Step 3: Click on the Internet connection icon in the taskbar then click on Network & Internet Settings 
Step 4: Click on Mobile hotspot on the left menu and toggle on the Share my Internet connection with other devices button

Step 5: On the left-hand menu, click on Status > Change adapter options (Do keep in mind that the change adapter options is very important to follow)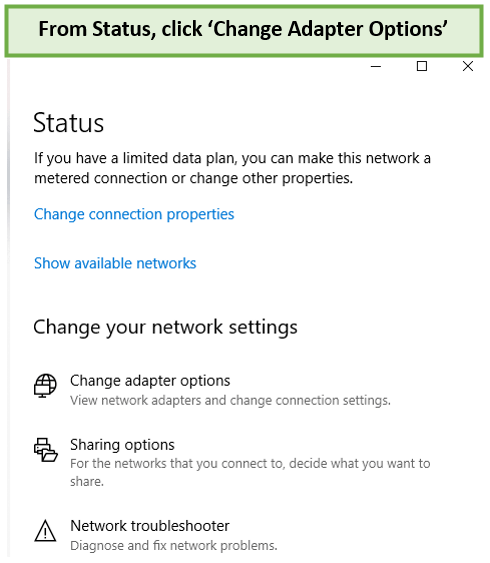 Step 6: Right-click on the Surfshark Tap Adapter > Properties 

Step 7: On the Sharing tab, check the box against "Allow other network users to connect through this computer's Internet connection"
Step 8: Select the connection that you just created and click OK
Step 9: Now launch the Surfshark VPN app and connect to a US server
Note: If your Roku isn't already configured in the US region, you will need to perform the following additional steps first. Otherwise, simply jump to step 16.
Step 10: Connect Surfshark to a US server and visit https://owner.roku.com on your PC or mobile
Step 11: Select your country as the United States
Step 12: Enter a 5 digit US ZIP Code (10123, 75842, etc.)
Step 13: Hold the Reset button on the back of your Roku device for 15 seconds to enable Factory reset 
Step 14: When the device starts up again, log in with your new US region account
Step 15: Now select Settings > Network

Step 16: Choose Set up Connection > Wireless

Step 17: All available Wi-Fi connections should now appear in a list. Select the connection you created on your home router earlier using Surfshark.

Step 18: Enter your Wi-Fi password
If you properly set it up, your Roku should now be connected to Surfshark. But Roku isn't the only device that works exceptionally well with Surfshark. You can use both Surfshark and NordVPN in Germany on Roku devices. In fact, if you're a Kodi user and love to watch free content, check out this guide to install Surfshark on Kodi in Germany. Alternatively, if you own a Firestick device, here's how you can set up Surfshark on Firestick device in Germany.
Method 2: Surfshark setup on Roku (SmartDNS method) – 5 Simple Steps
You can also access geo-restricted channels on Roku using Surfshark's smart DNS service. We listed down all the easy steps that any network user can follow.
Here is a detailed setup process:
Step 1: Visit the Surfshark website, login to your account, and click on devices

Step 2: Scroll down and press the "Activate" button in the smart DNS section

Step 3: It will prompt you to verify your IP address. If it is a match with your real IP, click on Activate

Step 4: Wait a few seconds for smart DNS to activate. Try refreshing the page if the status stays on "Pending" for too long and it should then switch to Active state.

Step 5: When the activation process is completed, you will receive an email. The status in the account tab will then change to Active and you will see the assigned DNS address. Write the DNS address down as you will need to add it to your Roku.
That's it! You have successfully set up Surfshark on Router via Smart DNS. You can now access any channel on Roku without restrictions. However, keep in mind that smart DNS technology does not offer the security and privacy that VPNs are built with. So, if you are looking to stay secure on the web as well, you should use a VPN rather than a smart DNS.
Method 3: Setting Up Surfshark with Roku Via Physical Router
A smart solution is to install Surfshark on router in Germany. This way, you'll never have to worry about first connecting to Surfshark before streaming your favorite content on Roku.
For this method, make sure your router firmware is compatible with VPNs. If your router doesn't support VPNs, you can still flash it with new router firmware.
Surfshark supports most router firmware including Tomato, DD-WRT, Asus routers, TP-Link, and more.
Just follow these steps to install Surfshark, set it up on your physical router, and share the connection on Roku:
That's it, you can unblock geo-restricted content on your Roku in Germany.
How Surfshark Enables Access to Geo-restricted Channels on Roku in Germany? (Explained)
The reason why many streaming channels only work within the USA is the licensing agreements that Roku is legally obliged to comply with.
Channels and content distributors only allow their content to be viewable within certain countries, so Roku has no choice but to restrict access to such channels for their customers in Germany.
Roku detects which country you are accessing the service from using your IP address and if you are in a country where the channel is restricted, it will deny you access.
Surshark is the best VPN with No Border mode in Germany this is the reason that Surfshark is able to sidestep these restrictions, and enables access to geo-restricted channels with its No Borders mode. As soon as the Surfshark app detects blockage of access, the No Borders mode is automatically activated. It provides you with server options in supported regions so that you can bypass the restriction. Your internet connection passes through the VPN tunnel, thus masking your IP address.
The VPN-enabled connection will enable you to access all streaming services like Netflix U.S without receiving any annoying error messages. Speaking of Netflix, here's how you can watch Netflix with Surfshark in Germany. You can also watch Amazon Prime with Surfshark in Germany, HBO Max, and more. These services are geo-restricted due to licensing agreements.
We tested using Surfshark with multiple streaming services for you, and the VPN did a great job at unblocking all. Just check out the screenshots below for proof:
Surfshark Unblocking Netflix:
Surfshark can unblock 20+ Netflix libraries. To put it to a test, we could unblock Korean Netflix with Surshark by connecting to its South Korean servers.

Surfshark unblocking Netflix Korea
Surfshark Unblocking Hulu:
Surfshark offers 500+ servers in the US to unblock Hulu. We could easily access Hulu abroad on its US – Detroit server. Hulu is geo-restricted and is only available in the US.

Surfshark allowed us to stream Pam & Tommy on Hulu.
Surfshark Unblocking BBC iPlayer:
Surfshark offers 3+ servers in the United Kingdom for unblocking iPlayer on Roku. We could easily stream the Peaky Blinders on its UK – London server.

Surfshark unblocked BBC iPlayer on its UK server. 
But just like any VPN in the industry, VPNs can sometimes choke. In case that happens to you, don't stress out. Just check out our Surfshark not working guide in Germany or can cancel  Surfshark subscription in Germany and get a full refund within 30-days.
FAQs – Surfshark Roku in Germany
Can I put Surfshark on Roku in Germany?
Yes, Surfshark works with Roku in Germany. With Surfshark on your Roku, you can unblock geo-restricted channels and streaming services like Netflix US, Hulu, and BBC iPlayer. As it offers fast-speed servers so you can watch movies and shows in 4K without buffering.
Does Surfshark work with Netflix in Germany?
Yes, with Surfshark you can securely watch Netflix in Germany. You just need to connect to a VPN server in any country of your choice and watch Netflix.
Does Surfshark keep logs in Germany?
No, Surfshark does not keep any logs or track your online activities and whereabouts. It's a no-log VPN and it only keeps minimal data that is required to enable the VPN connection and it is deleted as soon as the connection ends.
Does Surfshark have unlimited data?
Yes, Surfshark is an excellent VPN service with generous unlimited data and unlimited device policy as well. It allows you to connect as many devices as you like. The company also offers transparent privacy policies and RAM-only servers.
Final Thoughts – Surfshark Roku in Germany Installation Guide
Roku is among the list of devices that don't natively support VPNs. However, it is simple enough to set up Surfshark on Roku and the benefits you get are quite impressive. In this guide, we shared three ways of installing Surfshark Roku in Germany:
Sharing mobile hotspot from your PC
Surfshark's Smart DNS method
Sharing a VPN connection from your home router
If you are a streaming enthusiast that loves binge-watching TV shows and movies without break, Surfshark can be the most powerful tool for this job. However, if you're looking for alternatives, here's a list of some other decent VPNs for Roku in Germany.
If you're curious to learn more about Surfshark and its quirks and features, you might be interested in our in-depth Surfshark review in Germany for 2023.