Reading Time: 11 minutes
Spotify shines as one of the world's favorite music streaming platforms. It's like a treasure chest of songs that's incredibly vast. But here's the thing: even though Spotify is super famous and loved, it's not available everywhere.
Imagine you're in a country where you can't access your favorite playlists – a bummer, right? This is where the best VPN for Spotify comes to the rescue for users seeking to maximize their music streaming without compromising their personal data or being limited by geographic restrictions.
A VPN makes your internet activities anonymous by hiding your IP address and making your location secret in a protective layer of encryption. Then, it sends your internet traffic through a secret passageway to a computer in another place you choose. This makes it tough for prying eyes, such as your ISP providers or other third parties, to see what you're doing online.
This guide will help you get the best VPNs that can help you break free from Spotify's country restrictions. You'll get a step-by-step guide on using these VPNs by choosing the best VPN location for Spotify, so you can listen to your favorite music even if you're in a country where Spotify is unavailable. These Spotify VPNs are like having a secret backstage pass to the global stage of music streaming!
---
Quick Overview – The Best VPN for Spotify
Here is a list of 6 best VPN for Spotify in 2023:
---
Best VPNs for Spotify – Quick Comparison
| | | | | | | |
| --- | --- | --- | --- | --- | --- | --- |
| VPNs | | | | | | |
| Ranking for Ghana | 1st | 2nd | 3rd | 4th | 5th | 6th |
| Worldwide Servers | 3000+ servers in 94 countries | 3200+ servers in 100 countries | 5500+ servers in 60 countries | 2000+ servers in countries | 9700+ servers in 91 countries | 35000+ servers in 84 countries |
| Popular sites unblocked | 95% | 90% | 89% | 70% | 75% | 68% |
| Avg. Speed | 89.42 Mbps | 81.32 Mbps | 83.82 Mbps | 87 Mbps | 75  Mbps | 65 Mbps |
| Streaming services | Spotify, Netflix, BBC iPlayer, Hulu, Max, and More | Spotify, Netflix, BBC iPlayer, Hulu, and More | Spotify, Netflix, BBC iPlayer, Max, Hulu, and More | Spotify, Netflix, Disney+, Hulu, and More | Spotify, Netflix, BBC iPlayer, and More | Spotify, Netflix, Amazon Prime Video and More |
| Compatible Devices | iOS, Roku, Android, FireStick, Windows, macOS, Smart TVs, Routers, etc. | Android, Windows, iOS, macOS, FireStick, Smart TVs, Routers etc. | Android, iOS, Windows, macOS, FireStick, Smart TVs, Routers etc. | Android, iOS, Windows, macOS, FireStick, etc. | Android, iOS, Windows, macOS, FireStick, Kodi, Smart TVs, Routers etc. | Android, iOS, Windows, macOS, FireStick, etc. |
| Pricing | $6.67/mo (Get 49% Off + 3 Months FREE on its 12-Month Plan) | $2.30/mo (Get 84% + 2 Months FREE on 2-Year Plan) | $3.99/mo (Get 57% Off + 3 Months FREE on 2-Year Plan) | $3.33/mo | $2.11/mo | $2.11/mo |
---
How to get Spotify unblocked from anywhere with VPN
Unlocked Spotify using these 3 simple steps:
Get a VPN. Download and sign up for a VPN service. We recommend ExpressVPN, currently available at a 49% discount.
Connect to a server where Spotify isn't restricted. This tricks Spotify into thinking you're accessing it from that country.
Open the Spotify app or website and enjoy your favorite tunes without geographical restrictions.
---
Why do you need a VPN for Spotify?
A VPN for Spotify is essential as it conceals your actual IP address and location, ensuring privacy and enabling access to Spotify's content from anywhere. By connecting to a VPN server, your internet traffic is encrypted and routed through it, granting you a different IP address and preventing DNS leaks. This combination of security measures seamlessly unblocks Spotify, granting you unrestricted access in a matter of seconds.
However, if you live in a country where Spotify is restricted, then you will see an error message that says:
"Spotify is currently not available in your country" OR "This track is not available in your country".

Spotify's unavailability in several countries like China, Ethiopia, and Sudan, as well as restrictions imposed by educational institutions and workplaces, can put a damper on its access. A VPN proves invaluable here, providing unrestricted access to Spotify's world of music.
Even if you have access, you might encounter songs or albums that are "unavailable" due to licensing and copyright issues in your area. A Spotify VPN comes to the rescue, circumventing these blocks and granting access to every track and podcast. By masking your location, A VPN Spotify creates a virtual scenario where geo-blocking doesn't apply.
For the ultimate solution, opt for a VPN like ExpressVPN, the best Spotify VPN with security and streaming capabilities. Alternatively, Surfshark is ideal if you want the whole family to enjoy unblocked Spotify, thanks to its unlimited simultaneous connections feature.
---
Best VPNs for Spotify – Detailed Analysis
While many VPNs might unblock other music streaming platforms like Soundcloud, few VPN apps work with Spotify. I tested 50+ VPNs based on their unblocking capabilities, speeds, servers, and more, thereby shortlisting 6 best VPN services that work great with Spotify:
1. ExpressVPN – Best VPN for Spotify Premium

Unblocks Spotify: Yes
Total Servers: 3000+ 94
Maximum Devices: 8
Also unblocks: Netflix, Amazon Prime, Disney+, Hulu and more
Money-back Guarantee: 30 days
Unlimited bandwidth and HD audio streams
ExpressVPN is undoubtedly the best VPN for Spotify Premium. The VPN has excellent unblocking capabilities, fantastic speeds, easy-to-use apps, and an extensive server network that's great for unblocking Spotify.
With a top-class global reputation and 3000+ servers in 94 countries, ExpressVPN is an effective VPN for Spotify. However, the best option for you is to log into the app and connect to the server that is being offered in the Smart Location tab, as that's the best suited for you according to your actual location.

ExpressVPN speed test results are great for Spotify users. After connecting to its New York server, we got an average download speed of 89.42 Mbps on my 100 Mbps connection, allowing music fans to enjoy Spotify songs without lags. It is also fun to stream other music platforms with this Best VPN for BBC Sound.
Aside from world-class streaming speeds, ExpressVPN offers the best VPN tunneling, Kill Switch, and many others. It comes with DNS leak protection that protects your IP and omits all chances of leaks. It also comes with an OpenVPN protocol that allows you to enjoy fast speeds and security on your connection.
With just one subscription, you get 8 simultaneous device connections. ExpressVPN offers dedicated applications for both Android and iOS, along with desktop clients designed for Linux, Windows, and MacOS platforms. Furthermore, the versatility extends to streaming devices, and you can easily use ExpressVPN with Firestick and other similar devices.
The best thing about this VPN is that it offers a 3-month free subscription on its annual plan that costs only $6.67/mo (Get 49% Off + 3 Months FREE on its 12-Month Plan) with a 30-day money-back guarantee for testing the service. You get the ExpressVPN free trial for 7 days when sign up with your mobile.
You can also read our ExpressVPN Review for more details.
Pros
Over 3,000 super-fast servers operating in over 94 countries
Speedy connections with no data or bandwidth restrictions
Strong encryption, security, and privacy
Connect up to 8 devices at the same time
24/7 live chat assistance
Cons
Expensive than other provider
---
2. Surfshark – Budget-friendly VPN for Spotify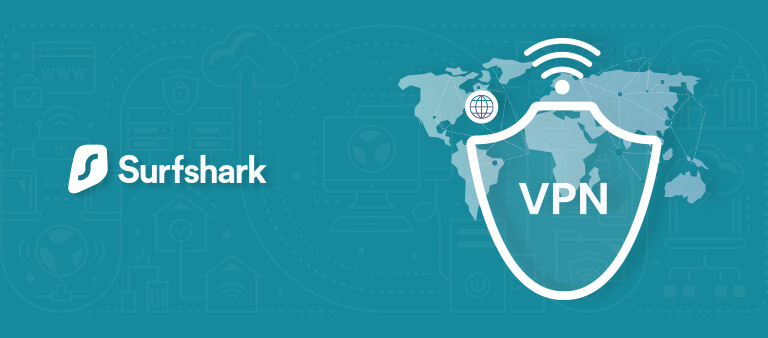 Unblocks Spotify: Yes
Total Servers: 3200+ 100
Maximum Devices: Unlimited
Also unblocks: Netflix, Amazon Prime, Disney+, Hulu and more
Money-back Guarantee: 30 days
Unlimited bandwidth and HD audio streams
Next, we have Surfshark, a budget-friendly VPN for Spotify. Being the best cheap VPN service, it does not compromise on security and speed and is available at a price of only $2.30/mo (Get 84% + 2 Months FREE on 2-Year Plan), along with unlimited simultaneous connections to users.
Surfshark offers 3200+ in 100 countries that can be easily used to unblock Spotify if you're on vacation or simply live in a country that has Spotify blocked.

To enjoy Spotify with no stutters, we took a Surfshark speed test with WireGuard enabled, and we experienced a remarkable download speed of 81.32 Mbps on a 100 Mbps connection. 
This fantastic VPN is packed with some fantastic security features. These include AES 256-bit encryption, Whitelister, CleanWeb, and more. Surfshark's MultiHop feature routes your traffic through multiple servers, making your identity completely anonymous. It also offers the latest WireGuard protocol for speedy connection and security.
Surfshark provides dedicated applications for a wide range of devices, including MacOS, Linux, Windows, Android, and iOS. Additionally, it supports certain wireless routers, though installing Surshark on routers is a manual process.
Surfshark is one powerful VPN to use with Spotify despite its low price. This VPN also offers a risk-free 30-day refund policy that allows you to test out the VPN service without making any commitments. Mobile users can get Surfshark free trial for 7 days to access the VPN for Spotify free.
You can also read our Surfshark Review for more details.
Pros
Remarkable unblocking prowess
Prioritizes user security
Fast speeds for seamless music streaming
Zero data retention, ensuring privacy
Unlimited device connections
Cons
Extra payments for some necessary tools
Occasional slow speeds
---
3. NordVPN – Secure VPN for Spotify

Unblocks Spotify: Yes
Total Servers: 5500+ 60
Maximum Devices: 6
Also unblocks: Netflix, Amazon Prime, Disney+, Hulu and more
Money-back Guarantee: 30 days
Unlimited bandwidth and HD audio streams
If security is your primary concern, NordVPN is suitable for you. NordVPN is the best secure VPN for Spotify, which offers an extensive server network of 5500+ server in 60 countries and various advanced security features.
The likelihood of authorities seeking your personal information diminishes with VPN use for Spotify. With ultimate security, you can also use NordVPN with Netflix, Hulu, and more. Spotify NordVPN worked so well without buffering.

Furthermore, NordVPN's exclusive NordLynx protocol ensures swift speeds that ensure a seamless, buffer-free experience.
We did a NordVPN speed test and received an average speed of 83.82 Mbps on a 100 Mbps connection on my server in Montreal, which was amazing. It literally allowed us to enjoy an entire playlist and did not lag in between even a bit.
NordVPN is known for its security, so we tested this VPN's security features on almost all my devices. The VPN comes with an effective kill switch that keeps your online activity safe at all times. It also offered AES 256-bit encryption, OpenVPN protocol, split tunneling, DNS leak protection, etc.
NordVPN's obfuscation technology hid the fact that you're using a VPN, so your ISP has no idea you're accessing the service from a restricted region. It further offers a strict no-logs policy that claims not to collect user data. I confirmed this by thoroughly reading this VPN's privacy policy.
NordVPN offers Android and iOS apps alongside a desktop client compatible with Windows, Linux, and MacOS platforms.
Despite all the awesome features, NordVPN comes at the cost of only $3.99/mo (Get 57% Off + 3 Months FREE on 2-Year Plan) with an extensive 30-day money-back guarantee, so you can cancel NordVPN subscription and get your money back. Or you can use NordVPN free trial on your Android device to see how it works with Spotify.
You can also read our NordVPN Review for more details.
Pros
Boasts 5,500 servers across 60+ countries
Speeds sufficient for uninterrupted HD streaming
Dedicated apps available for Windows, Mac, iOS, Android
Responsive and knowledgeable customer support
Backed by a 30-day money-back guarantee
Cons
Desktop app usability is not so appealing
Not the best VPN for router support
---
4. IPVanish – Fastest VPN for Spotify – 

Unblocks Spotify: Yes
Total Servers: 2000+ 75
Maximum Devices: Unlimited
Also unblocks: Netflix, Amazon Prime, Disney+, Hulu and more
Money-back Guarantee: 30 days
Unlimited bandwidth and HD audio streams
IPVanish is the fastest VPN service for Spotify. IPVanish checks all the boxes for a high-speed VPN that offers affordability without compromising on robust encryption. It ensures smooth Spotify music playback with minimal lag.
Along with fantastic speeds VPN service, this VPN also comes with 2000+ servers in 75 countries that are great for unblocking Spotify in your region.

When testing IPVanish for speed. We were amazed by its performance, on a 100 mbps connection delivering an average speed of 86.75 Mbps on a 100 Mbps connection. These consistently high speeds made me label this VPN as the fastest one for Spotify.
As for security, IPVanish doesn't lack privacy features either. It offers a kill switch, no logs, AES 256-bit encryption, DNS leak protection, split tunneling, and more to help users stay secure while accessing Spotify.
The VPN features apps for Android and iOS, along with desktop software for Windows and MacOS. It's especially favored for Kodi as it permits direct Android APK downloads. You can also install and use IPVanish with a Firestick device. Another thing that keeps me going with this VPN is its unlimited multi-logins. 
If speeds are one thing you're really concerned about, then IPVanish is the VPN service you need. This VPN comes at a price of just $3.33/mo with a risk-free 30-day money-back guarantee just in case you want to cancel IPVanish subscription and want your money back. You can have an IPVanish free trial for 7 days to test its services on Android and iOS.
If IPVanish not working on any device or fails at unblocking Spotify, you have their customer support for help.
You can also read our IPVanish review for more details.
Pros
Over 2,000 servers across 75 global cities
Strict no-logs policy for enhanced privacy
Notable speeds for seamless performance
Favored by Kodi and Firestick TV with user-friendly apps
Cons
Ineffective in China; apps do not function
Customer support response times slightly sluggish
---
5.  CyberGhost – User-friendly VPN for Spotify

Unblocks Spotify: Yes
Total Servers: 9700+ 91
Maximum Devices: 7
Also unblocks: Netflix, Amazon Prime, Disney+, Hulu, and more
Money-back Guarantee: 45 days
Unlimited bandwidth and HD audio streams
CyberGhost stands out as the most user-friendly VPN for Spotify, catering to users seeking a straightforward yet impressive service. The provider excels in fundamental aspects of speed and encryption protocols, ensuring a solid experience.
Not only that but with CyberGhost's massive servers park, you're not going to encounter network congestion. CyberGhost offers over 9700 servers all over the globe and stable connectivity to bypass blocked websites and Spotify. This is one Romania-based VPN service that can seamlessly help you unblock Spotify and other multiple platforms.

Much like other VPNs we have discussed so far, CyberGhost's speed test results are decent enough for streaming buffer-free streaming on Spotify. It delivered a fast download speed of 79.42 Mbps during testing on a 100 Mbps connection.
Aside from that, CyberGhost also offers features like powerful encryption and awesome mode selection. It also has a no-logs policy and supports protocols like L2TP, IKEv2, OpenVPN, PPTP, SSTP, and WireGuard. It also uses military-grade 256-bit encryption with a 4096-bit RSA key and SHA256 authentication.
With the premium version, you can enjoy the convenience of seven simultaneous connections under one plan. The company provides support for both Android and iOS, along with dedicated software for Windows, MacOS, and Linux platforms. Additionally, you can install CyberGhost on Firestick, Kodi, and more. If you are facing CyberGhost not working issues, you can contact their customer support.
But best of all, CyberGhost is very reasonably priced. Their cheapest VPN plan will only cost you $6.67/mo (Get 49% Off + 3 Months FREE on its 12-Month Plan). Even more impressively, all CyberGhost subscription plans are covered by a full 45-day money-back guarantee. You also get CyberGhost free trial for 1 day to test its services.
You can also read our CyberGhost Review for more details.
Pros
Successfully unblocks numerous streaming sites
Features WireGuard support for enhanced security
Allows 7 simultaneous connections
Utilizes advanced encryption methods
Cons
Lacks a free version
Linux client requires enhancement
Lack of RAM-only servers
---
6. PIA – Reliable VPN for Spotify 

Unblocks Spotify: Yes
Total Servers: 35000+ 84
Average speed: 65 Mbps on a 100 Mbps connection
Maximum Devices: 10
Also unblocks: Netflix, Amazon Prime, Disney+
Money-back Guarantee: 30 days
Unlimited bandwidth and HD audio streams
Last but not least, we have PIA. The thing that makes this VPN stand out is its massive server network. When I say massive, I really mean it. PIA offers 35000+ in 78 countries to help you access geo-blocked websites.
Needless to say, unblocking Spotify with PIA VPN is super easy. All of its servers are super fast, and you'll encounter weird buffering issues when streaming your favorite tracks. This VPN not only unblocks Spotify but also popular restricted platforms like Netflix and BBC iPlayer, enhancing your streaming experience.

This VPN provides a variety of protocol choices, including WireGuard. This particular option is specially optimized for speed, making it an excellent choice for seamless music and video streaming. During PIA VPN speed testing, we managed to receive a download speed of 65.78 Mbps on a 100 Mbps connection.
PIA is also super secure too. For instance, it has a kill switch, 256-bit encryption, and a MACE feature that works as a malware, tracker, and ad blocker.
If we talk about usability, Private Internet Access (PIA) is extremely easy to use and is compatible with all major platforms, including Windows, Mac, Android, iOS, Linux, and Amazon Fire TV. For those seeking advanced setups, PIA can also be manually configured with a router. In case you find any problem with PIA not working, you can contact its customer support.
On a single subscription, PIA offers 10 simultaneous connections and a 30-day money-back guarantee. You can avail of its best deal at the price of $2.11/mo . Also, mobile users have the advantage of using PIA VPN's free trial for 7 days.
You can also read our PIA Review for more details.
Pros
Compatible with Spotify, Netflix, BBC iPlayer, and various platforms
Wide server coverage across 84 countries, including the US and UK
Simultaneous connections for devices
Cons
Ineffective at bypassing China's Great Firewall
App UI slightly cluttered in design
---
Methodology for choosing the best VPNs for Spotify
Unlocking Spotify's geoblocks for unrestricted access to music and podcasts is achievable with a high-speed VPN and other multiple factors. So when it comes to selecting the best VPN for Spotify, you have to consider different factors for seamless and secure music streaming. Here's a methodology you can follow:
Extensive Server Networks: Opt for VPNs with extensive server coverage across various countries, facilitating faster connections and broader access to Spotify content. Premium providers maintain multiple servers in each region to minimize congestion and ensure backup options in case of server issues.
Fast Connection Speeds: Prioritize VPNs that minimally impact your connection speed, verified through regular testing to ensure seamless Spotify streaming. Look for providers capable of delivering buffer-free 4K video streaming as well.
Privacy and Security: Choose VPNs that prioritize your privacy and data security, combining essential features like a kill switch, robust encryption, leak protection, and a strict no-logs policy. Ideally, seek providers offering advanced features such as MultiHop servers, obfuscation, split tunneling, and port forwarding.
Streaming Accessibility: Confirm VPN compatibility with various streaming platforms, including Spotify, Netflix, and Amazon Prime Video. Consistent testing helps identify providers that reliably work with these services.
Device Compatibility: Check if the VPN supports the devices you intend to use for streaming, such as Windows, Mac, Android, iOS, and smart TVs.
User-Friendly Apps: Opt for VPNs with intuitive apps designed for seamless navigation, catering to both novice and experienced users. Consistent graphical user interfaces (GUIs) across different operating systems enhance user experience. Apps should provide sufficient functionality for customization by experienced users.
Value for Money: Recommended providers offer a balance between affordability and performance. Highlighting budget-friendly options alongside higher-tier, higher-performing services ensures comprehensive choices.
Efficient Customer Support: Choose VPN providers that offer reliable customer support throughout your subscription period. Look for knowledgeable support staff accessible through 24/7 live chat and email. Up-to-date and comprehensive knowledge bases with step-by-step troubleshooting guides contribute to a satisfactory support experience.
---
Can I unblock Spotify with a free VPN?
Yes, you can unblock Spotify using a free VPN, such as through an ExpressVPN trial version or a money-back guarantee. However, for consistent and reliable access to platforms like Spotify, a paid ExpressVPN subscription is recommended.
It's worth noting that while numerous providers claim to be the best free VPNs for Spotify, exercising caution is advised. Free services may compromise your data privacy by selling your information, negating the VPN's purpose. Furthermore, their limited server selection often leads to overcrowding, resulting in significant speed reductions.
If you're seeking budget-friendly yet dependable options, exploring freemium VPNs, such as Proton VPN, might be beneficial and can be uses as the best VPN for Spotify free. These solutions offer free versions with some limitations, like data caps and restricted server availability.
Yet, the most effective route is investing in a reputable premium VPN service. Even leading options come at a modest cost, usually a few dollars per month, and often include a 30-day money-back guarantee, allowing you to test their performance before committing long-term.
---
Countries where Spotify is available
As of July 2023, Spotify is available in the Americas, Oceania, most of Europe, and more than 40 African countries.
It is even available in South Africa, Mauritius, and Asia. Spotify is expected to operate in 178 countries by the end of 2023.
Here is the list of countries where Spotify is accessible that includes:
| | |
| --- | --- |
| Asia | Armenia, Azerbaijan, Bahrain, Bangladesh, Bhutan, Brunei Darussalam, Cambodia, Georgia, Hong Kong, India, Indonesia, Israel, Japan, Jordan, Kuwait, Palestine, Philippines, Qatar, Saudi Arabia, Singapore, South Korea, Sri Lanka, Taiwan, Thailand, Kyrgyzstan, Lao People's Democratic Republic, Lebanon, Macao, Malaysia, Maldives, Mongolia, Nepal, Oman, Pakistan, Timor-Leste, United Arab Emirates, Uzbekistan, Vietnam. |
| Europe | Andorra, Austria, Belgium, Bulgaria, Cyprus, Czech Republic, Denmark, Estonia, Finland, France, Germany, Greece, Hungary, Iceland, Ireland, Italy, Latvia, Liechtenstein, United Kingdom, Russia, Belarus, Kazakhstan, Moldova, Ukraine, Albania, Bosnia, Croatia, Montenegro, North Macedonia, San Marino, Serbia, Slovenia, Lithuania, Luxembourg, Malta, Monaco, Netherlands, Norway, Poland, Portugal, Romania, Slovakia, Spain, Sweden, Switzerland, Turkey, Kosovo. |
| South America | Chile, Colombia, Ecuador, Guyana, Paraguay, Argentina, Bolivia, Brazil, Peru, Suriname, Uruguay. |
| North America | Antigua and Barbuda, Grenada, Guatemala, Haiti, Honduras, Jamaica, Mexico, Nicaragua, Panama, St. Kitts and Nevis, St. Lucia, St. Vincent and the Grenadines, Trinidad and Tobago, Bahamas, Barbados, Belize, Canada, Costa Rica, Curaçao, Dominica, Dominican Republic, El Salvador, United States. |
| Africa | Algeria, Angola, Benin, Botswana, Burkina Faso, Burundi, Cameroon, Cape Verde, Chad, Comoros, Côte d'Ivoire, Djibouti, Egypt, Equatorial Guinea, Eswatini, Gabon, Gambia, Mozambique, Namibia, Niger, Nigeria, Rwanda, São Tomé and Príncipe, Senegal, Seychelles, Sierra Leone, South Africa, Tanzania, Togo, Tunisia, Uganda, Zambia, Ghana, Guinea, Guinea-Bissau, Kenya, Lesotho, Liberia, Madagascar, Malawi, Mali, Mauritania, Mauritius, Morocco, Zimbabwe. |
| Oceania | Marshall Islands, Micronesia, Nauru, New Zealand, Palau, Papua New Guinea, Samoa, Australia, Fiji, Kiribati, Solomon Islands, Tonga, Tuvalu, and Vanuatu. |
---
What are the reasons for Spotify being blocked?
There are several reasons why Spotify could be inaccessible to you. Here's an overview of the primary factors:
Geo-Restrictions: Spotify's availability varies by country, determined by your IP address. If your region lacks access, using a VPN to change your location becomes crucial.
Intentional Blocking: Certain organizations intentionally block Spotify due to perceived distractions (schools) or policy violations (offices), sometimes even restricting VPN usage. Overcoming such barriers may involve learning how to bypass VPN blocks.
Firewalls and Antivirus: Firewalls and antivirus software might misidentify Spotify as a threat, leading to unintentional blocking, as they mistake the platform for malware or intrusion.
Licensing and Copyright: Disparities in Spotify's content library across locations often stem from licensing agreements with music labels, making certain tracks inaccessible due to copyright constraints.
---
How Can I Change My Country in a Spotify Account?
Whether trying to overcome Spotify's geographic restrictions or abroad with Spotify's free plan, utilizing a VPN to alter your Spotify region is essential.
To set up a VPN, follow these steps:
Select a VPN provider. We suggest ExpressVPN.
Download the VPN onto your device.
Adjust the VPN's server location to one compatible with Spotify.
Next, modify your Spotify region as per the Premium plan:
Navigate to your Spotify settings' "Account" section.
Scroll to "Your Plan" and choose "Update."
Proceed to "Change country" and select your desired region.
Adapt your payment method to support the chosen country.
For creating a new free account:
Connect to a VPN server in your chosen country.
Sign up on Spotify's webpage using an email address, not your Google or Apple login.
Access open.spotify.com and log in with your credentials.
This way, you can access another country's Spotify library effortlessly.
---
How to download the Spotify app in restricted countries?
If Spotify remains restricted in your country, you won't find its app on Apple's App Store or Google's Play Store.
The solution lies in acquiring some knowledge. For those aiming to learn how to access Spotify on an iPhone, the process involves changing your Apple app store country to one that grants access to Spotify server IP addresses.
As for Android users, the path involves seeking out Spotify's APK file and downloading it onto your device. Here's a guide:
Open your web browser and search for "Spotify APK download."
Choose a trustworthy website to obtain the APK file.
Once you've located a reputable source, start the download by clicking the designated button.
After downloading the APK file, navigate to your file manager and locate the file.
Tap on the downloaded APK file to initiate the installation process.
---
Spotify VPN Not Working? Here's What to Do
If you still can't access Spotify despite being connected to a VPN server, follow the steps below:
Clear Cache and Cookies: Resolve potential conflicts by clearing your browser's cache and cookies.
Verify Server Location: Ensure you're connected to a server in a region where Spotify is accessible.
Alternate Web Browser: Attempt accessing Spotify through a different web browser.
VPN Support: Contact your VPN's customer support for personalized assistance.
Switch to a better VPN service: If problems with Spotify not working with VPN still persist, your VPN might lack the capability for geo-restricted content. Opt for a premium Spotify VPN like ExpressVPN for reliable access.
---
How to bypass Spotify VPN detection?
Bypassing Spotify's VPN detection involves overcoming the platform's ability to recognize VPN usage. When Spotify's anti-VPN technology detects your VPN-derived IP address, the solution is straightforward: change your IP address. Disconnect from your current server and connect to a different one within the same targeted region. By following this process, you can successfully access Spotify without hindrance.
Though Spotify's terms don't explicitly prohibit VPNs, they stress adherence to local laws. The company appears to focus more on enforcing content licensing than targeting VPN users, which may allow some VPN users to access Spotify.
For those aiming to bypass Spotify's VPN detection, consider these strategies:
Server Switching: Experiment with diverse VPN servers from regions with proven Spotify accessibility.
Reputable VPN Choice: Opt for well-regarded VPN providers known for their successful evasion of detection.
Obfuscation Mode: Some VPNs offer obfuscation technology, masking VPN traffic as regular internet traffic to minimize detection likelihood.
Stay Informed: Monitor online communities and forums for insights into the latest VPNs that effectively work with Spotify.
---
Best VPN for Spotify – FAQs
Let's look at some frequently asked questions.
Which VPN works with Spotify?
Here are the list of VPNs that work with Spotify:
ExpressVPN: Recognized as the top VPN for Spotify in 2023, ExpressVPN effectively unblocks Spotify albums.
Surfshark: Combining affordability and speed, Surfshark is a reliable choice for seamless Spotify streaming.
NordVPN: Renowned for its rapid performance, NordVPN offers comprehensive functionality.
CyberGhost: With an impressive server network, CyberGhost is a notable VPN choice for Spotify access.
Which free VPN is best for Spotify?
Windscribe stands out as the best free VPN for Spotify due to its robust feature set and overall performance. Alternatively, ProtonVPN is another Spotify VPN free viable option with unlimited data, though it comes with a speed limitation.
Is it legal to use Spotify with VPN?
Yes, using a VPN to access Spotify is entirely legal in the United States across all states. There are no laws that explicitly forbid the use of VPNs to access streaming services via alternate IP addresses.
However, it's important to note that employing a VPN alters your IP address's location, which could trigger Spotify's servers to question the change, especially if you've previously logged in without a VPN. This might prompt Spotify to request additional verification.
How to get Spotify Premium cheaper using VPN?
Secure a more budget-friendly Spotify Premium subscription using a VPN:
Opt for a trustworthy VPN like ExpressVPN, renowned for its reliability and presence in countries where Spotify Premium is less expensive, like Turkey, Egypt, and Pakistan. Next, download the VPN on your preferred device and connect with a server in one of the previously mentioned countries. By following these steps, you can access Spotify Premium at a reduced cost, leveraging the advantageous pricing available in those regions.
Why won't Spotify play on my VPN?
If Spotify isn't functioning while you're using your VPN, the issue likely stems from your VPN not effectively concealing your location. It's plausible that the servers offered by your current VPN have been blacklisted by Spotify. Transitioning to a more reliable VPN should enable seamless use of the music player without any disruptions.
Does Spotify ban IP?
Spotify's accessibility can often be hindered by IP and location factors. Geo-restrictions result in Spotify being unavailable in certain countries, which might lead to IP-based blocking.
How do I bypass Spotify VPN block?
Bypassing the Spotify VPN block is a straightforward task with a VPN tailored for streaming:
Register for a VPN service.Try ExpressVPN
Download the VPN app onto your preferred device (look for VPNs with apps compatible with Windows, Mac, iOS, Android, Linux, and more).
Launch the app and connect to a server in a region where Spotify access isn't restricted.
Following these steps enables you to overcome Spotify's VPN block, ensuring uninterrupted access to the platform.
How does a VPN help me access Spotify?
A VPN allows you to stream and download songs by replacing your original IP address with an IP of a region where Spotify is available. For example, you can connect to a VPN with servers in NZ  and get unrestricted access to Spotify.
This way, you will not only be able to stream your favorite songs online but if you sign up to get Spotify Premium for a free trial, you will get access to ads-free songs and will be able to download any song of your choice.
Best of all, Spotify VPNs are quite affordable. For instance, if you go for ExpressVPN, you'll not only get a 49% discount, but also a 3-months free subscription on its 12-month plan.
---
Wrapping Up
Although Spotify is geo-restricted, unblocking it is quite easy. With the best VPN for Spotify, you can not only enjoy top trending Spotify music but access the popular streaming platform like Netflix US from anywhere in the world.
Just don't waste your time with free VPNs for Spotify. They don't work at all, trust me.
If you have any queries, please feel free to comment on the section below, and if you liked the blog, share it on Twitter!
On a side note, if you want an all-rounder VPN for streaming and torrenting, you might want to check out our list of best-rated VPNs.