Reading Time: 4 minutes
Setting up a home VPN server can be an interesting hobby if you like to tinker with computer networking concepts. At the same time, it gives you some valuable benefits somewhat akin to what paid best VPN for Australia can offer in Australia.
If you are running a VPN server of your own at home there are some definite benefits you can obtain on the privacy, security, and accessibility fronts in Australia.
But the first question on your mind should be whether it is feasible at all setup a VPN server in Australia.
This article will help you answer this question and explain the steps needed for setting up a VPN server in your home.
How to Setup a VPN Server in Australia – Two Methods
There are different options for successfully creating your VPN sever in Australia. I will explain two of the easiest approaches for going about this task:
1. Use a VPN-enabled Router in Australia
The easiest way to setup a home VPN server in Australia is by using a router that has built-in support for hosting a VPN. Some routers offer this functionality by default, while others can be configured to support VPN servers after flashing their firmware with DD-WRT.
The process of flashing is a little more complicated, so simply getting a router that supports VPN server hosting in Australia, right out of the box can save you a lot of time and trouble, simplifying the whole process a great deal.
Once you have chosen a router that can host a VPN server in Australia, you can configure it via the network interface of your router. It is advisable to consult the manufacturer's manual and/or customer support for this task.
2. Establish Your Own Home Server in Australia
The second method is a little more involved than the one mentioned above, because you will manually have to perform the setup on a computer in Australia.
For this, you must first have a computer you can leave turned on 24/7, or at least for as long as you want your VPN session to last.
To create a dedicated server of your own in Australia, you can also take advantage of a Raspberry Pi (a small, portable, hand-held computer), and turn into a server you can carry around with you in Australia.
However, for most users in Australia, the most feasible option is to setup the server via your Windows computer.
How to Create a VPN Server on Windows in Australia

2 Minutes Review time
Windows 10
offers a built-in VPN functionality in Australia, but it requires some manual changes in settings and configuration before you can establish and host a server on your Windows machine in Australia. Don't worry, it will only take 2 minutes to setup.
The necessary steps are as follows:
Configuring your VPN Server in Australia
3)Now choose accounts that you want to connect remotely to your home server. You can create a new account by clicking "Add someone" button if you want your VPN connection on an account separate from your primary ones. Make sure you choose a strong password for the account.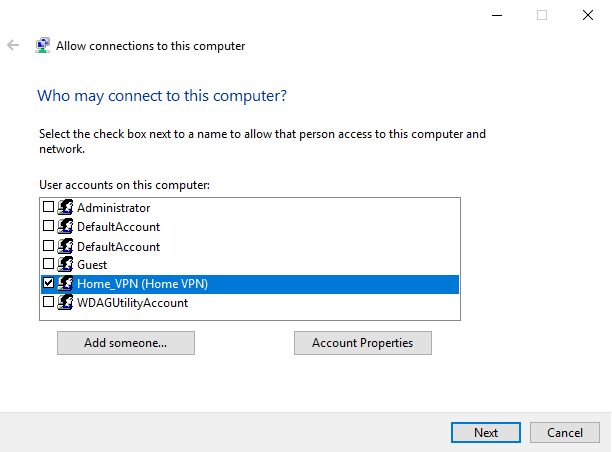 6)After choosing protocols, click "Allow access"
7) Check the "Allow callers to access my local area network" option.
8)Check the "Specify IP addresses" box and type in IP addresses depending on how many individual users you want to allow on the network.
9) Click the OK button and in the next window, click Allow access.
This will ready your VPN server in Australia and it is now capable of accepting connection requests remotely.
Connecting to Your VPN Server in Australia
You can connect to the VPN server in Australia you have created using the public IP address of the machine you're hosting the server on.
In Windows 10, you can do this by opening:
Networking & Internet settings > VPN > Add VPN Connection
Give your connection any name you want and enter the IP address of the machine you have setup the VPN server on in Server name or address field
Fill in other details as per your preferences and press save
This completes your VPN server creation process in Australia. From now, connecting to your newly created VPN server in Australia will only be a single click away, offering you the convenience to connect to your home network privately even when you're traveling abroad or located at a distance to your home.
Router Configuration in Australia
In order to connect to the server remotely over the Internet in Australia, you will also need to configure your router to route the incoming traffic to the designated PC hosting the server in Australia.
To do this, you just need to open your router's configuration page and forward port 1723 to the IP address of the computer hosting the VPN server in Australia.
A handy trick you can apply to enhance security of your VPN connection is to create a port forwarding rule consisting of a random external port which could be something like 98537 to the internal port 1723.
Doing so will force all devices connecting to your VPN server to use the port 98537, keeping you secure from malicious users and other programs that typically target the commonly used default ports.
Reasons Why You Should Use a VPN Server in Australia
Let's start with why having your own custom VPN server in Australia might be a good idea.
For one, a home server setup forms an encrypted VPN tunnel that naturally routes all of the traffic originating from your PC or other connected devices through itself.
The encryption standards and VPN protocols that constitute this tunnel are extremely strong and fully capable of keeping any outside interference from hackers, spying agencies, and cybercriminals at bay in Australia.
What's more, this private home network can be extremely valuable if you are outside of your country and need to access some websites and services from back home that may be geo-restricted abroad..
Reasons Why You Should NOT Use a VPN Server in Australia
On the flipside, there is always the question of feasibility. Most ISPs serving home users allocate a small upload bandwidth as compared to the download bandwidth. To host a VPN server from home in Australia, it is the former i.e. upload bandwidth that primarily matters.
With only a few Mbps of upload bandwidth, you're going to experience extremely slow performance especially if multiple devices are requesting to your VPN server in Australia.
Perhaps more importantly, you should first clear any doubts about what you can expect from a home VPN server in Australia. One of the main usages of VPNs among consumers is to overcome geo-restrictions and censorship on websites. If all you have is your own home server, then you can't change your virtual location to any other region in order to get past blocked websites in Australia.
As such, the VPN server you have running back home is only good if you want to access your private network remotely and you won't have the ability to connect to any other server from any country.
If that is your intent behind creating a VPN server in Australia, then you would be better off getting a subscription of a well-reputed and tested VPN provider in Australia. Our article on best VPN services for 2022 can help you pick the right VPN for your specific needs in Australia.
However, if you just need to establish a private network at home for enhanced encryption and to be able to access it remotely while you're away, then it will be well worth your while to set up you on server.
Final Thoughts
Knowing how to set up a VPN server in Australia for yourself is a convenient solution if you need an encrypted private connection at home that you can access from anywhere. All you need is a machine at home that is on 24/7, and you can access it from abroad to enjoy the Internet with the same security and freedom that you are accustomed to having at home.